Pros and Cons: Skateboarding in the 2020 Olympics?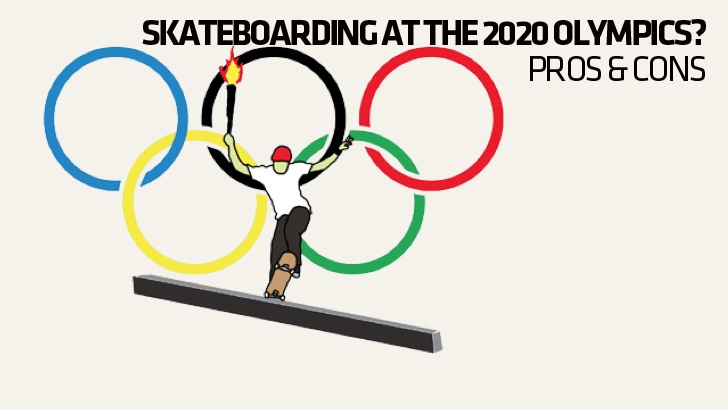 ---
Will the four-wheeled plank of wood play out as a five-ringed sports event – and what's in it for skateboard companies? Report by Boardsport SOURCE Skateboard Editor Dirk Vogel.
---
Believe it or not, but the question of including skateboarding in the Olympic Games is almost as old as skateboarding itself. In 1965, John Severson argued in The Quarterly Skateboarder magazine's first issue: "We predict a real future for the sport – a future that could go as far as the Olympics. It's a much more 'measurable' sport than surfing and therefore lends itself more to competition." Defending skateboarding as a "real sport," the editor concluded: "Competition should be big in skateboarding, but it's going to take organization and support from the participants."
These two key components – organization and support from participants – are exactly why skateboarding is still not an Olympic event a full 50 years later. Over the years, organizational efforts have yielded no results, while sentiments among participants have traditionally ranged from fierce opposition to an indifference summed up by MOB Skateboards owner Christian Roth: "As long as I can remember, I haven't watched any Olympics at all. I'm absolutely NOT interested and wouldn't even notice if the whole festivus would vanish." But recently, not everybody is that relaxed…
The number of critical voices has grown since May 2015, when the World Skateboarding Federation (WSF) held a Global Skateboarding Summit in Istanbul, Turkey, to talk specifics of skateboarding's inclusion with representatives of the International Olympic Committee (IOC). On June 22, the IOC fired the next shot by announcing "roller sports" – including skateboarding – as a shortlisted event for the 2020 Tokyo Olympics.
Instantly, the Internet lit up with outrage: "The Olympics will ruin skateboarding!" commented user Mei Phuk as skateboarders worldwide turned into pitchforked villagers. On the Care2 website, an activist named "Clarky" launched a petition to keep skateboarding out of the Olympics, because "skateboarding is not a 'sport.'" Adding fuel to the flames, the WSF in July published rankings of skateboarding's top athletes in street, vert, downhill, freestyle, slalom. This raised more heated questions, mostly: "Slalom? WTF is the WSF thinking!?" And also: "WTF is the WSF?"
The players: Behind the acronyms
The WSF, founded by former basketball official and World Skateboarding Grand Prix organizer Tim McFerran, is one of three major players currently competing for recognition as skateboarding's designated International Federation (IF). This is the major precondition: Every sport needs an IF to handle organizational ramifications such as rules, formats, judging, and qualifications as the official governing body in front of the IOC. But it's a slippery slope, Jörg Ludewig at Urban Supplies points out: "In snowboarding, the association of snowboarders (ISF) was replaced at the Olympics with the FIS. That hasn't really helped the sport."
Snowboarding's example proved a warning to the skateboard industry. "The most important lesson is that we have been very patient not to enter under a sanctioning body that is incongruent with our vision, much like how snowboarding got involved through skiing. It has been 20 years since then and it took a long time for the snowboarding industry to change the format to what they originally envisioned," said 'Mr. Vans', Steve Van Doren, adding: "It's going to be very crucial to ensure that every component of the skateboarding competition comes from an authentic skateboarding lens and background. Without taking this approach, we risk our reputation with our fans and our legitimacy as a professional sport lifestyle."
Next to the WSF, the major Olympics driver is the International Skateboarding Federation (ISF) headed by Gary Ream and backed by large parts of the industry. Thanks to a strategic partnership with Street League Skateboarding (SLS), the ISF proposes the SLS instant scoring system for Olympic skateboarding, as well as the SLS Super Crown World Championship as a global qualification system. The third contender is the Federation International de Roller Sports (FIRS), formerly the IOC's official IF for roller hockey (sure makes Street League sound a lot more attractive).
But nothing is decided yet, and as Kelly Bird, Brand Manager at Lakai Footwear and board member of the International Association of Skateboard Companies (IASC), said: "What you saw in Turkey was part of a complicated and somewhat politically wrought process of determining exactly who will be the governing body for skateboarding once its inclusion is confirmed. I can tell you with certainty that it won't be the group you saw in Turkey." That said, let's look at what the Olympics could bring to the table for the skateboard industry.
THE ARGUMENT: PROS
Negotiating from a position of strength. Desperate to attract the kind of young demographics reached by skateboarding – average TV viewer age at the 2012 Olympics was 49.4 years (Nielsen Data) – the IOC is willing to listen. "I totally believe the Olympics need skateboarding. I have been involved for the last decade with several members of the skate industry in educating the Olympics organization on our vision to integrate skateboarding into the games," said Steve Van Doren.
More acceptance, new parks. The Olympics could increase skateboarding's overall acceptance in society as more than a trend or toy, said Veith Kilberth, who earned his five year degree in Sports Science before co-founding Fine Lines marketing agency: "Establishing skateboarding can prove useful for creating new skateboard infrastructure and supporting newcomers with skate workshops. Acceptance can make a decisive difference when it comes to mobilizing public funding for skateboard projects."
Heck, snowboarding already did it. "It has been a matter of 'not if, but when' pretty much since snowboarding became such a huge draw for the Winter games," said Kelly Bird. As Antoine Soule at DC Shoes puts it: "The IOC has been lurking on skateboarding for years now and needs the refreshing 'sport' effect that snowboarding has brought to them on the winter editions."
Massive media exposure. "The event would bring maximum exposure on all fronts, from the athletes, to skateboarding performance and for the soft and hard goods that keep the industry alive," said Steve Van Doren at Vans. And as Veith Kilberth at fine lines marketing said: "The increased exposure also brings a heightened marketing potential and interest from corporate brands that want to become engaged in skateboarding. This means more budgets and more money invested in the skateboard business."
THE ARGUMENT: CONS
More viewers is not the same as more participants. "Snowboarding won an enormous amount of viewers because of the Olympics, but nothing in terms of active snowboarders. That number has been declining for years," said Jörg Ludewig at Urban Supplies, adding: "Overall, the Olympics are overrated. Windsurfing is – or was – in the Olympics, and where is it today? Gone! Skateboarding, much like snowboarding and surfing, has grown because of the fun and the unique feeling, not its television presence."
Branding is tricky. As Franz Josef Hoeller at Fresco distribution pointed out, brand visibility may prove a tough bargain "because of the strong branding regulations during the Olympics." This is confirmed by Antoine at DC: "Regarding the brands, it's all about how they are going to be visible on the events knowing that the IOC has drastic restrictions concerning branding size and placement. We can guess that hardware and footwear would not be altered and will remain visible."
Choice of proper formats. Mainstream television has its own rules when it comes to sports, and Christian Roth at MOB Skateboards has some concerns about formats: "If you want to attract a wider audience you have to narrow skateboarding down to the attractions, because most of the audience are just passive spectators who could never grasp the technicality of most of the skateboard tricks – so you need the Mega-Ramp and the Street-League-like contests."
Bigger brands profit more. "Brands in a way can benefit as the sport gets more mainstream, but it's more an opportunity for big corporate brands than for small niche skateboarding brands," says F.J. Hoeller. Along those lines, Jörg Ludewig said: "Bogner has been making the ski suits for the German [Olympics] team for years now, yet they're struggling. I think the Olympics can make something that's strong even stronger, but I doubt they can lead something weak to strength."
THE BOTTOM LINE
The IOC will announce its final decision shortly before the 2016 Olympic Games in Rio de Janeiro. But regardless of the outcome, it's best to keep our expectations in check, advises Kelly Bird: "I don't really see much of a downside to the inclusion for skateboarding, but my guess is the up side will be marginal at best, I've heard snowboard industry guys speak about their industry projections versus the reality of it afterwards – I didn't get the impression that it was some big panacea and would expect the same for us."
At the same time, core skate culture will also remain unaffected: "The Olympics won't change the essential aspects of skateboarding at all. If the mainstream media pushes skateboarding with Street League and the Olympics in a progression- and sport-performance-oriented direction, parts of the core community will simultaneously drive into the opposite direction towards less measurable aspects like creativity and an anti-establishment attitude. That's the law of nature in the skateboard world and it's already happening at the moment," said Veith Kilberth.
Erratum: The print version of this article in Boardsport SOURCE issue 78 erroneously quoted Kelly Bird as "Global Brand Manager at Nike SB." Kelly Bird was in fact Brand Manager at Lakai Footwear at the time of the interview and speaking in that capacity.