Head Snowboards FW16/17 Preview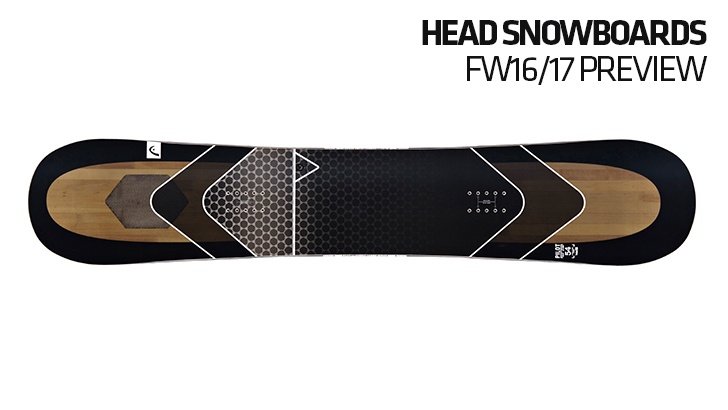 Pilot
---
CATEGORY: SNOWBOARDS
BRAND: HEAD
INTERVIEWEE: MAX THURNER (INTERNATIONAL MARKETING MANAGER)
---
KEY PRODUCT FOCUS: What are the two most important boards in your 16/17 line? Why? Tell us about them.
That's the PILOT and the ARCHITECT, both featuring the same shape but with different fields of use. Think of it as 2 brothers, one is more mature & settled, the other one is the crazy young-gun.
This is what those boards reflect – easy cruising & powder surfing – getting the flow vs. the freestyle machine with heaps of pop and snap.
PILOT
The responsive twin directional form and refined flex and power distribution of the PILOT provides solid flow for mature chargers. From carving and flat tricks on the groomers and side-piste to blasting and popping powder fields, this mid-wide board in a Hybrid Camba POP construction has the pedigree and power to ride it all.

Pilot
ARCHITECT
The directional twin shape with added pop and support of basalt stringers makes the ARCHITECT a master draughtsman of the park and beyond. This mid-wide, responsive freestyle stick exudes flex, power and control enabling it to not only dominate the park but also other terrains where a freestyler likes to roam.
Are you using any new inserts / edge tech / cores / sidewalls / glue / wood types / metals / other materials? Or are you using this stuff in any new ways?
Sure thing – technical innovation is in our DNA, of course we feature new materials. All up front Graphene – Graphene is a two-dimensional material of extraordinary properties. Because of its two dimensional structure, Graphene always needs a support material. When applied to a metal surface think of it as an alloy to increase the metals strength it has a greater ability to distribute force from impact than any other known material.
At the same time, Graphene is an extremely flexible material; it can be extended and compressed up to 25%. This makes Graphene perfect for materials and products which have to understand extraordinary connected stress while assuring a high degree of flexibility at the same time, like sporting goods.
Where is the pricepoint with the biggest demand for you? Right at the top, at the bottom, or somewhere inbetween?
The entry level pricepoint has traditionally been a very important pricepoint for us; as this is where many customers experience their first or second contact with the sport. But in the last years we see an increasing demand for the second and third pricepoint – we have the feeling customers are aware of the added value & the are willing to invest to step up their game – we are supporting them on their way.
Where are you building your boards, any changes from last year? What makes this production the best solution for your brand?
No changes, still Asia.
What's new in rocker? Any different bends than last year? Where's the demand at on this?
We introduced a new Hybrid Camba Shape – Hybrid Camba POP. Hybrid Camba offers customers the most versatile option, hence the increasing demand.
What inspired your topsheet & base aesthetics? Where are trends going – muted or flashy? Any cool collabs/limited editions? Please provide details of artists & subjects.
Design direction is a matter of brand direction – we are striving for a clean, modern and technical design direction, packed with heaps of details (matt/glossy, wood see through, grip varnish, etc…) that make for a rich and clean look.

Hope Snowboard
Doing splitboards? Is this market increasing, decreasing or staying the same for you?
We offer a split ready board, but do not plan to enter the split board segment at the moment.