Quiksilver Men's Outerwear FW16/17 Preview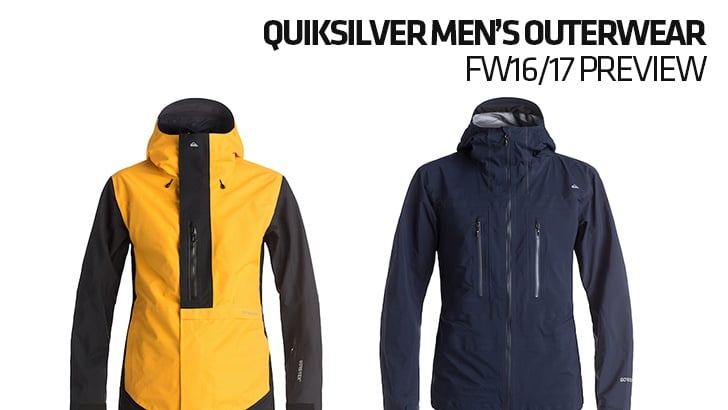 ---
CATEGORY: MEN'S OUTERWEAR
BRAND: QUIKSILVER
INTERVIEWEE: THOMAS BOURGAULT
---
What's the overall theme / general inspiration behind the 2016/17 outerwear?
Our lifestyle is about finding positives, getting stocked, keeping the high. There's an infectious youthful attitude that draws us to the ocean and makes us surf down mountains. It's a spirit and approach to life that is always fun first.
We are approaching different consumers that are targeted in different segments in the collection.
Highline ltd target an enthusiastic snowboarder/skier that likes to hike before going down.
The Highline collection is dedicated to Freeride and Backcountry with Gore-Tex only fabric.
New Wave targets a more core consumer, skiers and snowboarders and then finally, the Premium collection , which is about a Quiksilver point of view on technical ski wear.
KEY PRODUCT FOCUS: What are the two most important products of your 2016/17 line? Why? Tell us about them please.
COLLECTION: THE HIGHLINE/TRAVIS RICE COLLECTION
When Travis Rice steps off the heli onto a razor-sharp Alaskan ridgeline, he's wearing Highline. Our Highline collection represents the pinnacle of waterproof outerwear technology: gear that will keep you warm and dry all day, every day, whatever the mountain throws at you.
KEY PRODUCT 1: TR EXHIBTION GORE-TEX JK:
When you spend your life chasing the best snow on the planet, you need outerwear that delivers the most dependable protection from the elements. Travis Rice chooses waterproof, windproof and highly breathable GORE-TEX 2L fabric for its bombproof durability and comfort, then combines it with a stack of progressive and functional styling. Key features and benefits of this style include: ultimate waterproofness, highly breathable, extreme durability, multiple pocket storage, fabric mix and storm proof hood construction with cohesive system adjustment.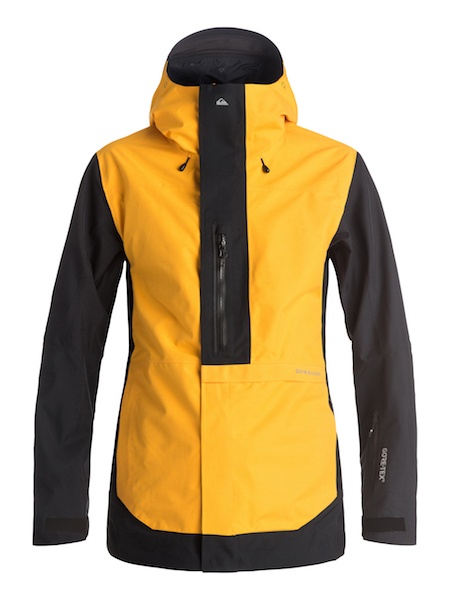 TR Exhibition
COLLECTION: THE NEW WAVE COLLECTION
When mountain function and surf collide, new waves are made. The new wave collection takes our most progressive styling and hottest prints, adds a dash of surf heritage, then blends it effortlessly with the latest tech, creating a new kind of outerwear for a new kind of rider.
KEY PRODUCT: STENCIL JK
Start a style revolution on the mountain with this ultra-progressive combo that utilises the latest multi density fabric engineering combined with the progressive styling of our new waves styling.
Key Feature of this style: Reduced seam construction improving weather protection, greater durability, improved comfort and mobility thanks to the 4 way stretch fabric and unique modern look.
What type of client are you targeting with the collection?
The Highline collection capture the enthusiast rider, the freerider consumer that likes to ride the pow as much aa she can.
The New Wave collection capture the freeskier/Snowboarders that use the resort as his playground, riding the park, shred the slopes and go off piste when the pow is there. Style comes first.
Are your price points going up or down?
Our price are slightly up due to dollar change rate
What new technical stories are you introducing that you haven't offered to retailers previously?
This year we are launching a capsule collection around Splitboarding/Ski Touring. Created for the serious backcountry adventurer, our Highline ltd products takes technology and functionality to the higher ground. To create the highest performance outerwear possible, we match the most advanced fabrics and technologies. Our 3L shell is using Gore Tex C-Knit backer technology which is lighter than classic Gore Tex pro and 15 % more breathable.. We are also using Gore wind stopper fabric, highly breathable and windproof, combined with Primaloft Down Blend for a lightweight warm Jk.
Designs are minimised or optimised to the max to reduce weight.
Collection is tight with a 3 L shell, 3L Bib, a Warm puffy Jk and a lightweight stretch insulator.
What trends have you seen in outerwear that are very HOT?
The Backcountry/freeride trend is getting bigger
What trends are NOT hot?
All over prints/basic products