Burton Outerwear FW16/17 Preview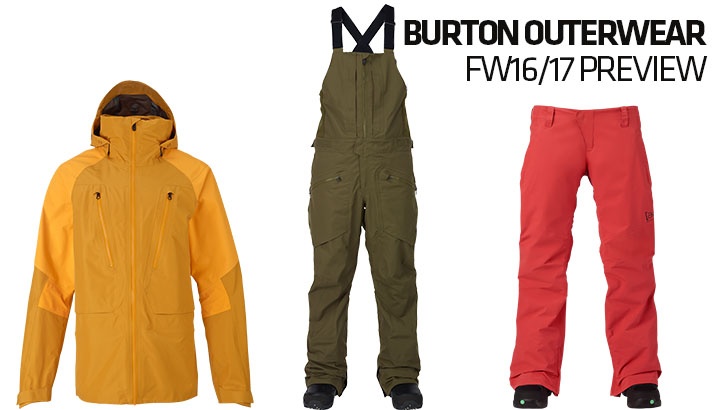 Freebird jacket, Freebird Bib pant, Stratus pant
---
---
CATEGORY: OUTERWEAR
BRAND: BURTON
INTERVIEWEE: ANDREW BURKE
---
What's the overall theme / general inspiration behind the 2016/17 outerwear?
AK is our best in class gear – it's consistent with what we've done for a couple of years. We'll continue to offer some heathers and we'll continue to offer brighter more on-snow appropriate colour blocking. We're in a period of refinement with AK, we treat it as a piece of equipment. It is subject to tests and refinement but we're not tampering with the chassis, so to speak. The cool thing about AK is thread works – our in house development facility in china, so we work with gore a lot. We've taken our line and redesigned our fit and function, redesigned our hoods with more helmet compatibility and there's a new women's pant fit for AK too.
Burton mainline outwear has an unconventional design and look. With a retro surf look and feel, which you see with sun-washed out pop colours, we bring that to an on snow environment.
KEY PRODUCT FOCUS: What are the two most important products of your 2016/17 line? Why? Tell us about them please.
The men's AK cyclic jacket in vintage blue with its significant features including custom fabric development with gore. Gore is a really key partner of ours, we work closely with them across the upper price points of AK and Burton and we have some exclusive fabric development programs with them. This particular fabric that we made with them is particularly cool and revolutionary. It's a face fabric that uses cordura, so it's a collaboration with them and it's pigment dyed and enzyme washed. It focuses on performance and durability with an entirely unique fashion street look. Durability and sustainability is a big story for us!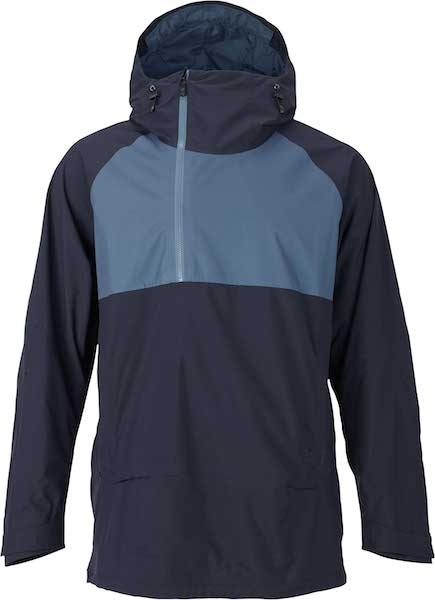 MEN AK 2L Velocity Anorak Eclipse – Washed Blue
We've also transitioned to make an entire collection of lifestyle jackets which are as functional as outerwear but slightly detuned for a more street environment. Long down jackets are a major trend for women's right now and our women's BIXBY long down jacket is Burton's version, it hits at the knee and features blue sign approved fabric and sustainable down.
Are your price points going up or down?
Slightly up. We cover a pretty big area, so we are pretty active at all the price points except for the really low ones. However in terms of bringing in pinnacle products we are bringing a lot of excitement and business up there.
What new fits / silhouettes will you be showing, in pants and jackets?
I'd say our fits still stay the same. Using threadworks we've added articulation for our on snow styles – so all the outerwear. This technical design wizardry allows for improved function, while keeping a street or 'off snow' fit. Most of our rubric is the same in terms of what we're representing.
For women we're playing around more with boyfriend fits.
What's new in colours / prints?
Pop primary colours and retro inspired prints! The most important texture we see in prints is texture with all our prints having an added element of texture this season. We see texture overall as trending across colour and garment hand feel and we've combined that trend with the popularity of heather giving it depth when you combine that trend with the new capabilities of printing. It' s a mixture of the trend that we see in the fabrication. Print is something we focus on quite a bit and we run hundreds of them every season so we devote a lot of time to it. We're having fun with it!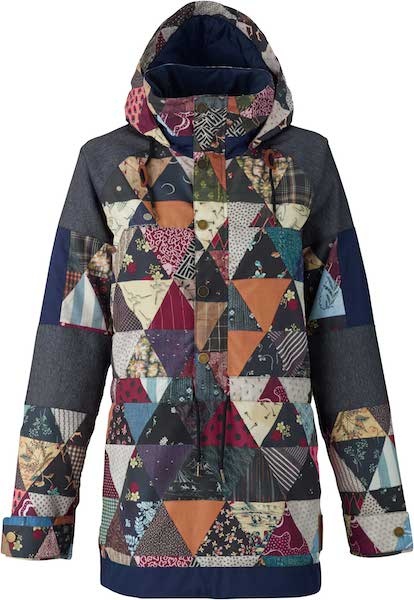 Women's Cinder Anorak Jacket Kalidadenm
What trends have you seen in outerwear that are very HOT?
Winter jackets that have essential technical capabilities but aren't specifically designed to be used only on snow. The brands that we see growing aren't sports specific, they're stylish and versatile. That runs the gamut across all price points, more youthful basic jackets to Gore-tex sustainable down jackets which are the best tjckets for whatever you do. There's no real need to segment. We're focussed on making the best equipment for snowboarding and that will always be our heart and soul but the lines in the marketplace have been blurred for the consumer, so there's no reason to keep them up.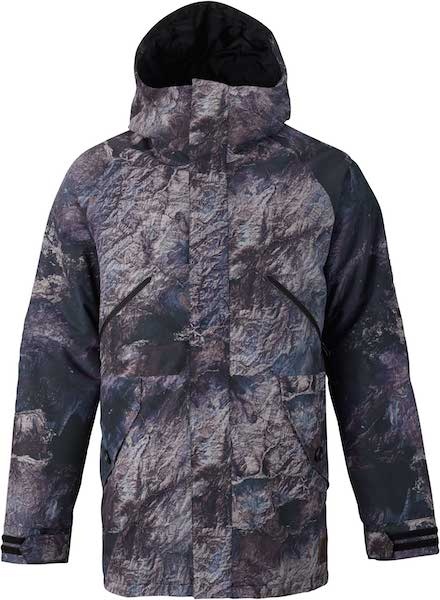 Men's Breach Jacket
BASE LAYER BOX OUT: Do you do base layers? What's happening here, what's your key new offering next year and what makes it great?
The biggest thing we're doing in base layers and across our soft goods is blue sign and sustainability. All the new tech coming out and all the R&D dollars are going towards reinventing sustainable supply chains and bringing sustainable products. We are involved with that pretty heavily. We are doing that on our volume first layer and our mid weight first layer. We sell on print and colour and we are one of the only people with that blue sign fabric with the prints and colours we use.
AK first layers will continue to move towards a partnership with polar tec. We just won an Apex award for some of our layering work with them. Printing on polar tech, we spent a lot of time building the supply chain, they are awesome and have a lot of science behind the structure of the fabrics.