Recco Mountain Safety Recco Mountain Safety FW16/17 Preview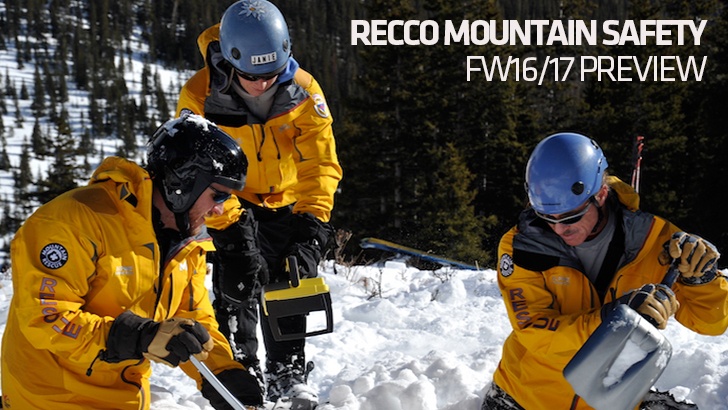 ---
CATEGORY: MOUNTAIN SAFETY
BRAND: RECCO
---
What is most important to be safe in the mountains?
How to avoid avalanches:
Unfortunately, it's in the nature of things that avalanche accidents occurred when we are doing something we love. But it's possible to reduce the risk of getting caught in avalanches and there are tools that increase the chance of survival if you do.
Regardless what you have heard about avalanches, it's nothing you want to encounter. The pressure from the snow that buries you is indescribable. Add to that darkness, the fear and the feeling of breathing through a straw. You have absolutely no control.
Nothing is either black or white in the assessment of avalanche danger, which is why it's always a good idea to ask the ski patrol about the current avalanche risk. It's their job to continuously examine the snow conditions, which are often used for current avalanche forecasts you can find at: www.lawinen.org (Europe), www.avalanche.org
(USA) and www.avalanche.ca (Canada). But there are warning signs that you may observe by yourself.
Four signs of increased avalanche danger:
1. Large snowfall and wind gathering big amount of snow increases the avalanche danger. Most avalanches occur during and days after snowstorms.
2. Weather changes with warmer temperatures can weaken snow layers and increase the risk for a release.
3. Traces of fresh avalanches are warning signals for more to be triggered.
4. The snow settles with a loud whumpfings. Cracks are formed when you move across the snow surface. Snow sounds hollow beneath you.
Also, the choice of route is very important to stay away from the dangers. It requires, however, a lot of experience to be able to read the terrain why it may be wise to go with an experienced guide who has good knowledge of the area.
Four good decisions in the terrain:
1. Select slopes less than 25 degrees. Slopes of 30-45 degrees are great for skiing and snowboarding, but also where most avalanches occur.
2. Avoid leeward sides where the wind has deposited lots of snow. Also watch out for cornices that can break loose and bury you, they can also trigger avalanches on the slope below. Ridges in the terrain are often safer than depressions where lots of snow is deposit by the wind.
3. Identify terrain traps where you can get caught and subjected to dangerous snow pressure in an avalanche. For example, avoid gullies, ditches, trees, boulders and rocks that you can fall over. This type of traps makes even small avalanches deadly.
4. Have an exit plan if an avalanche is triggered. For example, be able to ride up on a comb or seek protection behind a rock.
Riding off piste is not about courage but about being smart. And turning back when a situation feels unsafe is one example.
Four other smart actions:
1. Focus less on Instagram pictures and more on what's happening around you and your friends.
2. Never ride alone, but just go one at a time.
3. Don't trust previous tracks; they are no guarantee that the snow is safe.
4. Equip yourself for the worst.
… and increase your chances if you end up in an avalanche
If you still end up in an avalanche, it's about being found and dug out as fast as possible – every minute counts to have a chance to survive. Are you planning to go off piste, you should always carry transceivers, RECCO reflectors, shovel and probe. The transceiver makes you searchable to your friends, and the RECCO reflector makes you searchable to the professional rescuers. If you're buried you want to be searchable to everyone
What product innovations are you launching in 2016?
Many new brands and organizations in the family
We are constantly growing our RECCO system, which means each year we add new resorts and rescue organizations which use our detectors (more than 800). On the other hand we keep on adding brands (around 200), which equip their products with RECCO reflectors. Therefore we innovate the reflectors itself, to make them smaller and easier to apply for our brand partners.
New search and rescue detector – SAR1
For more than 30 years rescue professionals have used the RECCO's handheld rescue system to search for people involved in avalanches. To search for people lost in the vast areas of wilderness and over water we have now developed a new helicopter enabled detector that can search large areas for missing people year-round. The RECCO SAR 1 detector will be launched in summer 2016 in selected geographical areas. At that time several apparel and equipment brands will also release new RECCO reflector equipment products.
The new RECCO SAR 1 application is based on RECCO's renowned avalanche rescue system that can quickly locate a buried person. The new RECCO Helicopter Search and Rescue detector – SAR 1 – has a substantially greater range and can be used year-round for people equipped with RECCO reflectors. This is really exiting for us as rescuers to have this kind of technology. It's remarkably hard to find lost people in the mountains and in the forests, but with this new tool we can detect people in really large areas, and do it quickly," says Dale Atkins, RECCO's North America Manager for Education and a 40-year veteran of mountain rescue.
Drone used for avalanche rescue
In the constant stream of new uses for drones, this one is made for avalanche rescue. It's Pascal Duvillier who has developed an application with a drone carrying a RECCO detector. And he knows all about avalanche rescue with his background as mountain rescuer and as head of safety in French Morzine, in the Les Portes du soleil area. The advantage to use a drone for avalanche search is the easy access regardless of the terrain. "Also, in case of a secondary avalanche hazard, the number of rescuers on the ground is limited, says Pascal Duvillier.
Since the first prototype a year ago the drone's running time has improved to eleven minutes and the wind speed limit to 55 km/h.
Pascal Duvillier says, "the drone with a RECCO detector is set up and airborne within three minutes. Searching three victims in a 2 500 square meter area takes only about four minutes. Technically the drone can cover a radius of 1 km and has a system that can drop a mark to the ground on command when a victim is located."
The drone has been successfully demonstrated for a number of ski areas in France and Andorra.
What's the technology behind it?
The SAR1 uses the same technology as our current handheld detectors, which are used for avalanche rescue. The difference is its size and power. The SAR1 sends out a much stronger search signal, which creates a cone beneath the helicopter. When the helicopter flies over a missing person wearing RECCO reflectors, the signal will be returned by the reflectors and a sound is receive by the rescuers. Thus the missing person can be located.
The drone is using a hand held unit right now. The drone holds the detector by a special which also controls the power of the search signal by remote control. The Signal is then transferred via radio to the pilot`s headphones. Since the detector is facing straight down to the ground, the reflector is easy to find, when the signal is the strongest and loudest then the drone is exactly above the victim.
How far developed is the drone app now? Will that be ready for public use at some point too?
The use of RECCO detectors in drones is specifically designed for professionals, rescuers and ski patrollers. First several tests have been done in France with different groups of mountain rescuers, which all have been very successful. The idea is to provide an additional and useful tool, to help rescuers to save lives. The drone development itself is at its starting point. First units will be sold this season in France. Which means they will be in use most likely for next season 2016/17.
What brands / organizations are you working with?
Many new brands and organizations in the family
RECCO avalanche rescue system continues to grow and is currently used by approximately 850 ski resorts, mountain rescue teams and rescue helicopters worldwide. During the last year about 40 new placements have been added to the list. Among them are nine helicopter bases in Austria, France, Italy and Nepal.
Recently also Scottish Tayside Mountain Rescue Team joined the RECCO system as a result of the growing interest in the RECCO rescue technology among SAR teams in Scotland.
RECCO reflectors are currently integrated in products from around 200 brands, making their customers searchable for professional rescuers in case of an avalanche. For winter 2016-2017 19 new brand partners will be integrating reflectors in their products. The brands are: Alpine Skate, Ansilta, Arva, Emporio Armani, Extreme Winter Equipment, FA Design, Jeep Xtreme Performance, Merrel, Millet, Mountain Rockstar, Musto, Phanschi, Prada, Spacelife, Stellar Equipment, Söll, Uvex, Wedze, West Scout and Space Life.
What product / feature do you recommend to always always ALWAYS take with you on the mountain?
As said above, it is important to avoid ending up in an avalanche, because the chances are that no gear in the world will help you are. So, your understanding, knowledge and decision making comes first. However accidents will always happen and therefore we have to be prepared for the worst and bring all the necessary emergency gear to increase our odds.
If you end up in an avalanche, it's about being found and dug out as fast as possible – every minute counts to have a chance to survive. Are you planning to go off piste, you should always carry a transceiver, RECCO reflectors, shovel and probe. Additionally an avalanche airbag can help to stay on top of an avalanche and avoid complete burial but does not guarantee it. The transceiver makes you searchable to your friends, and the RECCO reflector makes you searchable to the professional rescuers. If you're buried you want to be searchable to everyone!