Roxy Women's Outerwear FW16/17 Preview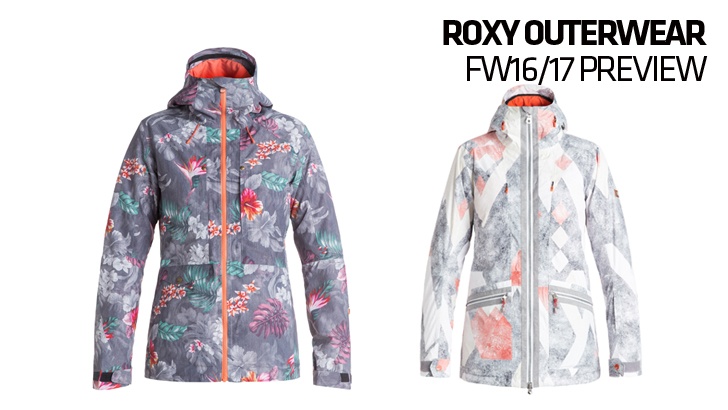 ---
CATEGORY: WOMEN'S OUTERWEAR
BRAND: ROXY
INTERVIEWEE: MARION BERTRAND (GLOBAL PRODUCT MANAGER, ROXY OUTERWEAR)
---
What's the overall theme / general inspiration behind the 2016/17 outerwear?
The ROXY 2017 winter outerwear range has been designed and developed by our team with an unwavering passion for life on the mountain, perfectly balancing function and style, and tested by our world class team riders, Torah Bright, Dara Howell, Aimee Fuller, Lena Stoffel, Robin Van Gyn and Katie Ormerod.
This season we've introduced new, industry leading technologies to keep you warmer, dryer, and more protected in the elements than ever. All this without loosing a hint of style – our new fits, prints, hues and details define mountain chic and feminine performance. From laying fresh solo tracks in the backcountry to tearing up laps in the snow park with your friends, our round-up of pieces has each ROXY Girl covered for winter.
There are 3 segments in the line that covers all markets needs.
The first one is about freeride. Inspired by performance world, bright color, print block, color contrast, playfull, high end and user friendly construction, featuring the best protection GORE-TEX®, PrimaLoft® and Polartec®.
The second one is designed for the women that want to look beautiful in the slopes as well as at the terrace or après ski. It is a perfect balance of fashion inspiration and tech details like bonded waterproof zippers.
The third collection is built for the snowboarders and influenced by street fashion. Colours are more neutral, easy to wear on the streets, silhouettes are longer and details are about YKK® Metaluxe® zipper, leather patches and washed look fabrics.
And of course we have the Torah Bright Signature Series.
Our range is organized and focused on end users and the benefits we bring to them. But we also talk to any fashion interested and fun girls with our several collaborations, with artist (Hattie Stewart), fun brand (Sesame Street) and with a luxury Maison de Couture (Courrèges).
KEY PRODUCT FOCUS: What are the two most important products of your 2016/17 line? Why? Tell us about them please.
They are 2 snow jackets:
ESSENCE JK is the ultimate freeride jacket. It offers an excellent waterproofing level as it is made in GORE-TEX® 2L fabric, fully taped seams, as well as a best protection thanks to a PrimaLoft® Black Insulation Eco 60g, which make the jacket light to wear and super warm.
This is a feminine, utility freeride style jacket with its multi pocket design (hand pockets, chest pocket, inside media pocket, goggle pocket) in a clean look.
It also has a modern Hawaiian style print, which sets this apart from other Gore Tex jackets on the market.
Featuring YKK® Aquaguard® zipper and freeride friendly features like Cohaesive® hood adjusters, shaped & stretch powder-skirt, lycra wrist gaiters with thumbhole, mesh lined underarm venting, goggle cloth, a quilted ultra lightweight taffeta lining, bonded construction (zip, wire visor at hood, welts of underarm ventings etc.)
This jacket comes with an Enjoy & Care neckwarmer inside.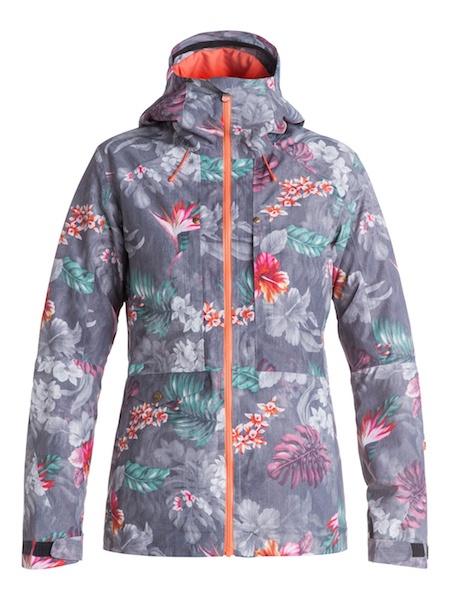 Essence Jacket
TORAH BRIGHT ASCEND PRINTED JK: because this is the most beautiful JK, super feminine and sophisticated, with a delicate geometrical all over print, in soft pastel colors combined with a touch of grey. This jacket has also been designed closely with our athlete Torah, made with a soft touch fabric, with exposed contrast YKK® Metaluxe® zipper pockets, contrast taping details, internal insulation baffles for extra warmth.
Bringing a lot of comfort, made in a lightweight and soft fabric, with PrimaLoft® Gold Insulation Luxe 175g on body and Black Insulation Eco 60g on sleeves, and with a strong weather protection with the proprietary Roxy Dryflight technology 15K, Fully Taped Seams
This jacket comes with an Enjoy & Care neckwarmer inside.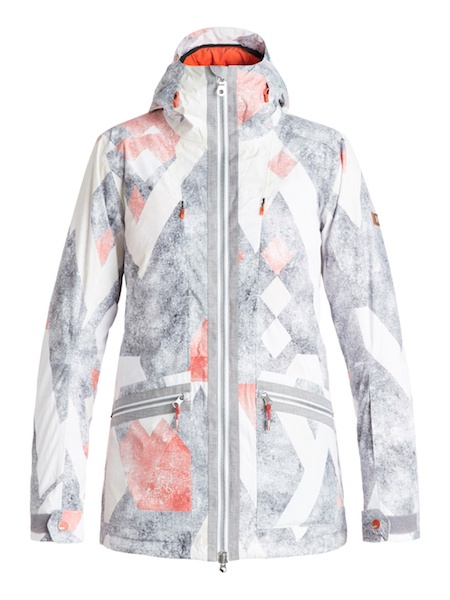 Torah Bright Ascend Jacket Printed
What type of client are you targeting with the collection?
Roxy is the female snow brand. Our products are made for all girls and women who want to feel protected enough, comfortable, warm and feminine when skiing and snowboarding.
With Roxy we can target all kind of consumer from freestyle to freeride, skiers and snowboarders, as well as all women that just want to look great on the mountain slopes and after ski.
As they all have different needs, depending on the way they are practicing, depending on the look they want to have, we pushed the level where it needs to be pushed, in protection, comfort and warmth and fashion forward design.
Are your price points going up or down?`
Some are stable, some increase mainly because of € exchange rate being less favourable to European markets.
What new fits / silhouettes will you be showing, in pants & jackets?
ROXY's 2017 entire range is built on a bedrock of functional fits all engineered for the ultimate range of movement while maintaining comfort and protection. At ROXY, we constantly challenge ourselves to develop the best feminine fit on the market. For instance, we have improved this year our jacket hoods and pant fits for a better comfort, coverage and protection.
So we continue in winter 2016/17 to offer a variety of fits for all different types of riders. Tailored fit and slim fit are the most popular. Our skinny softshell pants is also a great success.
What's new in colours / prints?
Our colour range is still a smart melange of bright and street colours: bright pink, orange, blue as well as military green, gold brown, dark blue, black, heather grey..
Prints are not necessary all over. We play with prints in colour block, as well as key details on the garment, like printed zipper tape, printed lining and jacquard drawcords…
Mixing neutral and bright is still on trend.
Aim is merchandising assortments in stores.
What new technical stories are you introducing that you haven't offered to retailers previously?
Our main innovation concerns our "Enjoy & Care" feature.
Last year we introduced "The First Neckwarmer that Cares for your Skin", an innovative clothing range that cares for your skin. It was a great success as we doubled the Business of our neckwarmers globally.
This year all of our neckwarmers will have this technology, more jackets collar are treated and we extended the range to our technical gloves.
We also improved 2 features on our Teenie product (3-7 years old): a mitten keeper system, to not loose your mittens, and a grow system on our jackets and pants.
Trends you've seen in outerwear that are very HOT?
Mixing! Diversity! Lots of fabric mix, insulation mix etc.
…and, of course, what trends are NOT?
None of them
BASE LAYER BOX OUT: Do you do baselayers? What's happening here, what's your key new offering next year and what makes it great?
Yes we do and we share our base layer with Roxy Outdoor Fitness range,
These layers are created to be versatile, fitness friendly features mixed with warm technical fabrics are ideal for both running when worn alone and base layers when worn under outerwear. They are super comfortable, warm.