C-Skins Wetsuits FW16/17 Preview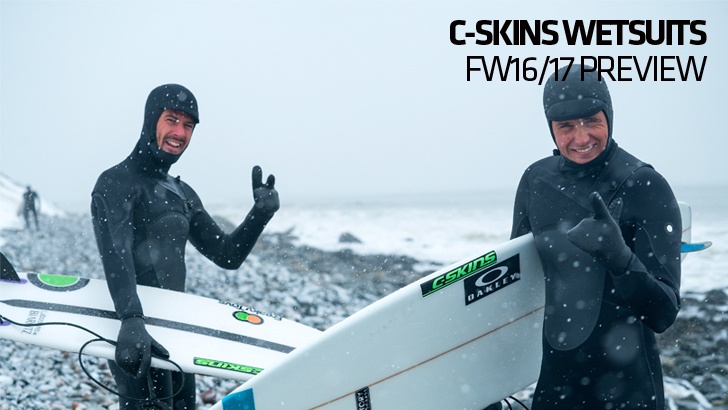 Image Credit: Sharpy
---
CATEGORY: WETSUITS
BRAND: C-SKINS
INTERVIEWEE: MARK BROWN (WETSUIT TECHNICAL DIRECTOR)
---
How has the wetsuits market evolved since last winter in terms of products, categories and SKU?
The wetsuit market is busier than ever with more and more apparel brands developing a wetsuit to sit alongside the clothing. We expect this to continue. For C-Skins, remaining specialist and focusing on premium quality cold water wetsuits (which is all we do) will ensure the consumers in the know will continue to opt for substance over style.
Is the demand for frigid waters' wetsuits still growing?
I believe so, but sales can certainly go up or down depending on how cold the winters are. Take for example in North Europe right now. I've just got off the phone with our sales agent in the Benelux Jordi de Koning and its still 14 degrees which is crazy warm for this time of year. These weather patterns can definitely make a difference in regional sales patterns for winter wetsuit sales. However I would say that the cold water trend is still growing as a movement so it really suits C-Skins Wetsuits being a dedicated cold water wetsuit manufacturer.
Which new trends do you see on the 2016 wetsuits market?
Developing wetsuits for cold water is great because the focus is on warmth and performance rather than it all being about price point. When we are not restricted by having to stick at a price point it really opens the doors to innovation and new technology. I am continually being asked which is the hottest wetsuit in the range and this is where the focus is placed by the core surfer in the winter.
How have price points evolved and what are the main price hot spots?
Generally a stronger USD has pushed the cost of imports into Europe up. This has been a major driver in price points stepping up this winter and next. I ve seen this from most of the other established wetsuit brands who like us are either based in France or the UK. For our brand we see 3 main price points across winter which we would class as entry level/recreational, then a mid range which is price driven but the wetsuit spec still needs to be of a high level and the high range where there really does not seem to be a ceiling on price. The high range is where we throw everything we have into developing the hottest wetsuit and it's a level where the wetsuit is continually evolving. For us the importance is placed on maintaining premium quality wetsuits and this is what drives us forward.
Have there been any major improvements with the neoprene rubber specifically?
We are currently using a new Foam which we call Air Foam. This is a lighter weight, stretchier foam which has a higher resistance to breakdown after high use. You will find this foam in our Wired Series of suits (HotWired, Wired & ReWired).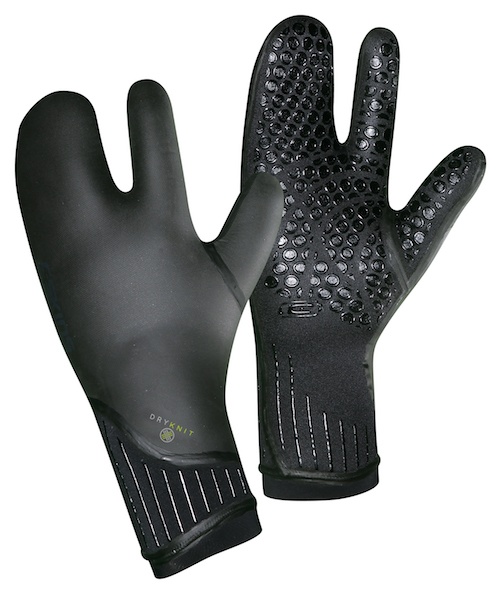 Hotwired lobster dryknit glove
Tell us a bit more about the linings' benefits of your wetsuits ?
Our Dryknit lining has been developed to improve the thermal warmth of the wetsuit and also to dry fast and reduce weight. The Dryknit lining uses a ground breaking aluminium foil glue in the lamination process to coat the back of the neoprene foam while at the same time allowing laminating to take place of the knitted fibres. The resulting glue is thin, flexible and thermal-reflective – meaning it reflects heat. The aluminium helps redirect infra-red energy which is just a fancy word for heat.
The other main advantage of Dryknit is the multi layered knitted yarn that dries fast and also traps air between your body and the neoprene foam. The 2 layers are made up of an outer layer which is super hydrophobic yarn which expels water rapidly into the inner layer which then runs down through the yarn and out of your wetsuit.
What's new in terms of fit and panel construction?
Our major fit/panel updates have been focused on increasing the range of motion in the suit as well as comfort.
Our new "Enigma2 Floating Zip" panel found on our chest zip wetsuits has been updated to allow a greater range of movement while paddling. This panel is stitched onto the wetsuit at the final stage of production so it floats on your shoulders and this also means that there are no internal seams cutting across your shoulders.
We have also developed a new closure on the inner neck which we call our "Iris Closure" – this has been developed around the iris found on a camera lens which allows the wetsuit to go on easier and it sits high on your neck to ensure reduced flushing.
Please list some of the best selling arguments for a wetsuit?
Warmth, durability, flexibility, value for money and customer service backup. Wetsuits generally get put through their paces in an extreme environment so its important to have the best backup possible. This is what we pride ourselves on at C-Skins (as well as the other points of course)
Please take us through three key products that retailers should put on their order sheets.
HotWired – The new version is a highly innovative and technical cold water wetsuit that combines our exclusive Dryknit lining, Power Seams and C-Flex Hot Tape to give you a warmer, lighter, faster drying performance wetsuit. This wetsuit model is key for all core surf retailers who supply cold water surfers.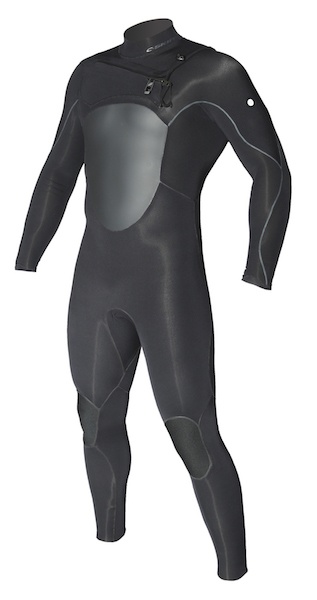 Hotwired men's
Wired – Much like the HotWired but with more emphasis on high wear and durability over a longer period. Its for the surfer who wants the warmest suit and who gets in the water a lot, who want solid durability without compromise. The Wired is Dryknit lined like the HotWired and includes the new Enigma2 Floating Zip Panel.
ReWired – The comp version of the Wired. Fully sealed with Dryknit back panel and Enigma 2 Chest Zip. The suit that has everything you want in a winter suit and at the right price.
Is eco-friendliness an issue for you and how do you approach it?
Is being eco friendly important to us – simple answer is yes, but we have to be pragmatic in approach. There's a lot of smoke and mirrors in the world today and particularly in the surf world so it becomes very easy for companies to create hype and confuse consumers. Technology which appears to reduce the carbon foot print but actually doesn't. Our approach to reducing our carbon foot print is very simple. If there is a viable alternative or a cleaner way of doing something that doesn't affect the main functionality of a wetsuit or an accessory product then we will look at it closely. We wont make a decision about how good something sounds but look deeper into the processes behind it to ensure that the story is true.