DC Outerwear FW16/17 Preview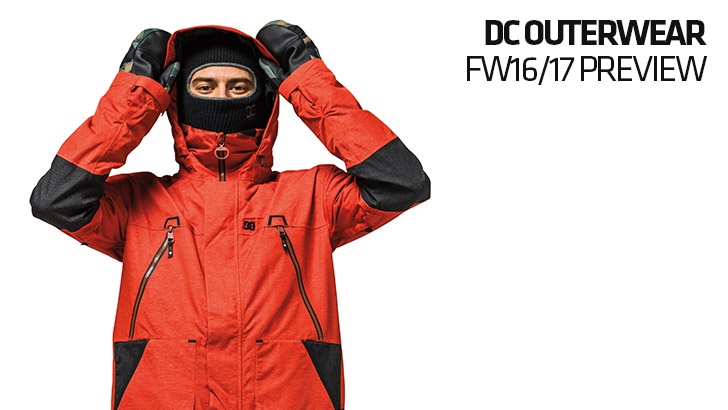 ---
CATEGORY: MEN'S OUTERWEAR
BRAND: DC
---
What's the overall theme / general inspiration behind the 2016/17 outerwear?
ALL: Integrating Design, Utility and Tech DC's Winter collection presents a progressive approach on modern outerwear.
Merging classic outdoor and military influences with a contemporary streetwear style, DC's got you fitted for all your needs on and off the hill.
MENS: We feel the riders are not only influential in selling the product but creating it as well. This season you'll find a variety of pieces in the line that were motivated by the riders adding credibility and authenticity to our product. (E.g. the Corruption Jacket with Torstein Horgmo or the Flux Jacket with Justin Fronius)
WOMENS: We have made a huge leap forward for FW16/17 regarding the womens direction.
Like the Mens line, our Winter 17 "Womens" collection was focused on a progressive approach with streetwear motivated designs and unique materials bringing something different to the market. We wanted to draw attention with contemporary designs and bold use of patterns and refined details.
KEY PRODUCT FOCUS: What are the two most important products of your 2016/17 line? Why? Tell us about them please.
MENS: For FW16/17, we added the outerwear component to our SPT partnership. The number one initiative was to create something that would support SPT's standards in what they do as on operation on the hill. From hood to hem I worked very closely with Gunny to understand SPT's needs and demands and design something that we believe compliments both brands aesthetically.
We created a Jacket and Bib (which converts to a pant) that was workwear influenced with attention aimed on functionality, durability and safety.
WOMENS: We like to think that sometimes product speaks for itself so for FW16/17 we have brought in some key styles to continue elevating the collection. The "Collective Bib" is a 15k tailored fit bib and comes in a washed, soft oxford and has all the details true of a denim overall. The "Skyline Jacket" is a clean 10k anorak for the female that wants to add something new to her collection. Then finally we have the "Panoramic Jacket" which comes in a 15k tailored fit and has a perfect blend of technical features and stylish details.
What type of client are you targeting with the collection?
ALL: Snowboarders, men & women, young & old.
What new fits / silhouettes will you be showing, in pants & jackets?
MENS: There is a new fit in our Pant assortment called the "Drop Crotch" fit (found in the ASYLUM PANT). Taking cues from the trend in streetwear we "dropped the crotch" to allow more room and comfort in the upper leg/waist area while still maintaining a clean tapered leg. It's like the best of both worlds and perfect for the consumer either wanting to try something new or on the fence about Regular fit vs. Slim fit.
ALL: In addition we have continued to focus on improving the articulation in both jackets and pants to enhance the shaping and comfort when riding.
What's new in colours / prints?
ALL: Like last season we have continued to offer a well-balanced arrangement of colour, merging the more conventional "pops" with muted "earth tones". Complimenting both the athletic and street inspired directions of the line.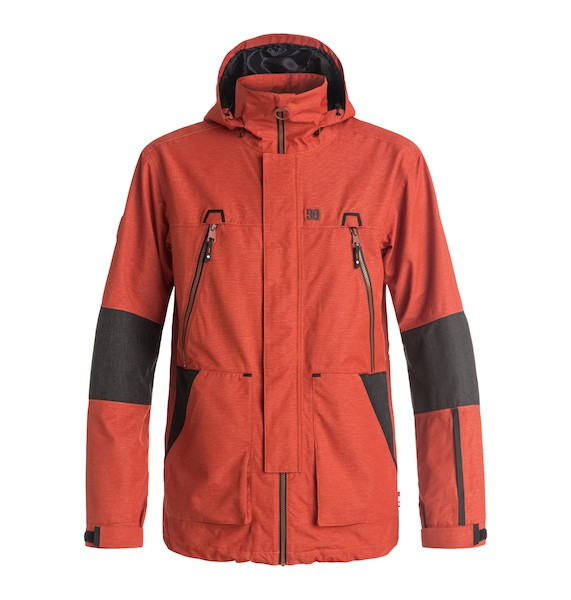 Command Jacket
As for prints, we have expanded on our Camo offering. You will find a traditional Duck Camo that has been translated differently regarding colour for all divisions – Men, Women and Youth.
MENS: Also we have explored an artistic interpretation on camo with our "Antlers" print and "Travel Goods" which is a brighter and more illustrated version. Then to round it out we brought in an abstract / textural print that is coloured in both a tonal grunge and a "reflective" execution!
WOMENS: Two prints we offer in addition to the camo is a timeless grayscale tie dye and an illustrated "howling moon"
Here's the place to talk about the fabrics, features and technical innovations. Here we're principally interested in *NEW* technical stories that you haven't offered to retailers previously.
ALL: For FW16/17 our focus with the new direction has been on "Functionality" and "Durability". Motivated by classic workwear and/or military materials like oxford, canvas and ripstop we manipulated their impression by decreasing the weight allowing for longer sessions on the hill. Please check out styles like "COMPANY jacket, SERVO jacket, RIJI SE jacket, ASYLUM pant, COLLECTIVE bib and PLATOON bib" for example.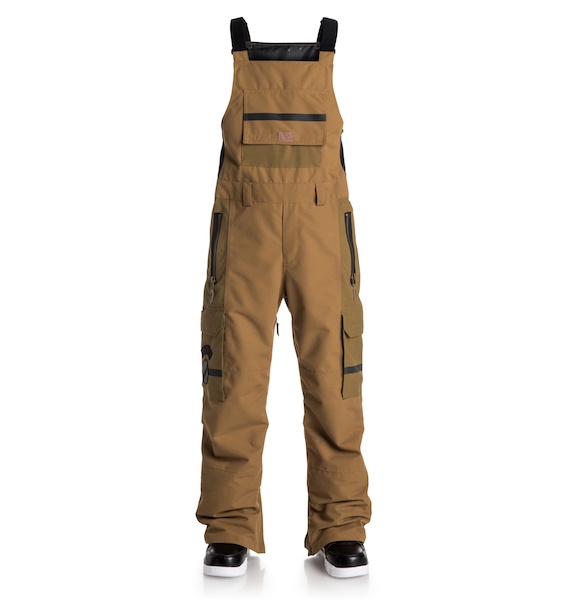 Platoon Bib
Trends you've seen in outerwear that are very HOT?
The Resistance Series from DC ; )
BASE LAYER BOX OUT: Do you do baselayers? What's happening here, what's your key new offering next year and what makes it great?
The layering game has changed and that's why we have created the "Resistance Series" to help evolve this category. The concept is to build product that will support our brand and riders personality and be versatile to use on and off the hill. "Value" is the key component to this category. The overall vibe is more emphasised on street wear trends but with a casual technical ingredient to every piece it falls right in place with our market.