Dwindle Skateboard Hardgoods FW16/17 Preview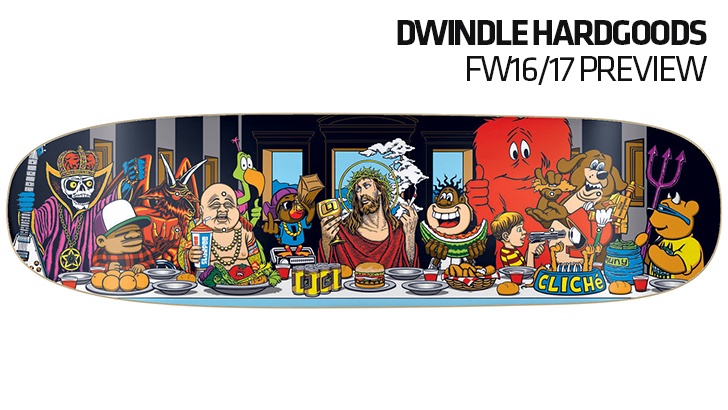 ---
CATEGORY: SKATEBOARD HARDGOODS
BRAND: DWINDLE
INTERVIEWEE: STEVE DOUGLAS
---
What is your impression on active participation in street, park and vert skateboarding in Europe? How is it developing and reflected in hardware sales?
This is a great question! The only data we have is from North America – if you have this information please share it with us! The great news is there plenty of new parks being built across Europe and that can only be a good thing. Right now, Europe hardware sales are staying up (27% up from July-Sept) but we see in our forward numbers that these numbers are slowing down which is only natural, Europe (outside of Scandinavia) is very healthy and long may that continue
With skateboarding possibly in the 2020 Olympics, we heard wild rumours that someone is developing a novel skateboard deck construction – perhaps without using wood! Will the Olympics provide a new spark in "alternative" board constructions?
We know nothing about this but we would be happy if that was the case. We feel we at DSM currently make the best boards in the industry by far and we are committed to that. Our riders swear by the impact series and Rodney only rides the Uber board, we all feel these are the best boards out there but we will not stop trying to improve the boards. In the future will we see boards with no wood? Of course! When is another story…
Are there particular hardware trends in Europe that are different to anywhere in the world?
No not really, everywhere is pretty similar with the exception of the Japanese market
DECKS
How are deck sizes trending? Does the wider deck trend continue?
The 8 inch and above is still the sweet spot for us. Anything from 8.0 up to 8.5, but saying that we still sell a good amount of 7.75.
Are price points under pressure with global economic developments? What are current price points with the most action?
Yes unfortunately, and we have seen an increase in our Blind and Darkstar supersavers, they sell for £34.99 / €49.95. At Dwindle we try and have a brand for every skater and a PP and technology for every skater.
Are unconventional shapes making a comeback in "regular" street boards? There's been some bold ones lately.
There is a market for directional shapes, whether it be for a cruiser or to actually skate. We offer various directional shapes across our brands every season and although this is a small part of our business today, it is an important one.

WHEELS
What are the main sizes and best sellers for you?
We have no street wheel brand, but we have the all-terrain brand that is Kryptonics tracs. The recently new 55 mm's have been a big hit with the modern younger skater and on the other side of the spectrum so have the 75mm
What is the most noteworthy development in the wheels segment?
For Kryptonics star trac, the new different duros the whites 91a, 94a and 97a. We are also introducing two new limited edition colours, Pink in 80a and orange which are 84a, the wheels look good enough to eat!
TRUCKS
Lightness has been a factor for a while? What is your approach and story?
At Tensor we have the lightest truck on the market by a long way. The Mag Light truck is 29% lighter then the industry standard truck. It features a hollow shell and kingpin and is made from super light and strong magnesium which is also amazing for grinding, our riders love them!
What do shops and customers ask for in a truck these days?
To have great geometry, to grind well and be as light as possible but still strong, we tick all boxes.

What are the best sellers?
5.25 mag light!
ACCESSORIES
What is poppin' in skate accessories and what do the shops need to have right now? Socks & rails!
Bonus: What is the biggest trend retailers need to watch out for in skate hardgoods right now?
For us, we have some products that are only available through our pre-book program.
And also having price point decks in stock in bulk!
Lastly I encourage all skate shops to sit in our Goto online meetings we do for each pre-book delivery and for when the AO stock lands, we have special guests presenting the brands and we have a lot of fun talk about new products and go over the marketing of the key products. For those shops that want to participate then please ask your local distributor to invite you or contact Leigh Nardelli the EMEA sales manager (leigh.Nardelli@dwindle.com)