Lib Tech Snowboards FW16/17 Preview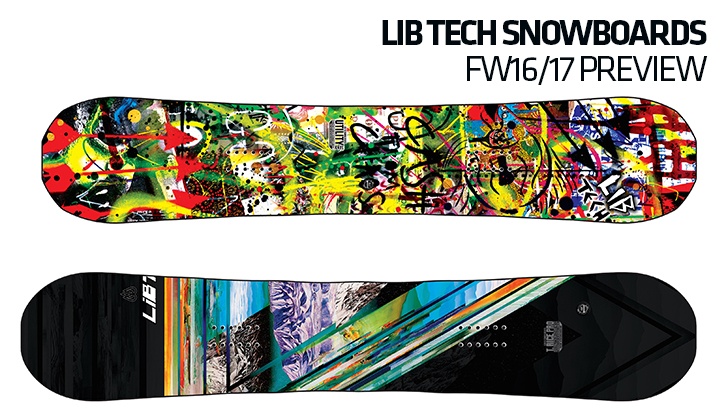 Utility Knife and Trice
---
CATEGORY: SNOWBOARDS
BRAND: LIB TECH
---
KEY PRODUCT FOCUS: What are the two most important boards in your 16/17 line? Why? Tell us about them.
1) The ten-year skate banana with the associated highlight being that we started the rocker revolution. No one has more experience or expertise with contours than our Lib Tech experimental division. Our rockers are not just cute bananas – we build highly technical rockers and camber hybrids that features rockers between your feet and varying cambers out to the tip and tail. The cambers impact where your energy goes as it transfers from your feet to the board and how the board performs. All Banana Techs are a full contact rocker camber hybrid designed to rip hard pack, ice and any resort terrain. Of course once free of a hard technical snow surface they behave more like a traditional rocker and float extremely well ripping the backcountry, broken snow and pow.

2) Travis Rice and C2; the best all terrain resort focused rocker camber hybrid that absolutely kills the powder. There is no better all terrain contours!

3) Utility Knife, Fredi and Jamie and C3 – the worlds best camber. C3 is a very technical camber that is designed around how a snowboard is activated with two feet on one board. The mild rocker between your feet improves hook up under foot and slightly reduces tip and tail pressure, allowing the board to bend into a more natural arc and hold a tighter turn with out washing out the tips and tails and chattering. It allows for better carving on ice and hard pack than traditional ski camber applied to snowboards.

Are you using any new inserts / edge tech / cores / sidewalls / glue / wood types / metals / other materials? Or are you using this stuff in any new ways?
Climax Construction is new and it is definitely our lightest, environmentally cleaner and liveliest construction. Features include Bio Beans top sheet and recycled PET construction, glass magnesium fiber. The climax also features spin-slim lightweight tip & tails and carbon material for reduced overall and spin weight.
Where are you building your boards, any changes from last year? What makes this production the best solution for your brand?
At Mervin MFG we are still producing all our boards in the worlds most environmental board factory in Sequim near Seattle, Washington state. Over the 25 years we have always tried to be as environmentally conscious as possible with both our work environment and the materials and processes we use. We are working with Eco materials (renewable eco woods with Bio topsheets, bio sidewalls, etc.), and our whole production circle is a 360 degree Eco process (water cleansed grinding systems, bio solvents, etc.). We also recycle all of our left over wood and plastics and we are very proud to say that we have ZERO HAZARDOUS WASTE!
What's new in rocker? Any different bends than last year? Where's the demand at on this?
Our rocker is the banana technology; we invented our banana technology which is a combination contour that is very specifically designed around how you use a snowboard.
Banana technology is the snowboard contour with specific rocker / Camber Hybrids. There are three different rides/aggression levels:
BTX: Ten years ago Lib Tech's experiMENTAL Division started a snowboard contour revolution with the introduction of the now legendary Skate Banana model. Rocker between your feet mild camber to tip and tail which allowed for easy jibby, better carving, better float, better edge hold and control and the easiest contour to start snowboarding.
C2 perfection: Travis Rice's three year movie project, featuring Lando on the Lando and Ejack on the TRS (total ripper series), will be releasing at the same time as these boards hit the store next fall! C2 rocker/camber hybrid perfection, rip everything in the resort and still kill the pow.
C3 Aggression: The world's best camber! Jamie Lynn and Fredi Kalbermatten's favorite power freestyle contour and now introducing the soft flexing jib freestyle focused Utility Knife… C3 is camber engineered for aggressive high performance snowboarding.
What inspired your topsheet & base aesthetics? Where are trends going – muted or flashy? Any cool collaborations or limited editions?
Again this year we have a great crew of artists! From year to year they surprise us with their new artwork and ideas. Either it´s Mike Parillo for the Skate Banana, Jamie lynn on his board range, Quincy Quigg did the Skunk Ape and Adam Friedman designed the whole T.Rice range with his incredible art work. Nicolas Müller worked together with Swiss artist Alain "lain" Schibli for the awesome new "mullair-pro model". So every Lib-tech and GNU snowboard is a little art piece by itself.
Doing splitboards? Is this market increasing, decreasing or staying the same for you?Yes, this year we will have the Travis´ lightweight directional Freeride Splitboard with aerospace spin-slim & Balsa enlightened performance construction. The directional tapered notch swallow shape still rips in both directions.
Firepower construction is the direct result of his desire for ultralight tip / tails and mid section of the board, while retaining stability and power for committed lines in the world's gnarliest terrain.