Never Summer Snowboards FW16/17 Preview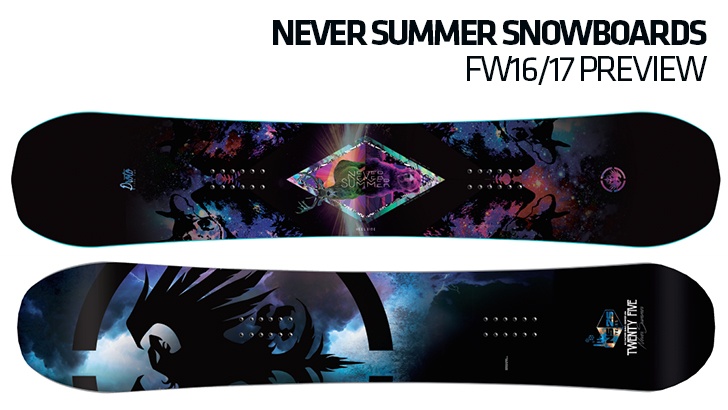 Proto Type Two and the 25
---
---
CATEGORY: SNOWBOARDS
BRAND: NEVER SUMMER INDUSTRIES
INTERVIEWEE: TONY SASGEN (INTERNATIONAL SALES MANAGER)
---
KEY PRODUCT FOCUS: What are the two most important boards in your 16/17 line? Why? Tell us about them.
We dropped a new model as a limited late season release at the end of 2015 and this will be again offered for the 16-17 season. It is called the Type Two and for the 16-17season it will be offered in both men and a women's version.
The 2nd model that we feel is most important to us is the Twenty Five. This is our 25th Anniversary board, a culmination of 25 years of testing and experimenting with snowboard materials and production in the USA. It will feature the Rip Saw profile and have a bit of stiffer flex, a new nose shape and retro tail. This thing crushes for bigger terrain, hard changing, and pow.

25
Are you using any new inserts / edge tech / cores / sidewalls / glue / wood types / metals / other materials? Or are you using this stuff in any new ways?
We are testing and experimenting with new top sheet materials, which will be in the line-up moving into the 16-17 season. We are still using P-Tex side-walls, combined with our exclusive STS pre-tensioned fiber glass and unmatched construction to be the most durable boards on the planet.
Where is the price point with the biggest demand for you? Right at the top, at the bottom, or somewhere in-between?
For Never Summer, the price point board did not work well. I'd have to say the bottom, then dropped off the bottom and cut from the line. Our price point board was the last to sell on most retailer floors. It was perceived as a lessor quality mode and that didn't sit well with our Never Summer customers, even though our price point was pressed and built with nearly all the same materials that we use in the rest of the line-up, other than carbon and the STS fiber glass and it was a great board!
We are now working on expanding our kid's line making a mini prototype for the little rippers and working on 80cm, 90cm, 100cm, and 110cm to grow the future market of Never Summer.

Warlock

Where are you building your boards, any changes from last year?
We have and ALWAYS will build our boards in Colorado in the USA.
What's new in rocker? Any different bends than last year? Where's the demand at on this?
Over the last couple of seasons we have dropped new models featuring the Rip Saw profile. The Rip Saw Profile still fits under our patent for our Original Rocker Camber but has an amplified camber from the foot out to the tip and tall and we put less rocker between the feet. These models with the Rip Saw profile – Rip Saw, West, Fun Slinger, and Twenty Five – have a bit more of an aggressive feel and the Original Rocker Camber models have a surfy and more playful feel. Both profiles can handle any terrain and still maintain their stability at high speeds which for our brand in crucial. We did not want to implement new technologies and loose one of the best qualities of our boards which is the stability you feel digging in your edge at speeds.
What inspired your top sheet & base aesthetics? Where are trends going – muted or flashy? Any cool collaborations/limited editions? Please provide details of artists & subjects.
We are always testing and using new materials for top sheets and if we like them then we will implement them into the line. It's all about testing, testing, testing! We are about 60 miles (or about 95km for you guys) from Loveland Resort and within about 1 and half hours from 7 Colorado resorts. We can build, test, and have feedback in one day then make changes and do it again the next day. When we get the ball rolling things start to happen fast. For bases, we are still using the sintered P-Tex bases, which we believe are the best in the world.
Are you doing split boards? Is this market increasing, decreasing or staying the same for you?
Yes, we are still cranking out Splitboards. We have a couple of new models coming out as Splits. The Twenty Five will be available as a split and the West will have a split option.