Rome Snowboards FW16/17 Preview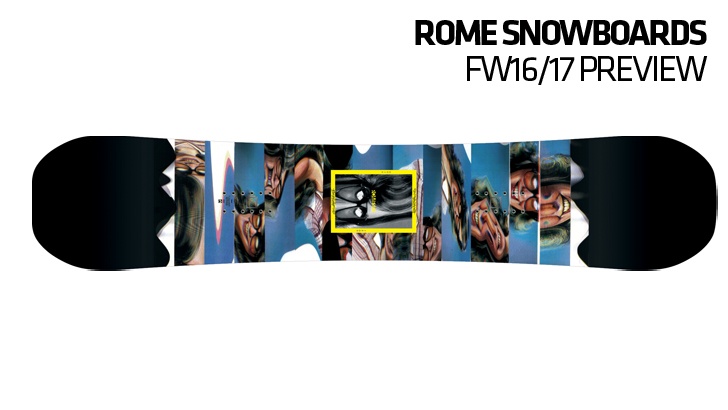 Buckshot
---
CATEGORY: SNOWBOARDS
BRAND: ROME
INTERVIEWEE: PHILIPP KÄMMERER (SALES AND MARKETING MANAGER EUROPE)
---
KEY PRODUCT FOCUS: What are the two most important boards in your 16/17 line? Why? Tell us about them.
It's hard to say what our two most important boards in the line are because we believe in quivers and we have a comprehensive line to support people who want to build a quiver. But that said, our two most important NEW boards are the Blur and the Buckshot.
The Blur is a new all-mountain model built for freeriding big European mountains, whether you are on piste or off piste. With an evolution of our Hybrid Positive camber design, and armed with a new configuration of our TurboRod Technology, it is a highly responsive board for riding with precision, power and speed.

Blur
At the other end of the spectrum, the Buckshot is a new mid-to-high priced park board. For this new design, we worked with Ozzy Henning and Toni Kerkela on the shape, technology and graphics to create a very team-inspired model. The Buckshot is loaded with technology and flex to give riders a board that reflects Ozzy's and Toni's riding—super creative, super stylish, and super technical.

Buckshot
A third new board direction that we are super stoked on is the RK1 Collection. Stale Sandbech, Alek Oestreng, and Len Jorgensen all have signature graphics and models this year. Stale's 156 Mod features added tech for the speed and pop he needs. Alek's Agent 155 features a Agent chassis, but with a Alek-created tip and tail shape. And Len's Gang Plank features a different stance configuration so it's easy to ride like Len.
Are you using any new inserts / edge tech / cores / sidewalls / glue / wood types / metals / other materials? Or are you using this stuff in any new ways?
Our new TurboRods in the Carbon Dual Arc pattern is a key new innovation for us. Featured in the Blur, this configuration is milled into the core in a curving line that matches up with the arc of the board's side cut. These pre-bent TurboRods add a ton of edge power and explosiveness off the tail and into the next turn. We're also featuring our Good Vibes Sidewalls on the Mountain Division to decrease chatter and to increase strength in this freeride model.
Where is the pricepoint with the biggest demand for you? Right at the top, at the bottom, or somewhere inbetween?
Our best pricepoints are in the mid-to-high range. Boards like the Agent series and the Gang Plank, which sit between the middle price point and the highest price points, are the strongest board for us. These boards feature a ton of technology, without stretching into the very highest price points.
What's new in rocker? Any different bends than last year? Where's the demand at on this?
As mentioned above, we believe in quivers. Our staff here at Rome and our team riders all ride quivers of 2 to 4 boards. This is because we know that different days and different sessions require different kinds of boards. As a result, we have nine different cambers in our line to deliver nine different strengths for different terrain, different conditions and different styles. Our new camber for the year is an evolution of one we pioneered about six years ago—our Hybrid Positive camber. In this design, there is positive camber for the majority of the running length, and then just before the contact points it converts to rocker in the tip and tail. The effect is that it looks like a positive camber board when it is sitting on a flat surface, but when the rider flexes it, its small amount of rocker pops up in the tip and tail. We were the first to create this kind of camber back in 2009. The benefit of this camber is that it gives a lot of the high performance of camber, but initiates more smoothly and floats a little better in powder. Coupled up with a powerful flex pattern, this camber gives ultimate power between the feet, but takes the edge off it in the tip and tail. For the new year, we've also expanded our Free-The-Ride Camber into more free ride boards, both for men and women. This three-zone camber features rocker up front, a flat zone just in front of the front binding, and positive camber from the front binding to the tail. Great for powder and piste riding, this camber gives float up front, strong initiation, and power off the tail.
What inspired your top sheet & base aesthetics? Where are trends going – muted or flashy? Any cool collaborations or limited editions? Please provide details of artists & subjects.
Snowboarders aren't all one type of person, so we don't have one type of art. For some models, we like to use clean, refined artwork. For others we like to get loose and have fun with subjects that make more of a statement. Colour, illustration and typography are all super important. For 2017, we've continued to work with Jon Contino because we love his art—you can see his authentic typography on the new Crossrocket. We also are working with Stephen Brewer to create fun, irreverent illustrations to drive the personality of what Len wanted in a graphic; when Len said he wanted a "party turtle", we knew Stephen was the best artist to execute that design.
Doing splitboards? Is this market increasing, decreasing or staying the same for you?
Of course we are doing splitboards! This past year we gave all our employees at Rome new splitboards because we know these are essential models to have in a quiver. We predominantly ride lifts, but throughout the world, splitboards are the best way to access fresh snow in remote zones or off the side of a resort. Our offerings are staying the same, but we expect to grow sales of splitboards this year because there is no better way to get uphill for fresh lines. Everyone should have a splitboard in their quiver.