Nitro Boots and Bindings FW16/17 Preview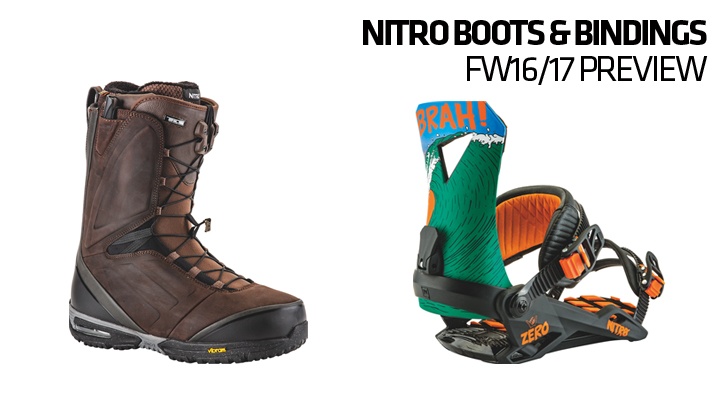 ---
CATEGORY: BOOTS
BRAND: NITRO
INTERVIEWEE: TOMMY DELAGO (CO FOUNDER & HEAD OF R&D)
---
What are the two most important products of your Fall/Winter16/17 line? Why?
Always a tough question when you're working on a final product of all models. Despite this, it is probably the new EL MEJOR on the very high end, a new boot with a real leather shell, focusing solely on comfort. It is packed with features like the new VIBRAM® ICETREK OUTSOLE with D3O® Shock absorption and our new Ortholite® Triple Density Footbed.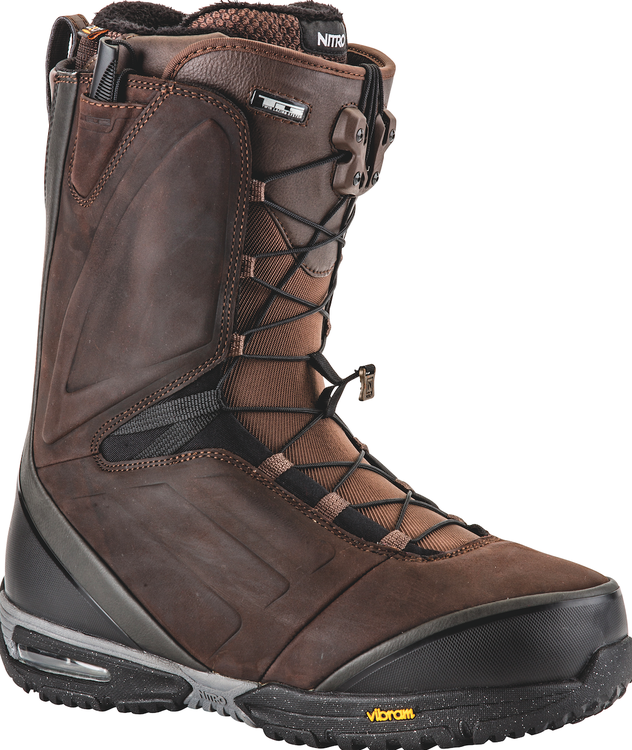 On the other end of the spectrum, we have worked hard on our entry-level models, the VAGABOND (mens) and the FLORA (womens), where we are offering Nitro-typical fit and quality at an affordable price.
What new functionality are you most excited about in your boots range for Fall/Winter16/17?
This is definitely the all-new RE/LACE liner locker, featured on models like EL MEJOR, SELECT, TEAM, VENTURE BRYAN FOX and FAINT. It provides easy adjustability for your inner boot lacing when your boot shell is already tied! By just pulling up on the lace handle, you can retighten your liner and foothold throughout the day, on and off the chairlift, without having to untie your boot.
What colourways/prints/patterns/influences/textures will we see in your aesthetic range?
We continue to focus on the look and feel Nitro is known for – street-influenced, leather-like surfaces with a great soft-hand feel, sometimes combined with cool fabrics and meshes. Marble effects continue to give a strong multi-dimensional aesthetic, while colours remains somewhat muted with the occasional flash highlight.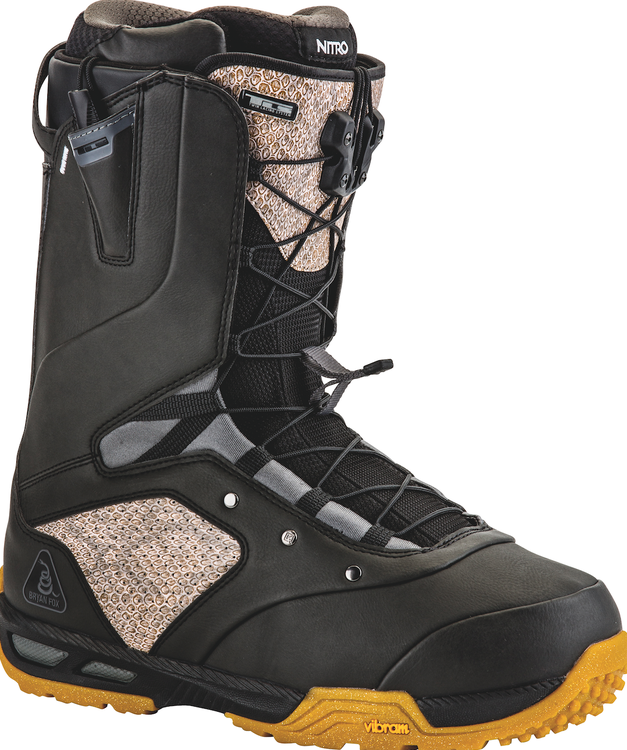 Which part of your range are you investing in the most? Freestyle, freeride, do-it-all, beginner…? Why?
We have made a specific effort for FW16/17 in the entry-level models but we are investing wherever it is needed. However, most of the new and costly developments concern overall improvements in lacing systems, construction and new materials.
What's new with your liners – any new developments here?
Fit, fit, fit! We are fine tuning what's working such as our heat-moldable Thermacell material, combined with Latex heel pads for out-of the box fit that's customizable and is now enhanced with Ortholite® Footbeds.
Materials: are you using anything new? Vibram, Outlast, Gore-tex, d3o, baked beans?
We're expanding our offering of Vibram® soles, one of which now has integrated D3O® dampening elements. D3O® is also used in outsoles, as well as in some liners with D3O® tongue cushioning and new Ortholite® footbeds.
Price points: What is performing best, and where is your brand going? More or less expensive?
With the current dollar to euro exchange situation, price increases are most likely on most models. However, we are pushing new concepts in the lower end to stay competitive there as well.
What's new in lacing – sticking with trad, working with Boa, or doing your own thing? Where is the demand?
We are very happy and successful with our own TLS system, still the longest running technical lacing system on the market. We continue to keep an offering available in traditional lacing for those riders that are stoked on tying a knot.
What trends in other footwear sectors have made an impression on your FW16/17 line?Probably street and work wear, some sneaker trends as well.
---
CATEGORY: BINDINGS
BRAND: NITRO
INTERVIEWEE: FLORIAN LANG (HAUSMEISTER – BINDINGS)
---
KEY PRODUCT FOCUS: What are the two most important products of your 16/17 line? Why? Tell us about them.
The POISON is spear heading NITRO's line of women's bindings with a level of comfort and performance that is second to none. Air dampening in toe and heel, canted foot beds, mini disk for unrestricted board flex, cable reinforced ratchet straps and connectors for ultimate strength and zero stretch are just a few of its features.
The RIPPER is a new youth specific binding model. Besides the pure riding performance of a lightweight binding with canted foot beds and many more features, the design focus was to perfect the fit with today's kids and youth boots, which are shorter and of less volume than in past years. The Ripper binding also comes in a rental version to complete our program of rental products.
What new materials are you using in your bindings?
We continue our partnership with DuPont® and build with the strongest Nylon and Urethane material on the market. Nitro only uses custom 8.8 hardware in all of its bindings. We don't cut corners when it comes to high performance padding and rely on the comfort and feel of thermo shaped paddings rather than cheap packaging foam.
What is the dominant colour aesthetic for next year's bindings?
Almost black!
Price points: Where is your brand going? Higher? Lower?
While we try to keep prices stable, we focus on offering the best value based on quality and performance.
Are you doing any collaboration that shops need to know about?
The new SHAKA is surf inspired graphic theme on the ZERO, featuring real surf traction pads. It is important that you also check out the pro model bindings of Eero Ettala and Ana Rumiha.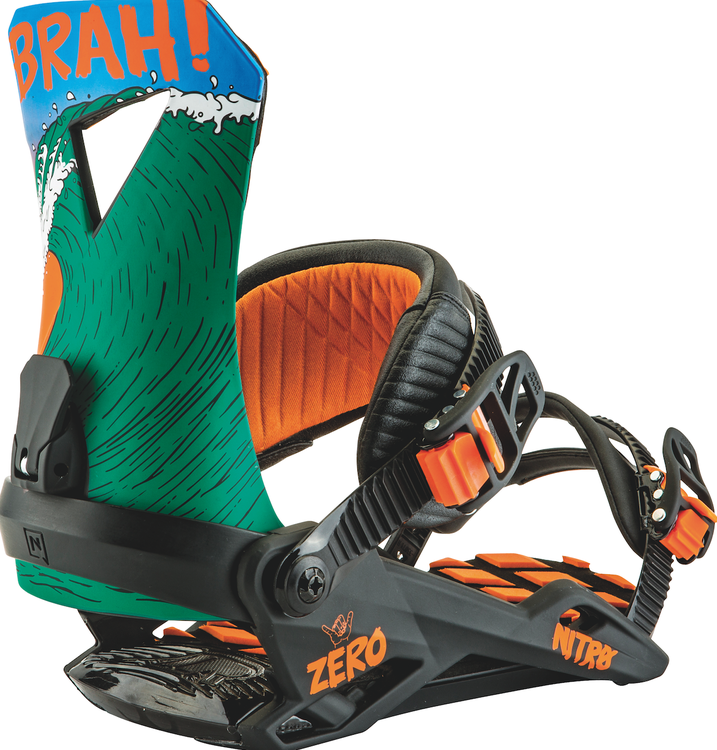 What's new in cushioning/shock absorption?
AIR DAMPENING is the lightest and most efficient shock absorption technology on the planet. It saves your knees and ankle in cold temperature just as well as it does in spring riding conditions. Air doesn't change its properties with temperature while Gel pads and moist foam pads become rock solid when it starts freezing….
Are you making bindings for anyone else, or doing your own thing?
All our product development and design work is 100% dedicated to Nitro bindings.