Burton Boots and Bindings FW16/17 Preview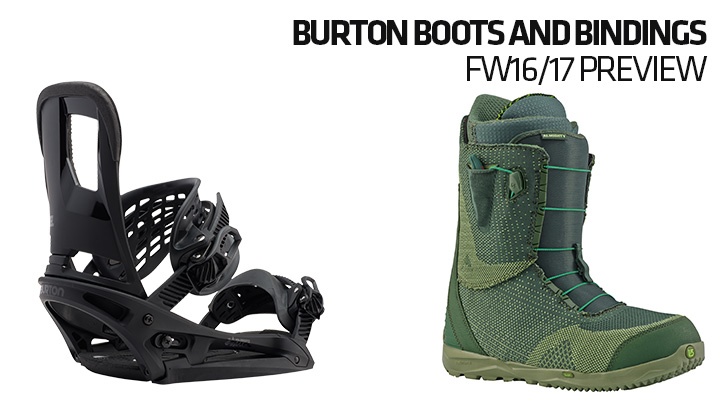 ---
CATEGORY: BINDINGS
BRAND: BURTON
INTERVIEWEE: CHRIS CUNNINGHAM (VICE PRESIDENT HARDGOODS)
---
What new products are you excited about for FW16/17 preview?
There are two bindings that we are particularly excited about; This first model is something of a franchise model and it's the Cartel EST. Basically, a couple of years ago we introduced the hammock strap which is an injected ankle strap, no stitching, very lightweight, extremely durable. It has the double take buckle and we're trickling that down onto the Cartel & Cartel EST. Now we're getting that technology onto a key mid price binding.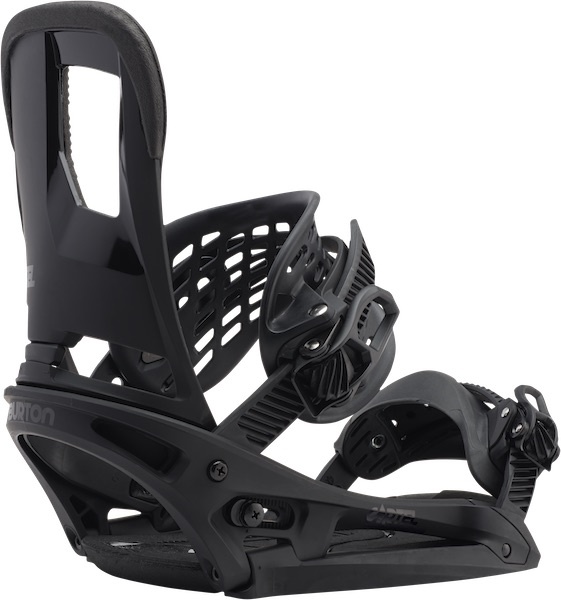 Burton Cartel EST
We also have the Genesis X & EST which was a holiday release last year. The Genesis is a premium high end extremely comfortable, extremely high performance binding and it kind of puts it on steroids. The high back is reinforced with glass-infused nylon to give it more response and the baseplate is a carbon baseplate which also has the spring bed in the established model, and that is a carbon fibre suspension bed. It creates a hybrid between the Diode and the Genesis. Diode will be replaced with Genesis X, then the X Base comes above them both. 100% carbon highback, carbon infused baseplate, and last year we started introducing titanium hardware, now all the hardware is titanium for people wanting the super lightweight, highest performing binding.
Are you doing any collaborations?
Not really artist or brands but we have updated the baseplate to a single climbing wire binding, smaller baseplate, and women's size. We'll add a smaller size, same name.
What colours can we expect in the FW16/17 preview?
Red, green or blue – we have enough colourways to cover the whole rainbow spectrum. We put a lot of work into our paint finishes, metallics and automotive finishes. We planned our line a lot differently this year – not just the bindings, the whole hardgoods collection – and it's probably the most cohesive line ever. We built the whole collection off consumer profiles, you take a section of the line that's targeted at a specific consumer profile, then we merch that entire collection around the consumer profile – you'll see colours transcend price points and there are infinite combinations. You'll always see a better match with us.
---
CATEGORY: BOOTS
BRAND: BURTON
INTERVIEWEE: CHRIS CUNNINGHAM
---
What are your important models for FW16/17?
We still have SLX but below that in price point and at a similar level there is the Almighty and Ritual Limited for women.
Are you using ULTRAWEAVE?
You can find it in the Almighty (Men's Boot) and Ritual LTD (Women's Boot).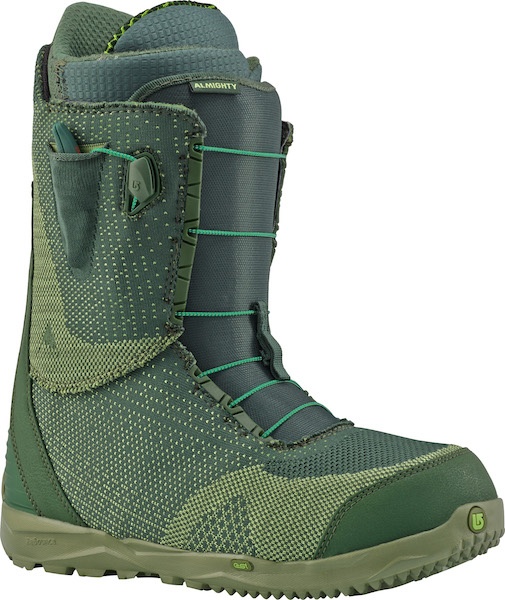 Burton Almighty Boot
There is a technology kind of a movement that's been happening in the footwear industry and we are making the entire upper of the boot with a 3D woven pattern. We can control the stitching as far as the flex is concerned, and we can reinforce parts to add durability where we need it. It's eliminating a ton of waste, avoiding stamping out parts. It's a really cool looking boot with that woven upper.
We have a toaster liner to buy as an accessory only, rechargable Lithium Ion battery woven into the liner with a micro USB cord for charging, three heat settings and lasts for 4-8 hours. If you have a Burton boot you can add this as an upgrade. The battery pack is extremely lightweight, thin, sewn in and low profile – you barely even know it's there. And you can plug it into your USB thing like your iPhone.
Speedzone is still hanging in there strong, and our Boa boots have been received well and are growing for us.
What is new in terms of cushioning?
We have expanded our use of rebounce cushioning and new dinobite outsole on the Felix and Ritual.
There is also the new high end liner Lifeliner and Lifeplus Liner. Replacing injected Infinite Ride liners, 60-80g lighter.It has a new foam called Ultralon, premium PE foam that doesn't have any fillers, is extremely lightweight, poured PU tongues for better rebound and the best foam around.