GNU Snowboards FW16/17 Preview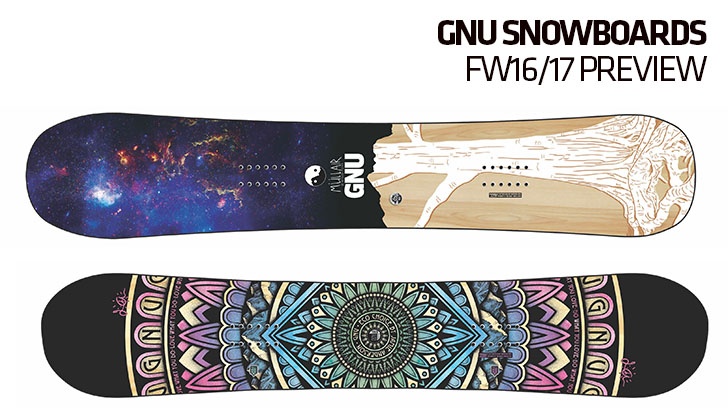 ---
CATEGORY: SNOWBOARDS
BRAND: GNU
INTERVIEWEE: BARRETT CHRISTY
---
KEY PRODUCT FOCUS: What are the two most important boards in your 16/17 line? Why? Tell us about them.
Mens: Mullair by Nicolas Müller, and the Space Case by Forest Bailey! Tough to narrow it down to two, but these two boards were designed by two iconic riders who push their riding and our technology to unreal limits.
The Mullair is Nicolas' first pro model, his environmentally friendly dream stick for all terrain freestyle freeriding. It's a directional C3 with a mild taper at the tail, a floaty nose, and Magne-Traction® to blow up powder muffins and rip the hardpack. Nicolas swears it's the best board he's ever ridden and it's unreal all over the mountain.

Müllair
The Space Case is Forest's asymmetric twin freestyle performance board. It features an XC2 contour for all terrain control and rips everything with style, like Forest. Asymmetric balancing concepts are built into each board for precision control. Turn mechanics on a toe and heel side are different, the Space Case offers balance through asymmetry with a deeper heel side sidecut and magnetraction. Premium Gnu technologies and an unreal shape.

Space Case
Womens: The Ladies Choice and Eco Choice by Jamie Anderson and the B-Pro by Barrett Christy. Both are top of the line premium women's boards that pack technology and beauty into very user friendly performance boards.
The Ladies Choice series is Jamie Anderson's model. The Eco Choice by Jamie Anderson features our most eco friendly building materials, a bio beans top sheet, recycled sidewalls, and FSC certified wood core. All Ladies Choice models are asymmetric and designed for unreal freestyle fun. Jamie continues to dominate slope style contests around the world on this board but it's a friendly enough flex and shape for casual riders too.
The B-Pro is celebrating it's 20 year anniversary. As one of the first women's pro models it set the bar for performance boards in the women's market. It continues to be a premium board, built with all the Mervin eco materials and practices, and the choice of top competitors and freeriders around the world. The C3 camber dominant contour with Magne-Traction® gives it stability and pop, enough power to hold an edge in variable snow conditions, at high speeds, and enough flex to lift the nose up in powder or glide effortlessly through the park.
Are you using any new inserts / edge tech / cores / sidewalls / glue / wood types / metals / other materials? Or are you using this stuff in any new ways?
Mens: The Eco Choice by Nicolas Müller packs our most eco friendly building materials into one of our best selling boards. All Mervin boards are built with eco materials and practices but the Eco Choice series adds recycled UHMW sidewalls, and clear topsheets made from Bio Beans plastic that show through to the FSC certified wood core. All Eco-Choice's are also built with a renewable cellulose fiber that adds dampening for a smooth ride.
FInsanity: 6061 T6 Aircraft Aluminum metal fins are offered on the retro FInsanity. All fins are made by Rocker Trucks in the USA.
Womens: The Eco Choice by Jamie Anderson, packs the same building materials into it as the men's version!

Jamie Anderson's Eco Choice
Where is the price point with the biggest demand for you? Right at the top, at the bottom, or somewhere in between?
For Mens and Women's GNU our sweet spot price point is in the mid price range. We don't play in the low price point zone, with boards hand-built in the USA, our prices start in the mid range.
Where are you building your boards, any changes from last year? What makes this production the best solution for your brand?
Gnu Mens and Women's boards are all built in our factory in the USA. No changes, this is what we are committed to in order to make the best boards in the world's most environmental board factory. This is the best for our brand, we want to have complete control of the design and the building process. Building our boards in our own factory allows us to control every step of the process and we are able to fine tune our boards throughout development and testing, into production.
What's new in rocker? Any different bends than last year? Where's the demand at on this?
Gnu Mens and Womens: We continue to build a variety of camber contours… the original BTX, C2, and C3… with flex and construction variations within each contour. In FW16/17 we are offering Forest's asymmetrical park board, the Headspace, in a softer flexing C3 for camber dominant control in a fun, jibby freestyle board. The BTX B-Nice and Carbon Credit are now being offered in an asymmetrical shape, adding perfectly balanced control to the catch-free perfection of our original reverse camber contour.
What inspired your topsheet & base aesthetics? Where are trends going – muted or flashy? Any cool collaborations or limited editions?
Gnu Mens and Womens: We use a water based ink sublimation system that brings unreal art to our graphics and allows for vibrant colour and detail. Our graphics are inspired by our unreal team, unreal youth, unreal pioneers, and unreal eco board building.
In Gnu Mens we have some youthful, fun graphics like the Forest Bailey Headspace featuring bright, youthful artwork by Forest Bailey, and the NW fantasy artwork by Adam Haynes for the Billygoat that continues to illustrate a storyline inspired by Temple Cummins and his approach to the mountains.
The Gnu Womens line has Jamie Anderson inspired artwork by Sarah King for the Ladies Choice collection. A Mandala symbolizing Jamie's balance in life and her "do what you love, love what you do" attitude. The B-pro graphics by Adam Haynes bring 20 years of B-pros together in a flying pig and unicorn explosion, a nod to the first Barrett board and the evolution of magical graphics that have turned flying pigs into flying unicorns. The Klassy board art by Hannah Stouffer is super colourful, 100% fun graphic inspired by Kaitlyn and designed by the same artist that did the B-pro art for the board Kaitlyn won her first X Games Gold medal on.
Are you doing splitboards? Is this market increasing, decreasing or staying the same for you?
Gnu Mens and Womens: We are not producing Gnu splitboards for 1617. We will continue to offer them in the Lib Tech line!