Völkl Snowboards FW16/17 Preview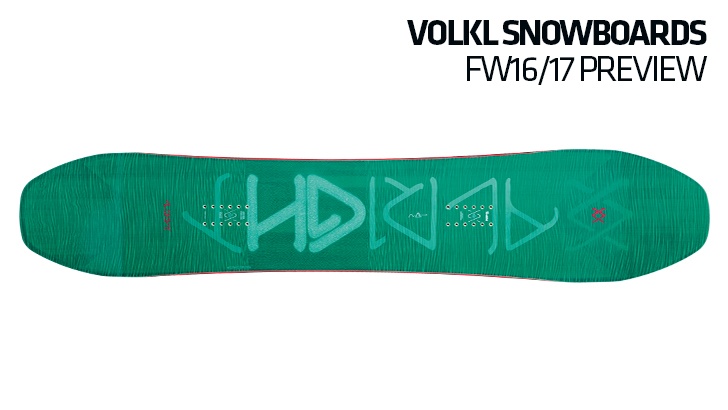 Alright
---
---
CATEGORY: SNOWBOARDS
BRAND: VOLKL
---
KEY PRODUCT FOCUS: What are the two most important boards in your 16/17 line? Why? Tell us about them.
1. NEW: PACE
Made for freshly groomed pistes and wide smiles…
This is a completely new model for 16/17 that features a directional Freeride Shape construction. Not only is it made for off-piste powder straight lines but it also delivers the ultimate high speed rush on slope.
A premium carbon lower beam keeps weight down and plays a big part in providing the ultimate smooth-yet-playful ride. A special P-TEX 4500 graphite base guarantees maximum acceleration and amazing glide.
The material has been upgraded with special additives to make it thermal and electro-conductive and proves its qualities with premium glide and maximum speed – exclusively developed by the Völkl Race Lab.
On top of all that, a tapered core gives the fishtail better torsional flex making the turn radius on carves even tighter. The Pace is a freeride warrior for the backcountry – with an optional powder stance as well as a mountable "Short Tail". The interplay between the rockered, pointed nose and narrow fishtail provides boatloads of float and a silky smooth ride even in tracked terrain.
NEW: SAVVY
Makes the mountain your playground…
Fans of no nonsense boards will love the Savvy! The Freestyle Camber shape delivers absolute board control – improving your self-confidence and keeping you stable and secure even on icy snow.
An early rise of nose and tail provides the Savvy with a shorter contact length, making it both more playful and more forgiving. The Völkl Premium Carbon Weave gives this Twin-Tip board that extra portion of pop and keeps it riding smooth, while the triaxial weave and V-flex inserts ensure optimum power transmission. Plus, inbuilt shock absorbers make even the hardest landings feel soft as butter on a hot, sunny day. The Savvy is a high-end snowboard, perfectly suited to any and all situations and conditions.
It's the perfect board for Big Air World Champion Elena Könz to don't get chained to the park.
It works at big setups like the 9Queens event as well as on backcountry booters or on the slope…
NEW: RENTAL HYBRID
Hybrid shape with Völkl Rental Expertis – sorted by length, by colour & base die cut…
Get perfect edge grip on even the hardest man-made snow with this Freestyle Hybrid shape that rides as stable as anything thanks to a small area of camber between the bindings.
So, whether you're a beginner looking to learn good techniques, or someone with experience across the mountain the medium flex of the Völkl Rental Hybrid board makes it so easy to ride you're guaranteed a good time. To make sure our rental boards see out the whole season and still look factory-fresh, they're built to be as robust as possible and are equipped with a particularly scratch resistant top sheet.
An interior triaxial fibreglass weave ensures the board stays responsive even with long-term use. An extra thick base will stand up to rocks and endless servicing and still keep all it's speed. Colour coded by length and with the size printed on the sidewalls, you'll always know what you've got in stock even at the busiest times. Combined with integrated barcodes, the whole process is stress free.
Are you using any new materials or using this stuff in any new ways?
We have loads of new shapes and constructions but when it comes to special material we do use a unique base-material in our new Pace.
Developed by the Völkl Race Lab and usually limited for the use on their world cup skies we are happy to be allowed to use it as well on our new top of the line Freeride FlagShip – PACE.
The Sintered P-Tex 4500 Base is made from a sintered, ultra-high molecular polyethylene with an extremely high density. It features very good wear resistance as well as perfect wax absorption and is above all fast. The material has been upgraded with special additives to make it thermal and electro-conductive and proves its qualities with premium glide and maximum speed in races.
Where is the pricepoint with the biggest demand for you? Right at the top, at the bottom, or somewhere inbetween?
The biggest increase was reached in the +500€ segment, with the 400-500€ increasing at a healthy rate. 200-400 stayed quite stable with price points below that also having a slight increase.
So all in all we are really happy about the development of Völkl Snowboards within this difficult market time.

Völkl AFC
Where are you building your boards, any changes from last year? What makes this production the best solution for your brand?
All products are engineered and designed in Germany in our headquarter in Straubing/Bavaria. Our in-house R&D department develops all new shapes and technologies in our race-lab.
We are able to test and fine-tune the products with our team riders on-snow in the near by Alps here in Europe.
After prototype approval in Germany the product itself is assembled in our factory in China. It's completely new and the world's most modern and most eco friendly factory for high tech winter sports owned by our parent company Jarden.
What's new in rocker? Any different bends than last year? Where's the demand at on this?
We realize there is a demand on camber shapes in all segments from experienced riders.
That's why we do have easy camber shapes on the 2nd price point – as well as on the top boards.
The easy rocker is flat inbetween the binding area and has a slightly bent nose & tail which will do best for beginners.
For advanced riders, as well our rookies, we focus on hybrid shapes. Smooth camber inbetween the binding and slight rocker in nose & tail. This according to our teamriders is the perfect symbiosis of both 'shape worlds'.
A hybrid shape is a lot more playful than a camber board at low speed but a lot smoother and more stable than a rocker when speeding. They are also a lot more precise than rocker, and are equipped with more pop and float in powder.
What inspired your topsheet & base aesthetics? Where are trends going – muted or flashy? Any cool collaborations or limited editions? Please provide details of artists & subjects.
We already have the feedback from some shops & distributors that the new artworks of our designers exactly meet the requirements of the market. It is mainly darker on the top with some brighter colors in the base. There is also unique and fresh colour tones for the ladies.
We try to match different designers with our line as we do also see different demands from different types of riders. We do have really artsy designs as well as female graphics but also some technical graphics – all in all a really good mix.

Völkl Squad Prime
LU & Ludschi from the Pirates Crew, 44flavors, kingdrips and DBP are just a few of our well know artists and design crews.
Are you doing splitboards? Is this market increasing, decreasing or staying the same for you?
Splitboarding is sill increasing and a really important category to Völkl – not only because of our heritage.
Both of our two models won several awards, for he most versatile from the Untrac and fort he best Freestyle fort he Xight, hich makes us really proud.
While the German distributer sees a slighly inreased demand on Splitboards only, we do not see this in the international numbers. Most end consumers still prefer the benefit of a complete set (board, split-system and tailored skins).
We do not think this category is saturated in the near future and you will see new ideas and improvements coming up such as the new Split-Stabilizer.
You do still feel the extra weight of the components on a splitboard but with the new offer of a splitboard-stabilizer that stiffens the torsion and flex, our splitboards offer almost the same riding performance as regular boards.