VonZipper FW16/17 Preview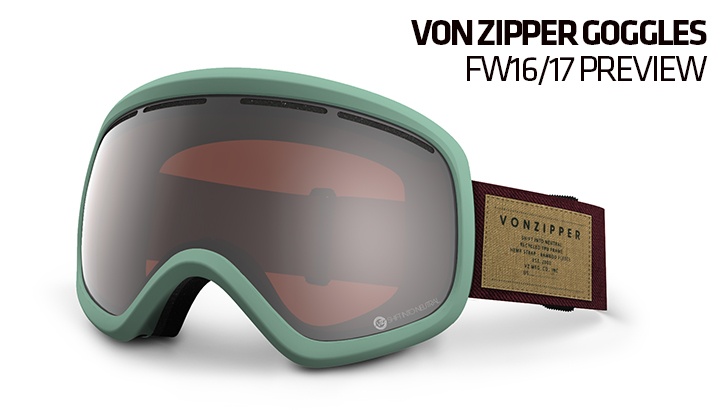 ---
CATEGORY: GOGGLES
BRAND: VONZIPPER
INTERVIEWEE: AECIO FLAVIO COSTA (MARKETING MANAGER – EUROPE)
---
What is THE hot new trend in your goggle line for 2016/17?
NEW GOGGLE – This new goggle is a sleek lightweight snow goggle built for speed. The new Goggle is rimless / frameless that is super light weight and extremely good looking. If you want to go fast this is the goggle for you. The lens are injected toric lens that is similar in size to the SKYLAB and The FEENOM NLS. This goggle is not only a badass but it will be affordable too!! Its light weight ergonomic design allows for maximum comfort…..so buckle up!
Lenses: What are your most popular tints? Are there any technical innovations to talk about for next season? Are you doing spherical or cylindrical or both versions?
We have twenty different tints available to provide definition and clarity in every light or weather condition that one may encounter on the snow. We are also introducing a new WILDLIFE lens that will increase overall clarity and distinction in mountain terrain.
WILDLIFE LENS EXPANSION – We are expanding our offering for our high performance exclusive lens and applying it to a larger selections of frames. All WILDLIFE Sku's will be packaged in the hard Flip Top Box with our NEW Neoprene Hardshell Case.
LENS QUALITY UPGRADE – We have upgraded the quality to all of our goggle lenses by improving the raw material, moulding techniques and equipment. All has greatly improved the optics and mirror coating for our goggles lens.
We still see cylindrical shapes as a current functional and stylistic trend. That segment of our goggle offering is addressed with three frames including our newest cylindrical goggle The CLEAVER. Spherical goggles still represent the majority of our goggle sales and are a vital part of VonZipper's snow business, especially in the larger-fitting frames.
Frames: What system(s) are you working with? Any innovations / new features here?
For your riding pleasure, our technologies include our new quick-change lens system found exclusively on our "Jetpack" goggle and a fast clip goggle strap system for kids and helmet use. We call it "4 Play"!!
4PLAY LENS SYSTEM – The pursuit of wintery expels is a set of emotional and physical actions between you and the mountain. VonZipper's exclusive 4Play quick change Lens System stimulates your on-snow experience and increases the intimacy between you and your goggle. Everyone loves a quickie! With the 4Play system a lens change has never been made more spontaneous. 2 lens release buttons on the brow line and 2 buttons on the bottom of the frame remove the lens. To insert, line up the lens on the goggle mask and lovingly thrust the lens into place. All this can be performed wherever and whenever the conditions (or your mood) changes, with gloves on (for your protection) or off, all you have to do is lower inhibitions and incite 4Play.
What about colours and patterns – what are the highlights in your 2016/17 collections? Are they tied to other parts of your range / product offerings?
VONZIPPER will have a rad collaboration with the Saint Archer. From our snow goggle overview for 2016-17, we're doing a collaboration with St. Archer Brewing Co. who is a local California beer brand owned & invested in by some of our industry leaders, riders, and personalities. Their brews are spreading internationally and have recently landed themselves in Germany to keep our kraut brethren with the buzz. Go ahead and take a sip… it always goes down smooth*
Like the goggles FISHBOWL & CLEAVER, we have a couple of flavours in our sunglasses we're adding to the mix with our Black Lager-LEVEE & Honey Blonde-LULA.
For this collaboration each of these Sku's will have a GWP included. We believe a customized bottle opener can save our lives!
Do you have a special recommendations for touring and split-boarding?
CLEAVER
Our great personalities and participants of the split-boarding have spoken! One of the most popular knives in the ice box, the CLEAVER is a multipurpose goggle blade. Used primarily to hack through meat, bone and all conditions, this large sized hatchet features a flexible Thermo-Polyurethane frame with Triple Density face foam for comfort, moisture wicking and slash-ability. A dual layered anti-fog cylindrical lens cuts through efficiently and provides a wide field of vision that slices with sheer momentum. Useful on vegetables too, the forward venting in the frame and lens makes this goggle your on snow food prep utensil of choice.
CLEAVER WILDLIFE LENS – We are introducing the WILDLIFE lens into the CLEAVER. The WILDLIFE lens Sku's will have an injected cylindrical lens. The lens color and performance will match to the original WILDLIFE Lens. By using the injected kens improves the optical clarity and greatly improves the straight of the lens. The injected lens version of the CLEAVER will only be offered with the WILDLIFE lens.
And finally, could you please walk us through your 3 key models for 2016/17?
JETPACK
A combination of Space-age technology and popular science, The JetPack goggle addresses all factors of wintery extra-vehicular activities with this spherical, anti-fog, dual lens propulsion unit. You'll blast off to infinity and beyond with the ease and quickness of the 4Play lens change system that's connected to a rimless frame made of Thermo-polyurethane for ultimate field of vision and telemetry. Triple density face foam for moisture wicking and comfort allow this unit to be easily worn with or without a helmet. All of the ground-based engineers will be amazed when you fly by in this personal jet device. We stand out Halldór Helgason signature frame.
FEENOM N.L.S.
The next level of the VZ goggle syndicate, The Feenom N.L.S. snow goggle made its bones by accommodating a medium to large size face. This on-snow Wiseguy has been made untouchable with a dual anti-fog spherical lens for increased visual acuity, integrated helmet hinges designed for comfort with or without helmet, and forward venting through the frame and lens. The ultra-wide peripheral vision and triple density contoured face foam give you the fit of one to be respected and feared. We stand out Halldór Helgason & John Jackson signature frames.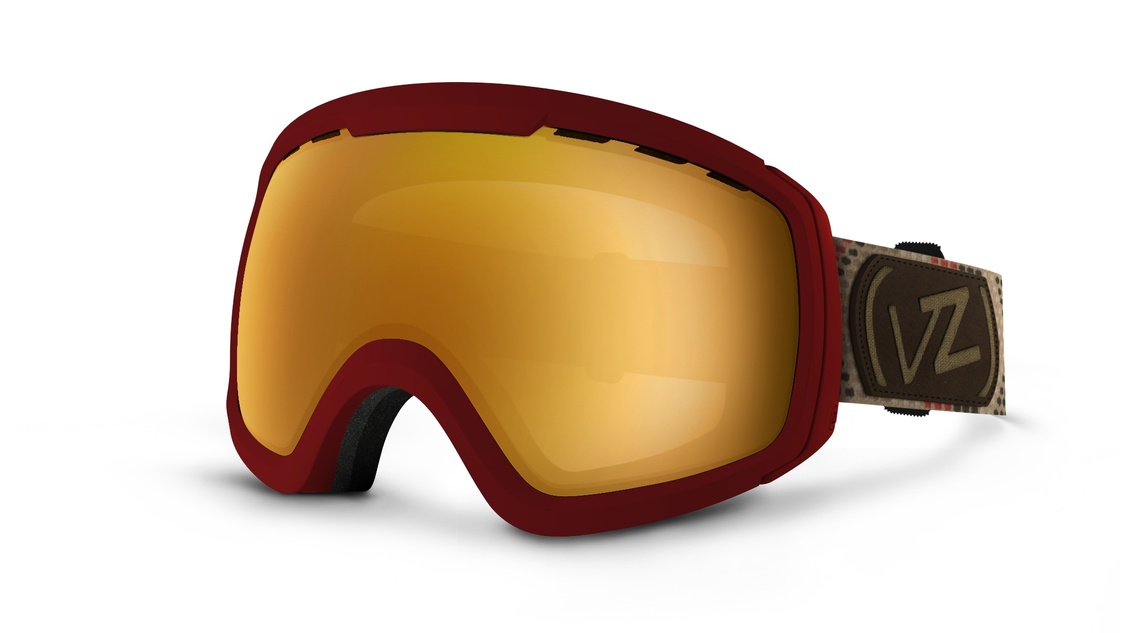 Feenom
SKYLAB
Defy the laws of gravity and take a moon shot in the VonZipper Skylab snow goggle. The captain of the Milky Way, your game will orbit the outer limits in this spherical space shield. A dual anti-fog lens with flow through venting gives you the wide peripheral field of vision and visual acuity every cosmonaut needs, while the thermo-polyurethane frame and triple density face foam allow the goggle to fit in any condition, with or with out a helmet. The Skylab will take you to the moon and back at a price that science doesn't understand. We stand out Project Flat Light frame.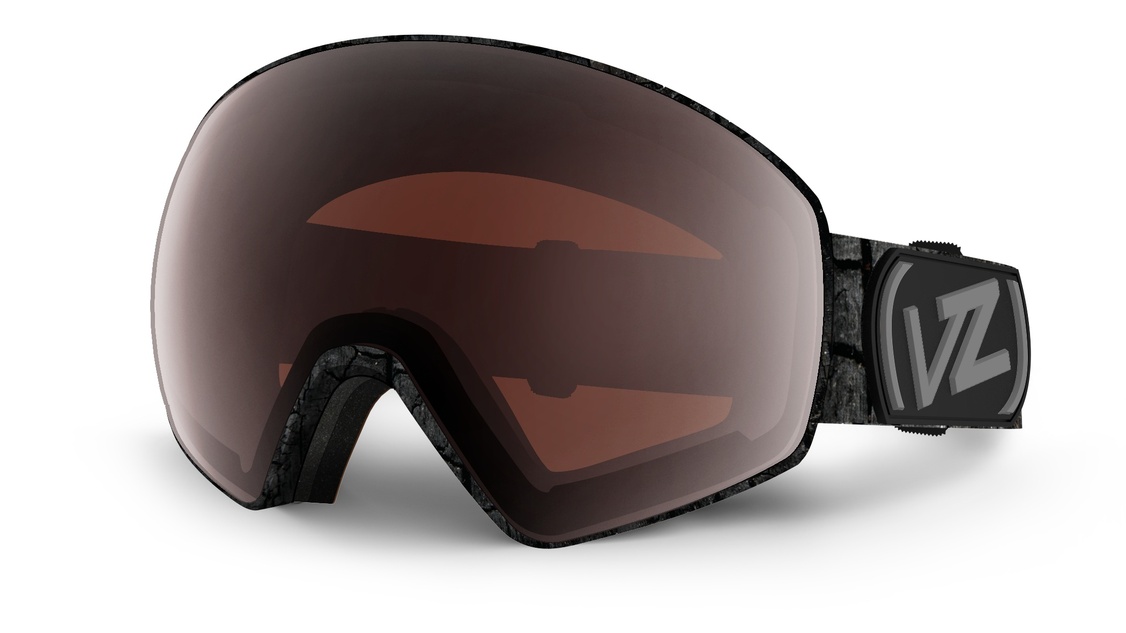 Jetpack