Vans Boots FW16/17 Preview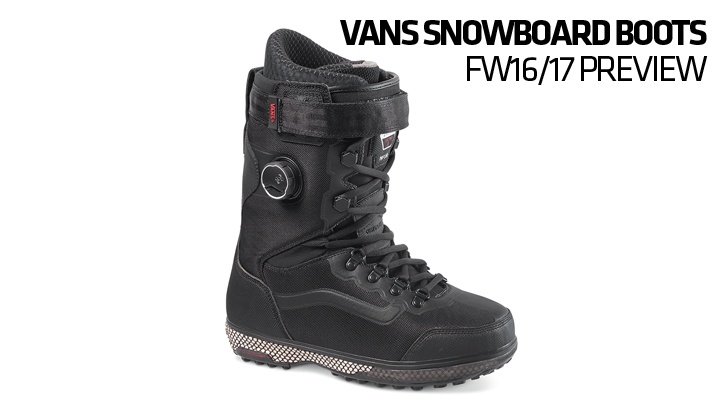 ---
CATEGORY: BOOTS
BRAND: VANS
INTERVIEWEE: JUSS APIVALA (GLOBAL CATEGORY MANAGER VANS SNOW)
---
KEY PRODUCT FOCUS: What are the two most important products of your 16/17 line?
The Infuse with the new Vans Hybrid Plus Boa system! Our Development team worked hard for a few years to make it happen and it's really changing the game of how we look at boots. It features the Custom Slide Guide that people loved from the original Vans Hybrid system, but this season we're introducing the new Hybrid Plus Boa. This not only uses the Boa as a part of a closure system, but also a new way to customize the flex of your boot. So the boot delivers a wider range of flex. This works perfectly for versatile riders like Pat Moore. No matter where he rides, whether it's big mountains in Alaska or gnarly street spots in Salt Lake City, he always rides the Infuse. If a rider like Pat needs one boot to film everything in a season, that's huge. He actually loved the boot so much that we ended up working on a colourway with him. It just felt the right thing to do and he deserves a boot with his name on it. Now the Infuse has everything that Pat needs, we even added a "Live Free or Die" label to the boot – New Hampshire representing.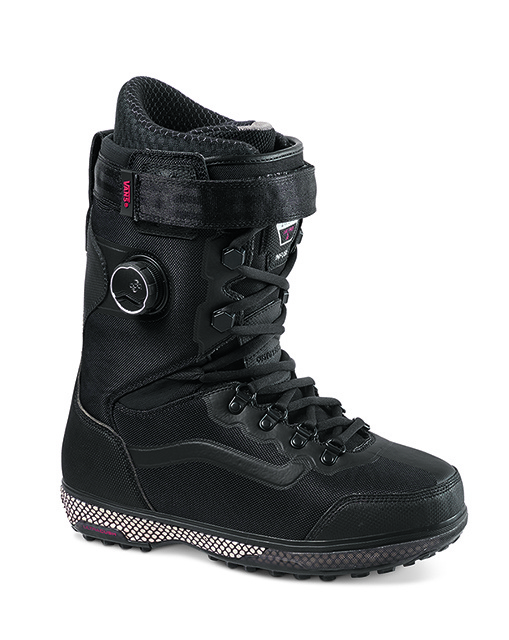 Infuse
We'll continue to explore and develop Hybrid technology through our Infuse & Implant boots. Revisiting how BOA can be used for control and not just closure but to tune your boot and allow one boot to do everything on and off the hill.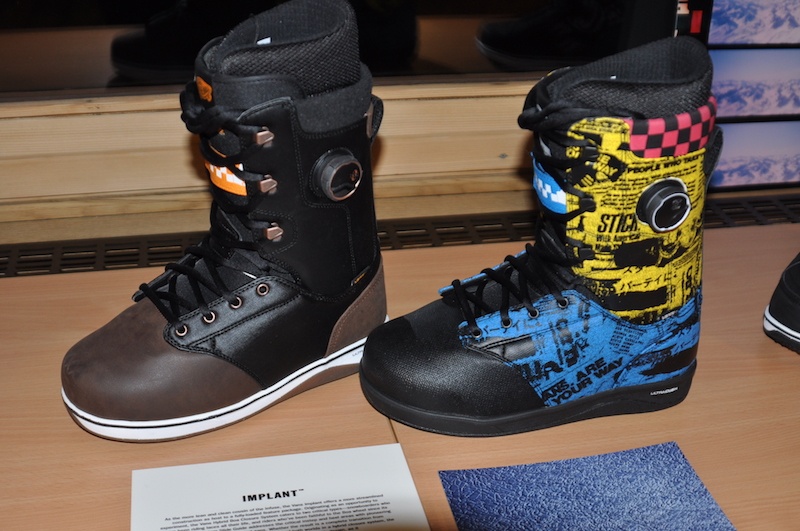 Vans Implant
What new functionality are you most excited about in your boots range for 16/17?
I would probably say the evolution of the Hybrid system. Vans came out with the original Hybrid Boa system and it's been around for a while now, but it's always been primarily about closure and heel hold. This season Vans are introducing the new Hybrid Plus Boa. It not only uses the Boa as a part of a closure system, but also a new way to customize the flex of your boot. This has amazing potential and helped us to add a wider flex range to our Infuse boot.
What colourways/prints/patterns/influences/textures will we see in your range aesthetic?
When it comes to trends and how the boots look, then you can't forget the rest of the Vans brand. We have incredible people working on our footwear and apparel programs across the globe. The synergy we're able to create is definitely something that helps us to step up the boot line each year again and again.
Which part of your range are you investing in the most? Freestyle, freeride, do-it-all, beginner…? Why?
'Customize Your Comfort' – this is undoubtedly the main takeaway from the collection. Vans boots are all about customization.
As a rider you expect your boots to perform in any terrain, in any condition – from pow turns in the backcountry, hitting tree runs with your friends to slushy spring parks, street rails or just bombing groomers. You can compare this to a phone, back in the day you had your music player, camera, video camera and phone as separate devices, but these days you expect them all to be on one device and obviously be best in class.
We work really hard to put the most customizable boots out there and don't like to place riders or products into buckets like freestyle or free ride. An easy example is the Infuse. This works perfectly for versatile riders like Pat Moore who only needs one boot for all.
We also make sure that every type of a rider is covered from a performance and comfort perspective, whether you're someone who rides 40+ days a season or just a recreational snowboarder hitting the slopes a few weekends in the season.
What's new with your liners – new developments here?
Vans are known for great liners. This is really where our 5 decades of footwear experience pays off. We're using a specific shell and a liner last for every full and half size, that's our standard. Our Women's liners also using women's specific lasts. That's why snowboarders talk about the comfort and fit of Vans liners!
All our liners are heat-moldable and come in with the familiar features snowboards have come to know and love, but we worked really hard on the details and materials and the outcome is something we are really proud of. Not only do they perform great, they also look great. For the season ahead, we are introducing three new liners for Men's.
– The Flex – the most flexible liner with amazing out of the box fit.
– The Response – the most responsive liner we have along with the asymmetrical X-Cage.
– The Custom – obviously the most customizable liner we offer. Crème de la crème. The Flex and Response are also available in our Women's line.
Are you using any new materials? Vibram, Outlast, Gore-tex, d3o, baked beans?
Part of our strength as a brand is the people and experience we have. We have an incredible group of designers and material people working for Vans. They make sure we bring out the most interesting and trend right materials on our boots.
Regarding technology, Vans has Ultracush™, which is a custom 'foam' developed specifically for improving comfort and reducing weight. We're using Ultracush™ in our footbeds across the brand, whether it's our skate shoes, surf collection or in this case – snowboard boots.
Our Custom and Response liners feature Dry-Lex to ensure that your feet stay warm and dry. Not only does Dri-Lex have excellent moisture transfer properties, it also comes with outstanding durability and feel.
Over the past year we've been seeing quite a few outsole updates in the industry. Vibram is just one example, we truly respect their experience, but first we have to look what our brand has to offer. One of the main reasons why skaters around the globe love Vans is for the Original Waffle Sole. The grip and board-feel it provides is like no other. Some things just work! Taking our decades of experience in footwear and 20+ years we've spent on snow – we can offer something that's true to our brand and the best for our customers.
Anything new in cushioning/impact absorption? Can you advise here?
Cushioning for us is really the combination of our Ultracush™ footbeds and outsoles. They work hand in hand. Vans are known to have some of the best footbeds in snowboarding and that is something we stand by.
Price points: What is performing best, and where is your brand going? More or less expensive?
There are key price points in the industry and we make sure we cover them. We put a lot of energy to bring out the best performance product, therefore our business mostly sits in mid to high-end price points, but we also have covered areas below. Hi-Standard for example has been one of our top-selling boots for over 15 years. One thing we've noticed that more experienced consumers are open to spend more money if the product is right.
What's new in lacing – sticking with trad, working with Boa, or doing your own thing? Where is the demand?
Vans were the first snowboard boot brand to start working with Boa. Our developers have a really close relationship with the BOA team and the experience we have enables us to bring out outstanding Boa product. Many are surprised to feel the difference from one Boa product to another Boa product. Therefore we work hard to elevate our Boa product offering. Adding Custom Slide Guides is just one example. We're also really proud of our original Vans Hybrid Boa system, but as mentioned before, this year we're introducing the Vans Hybrid Plus Boa system. This involves the evolution of Boa and no longer using it as a closure system, but also as system to tune the flex of your boot. This is what the Vans Hybrid Plus Boa system is doing, adding another dimension to the use of Boa. Some of the best riders in the world have tried it out and love it.
On the other hand we see a growth in the traditional lace market. You can't beat the look of a lace boot and with our heritage in the footwear game there's no way we can walk away from lace boots. But it's not only the look, it's also how step up the technology! Adding a technology like TLD2 (tounge lock down) to our Sequal boot will enable us to look lace boots in a different way.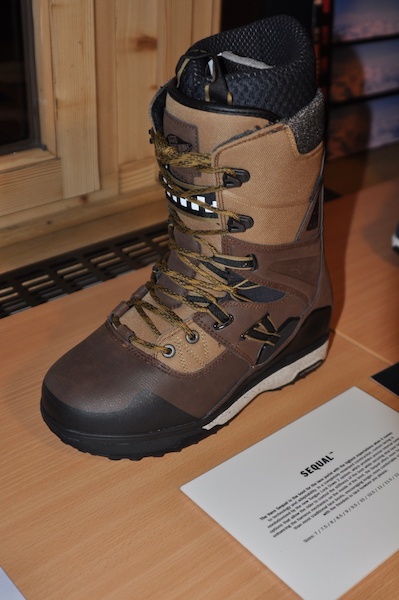 Vans Sequal
And finally the combination – the original Vans Hybrid Boa system. Bringing in the best of both worlds. This year we are really proud to introduce a new Women's boot called the Ferra. Working closely with Hana Beaman, we are now offering a Vans Hybrid Boa for all the female riders out there. Not only girls can have great heel hold on their boots, it truly makes a difference when it comes to lacing up the boots. It's just so simple and easy.
What trends in other footwear sectors have made an impression on your 15/16 line?
As already mentioned, our footwear, apparel and boot designers work hand in hand on the trends. That's one of our biggest strengths as a brand. We work hard to make sure we bring out cohesive stories. At the end of the day it's all Vans product, doesn't matter if it's shoes, boots, shirts or something else from Vans. Our weatherized MTE product has been a great success over the last years and this year we are bringing out some cool stories. Working with Jamie Lynn and Hana Beaman, we are introducing their signature colourway boots along with a MTE Sk8-Hi and a new après-snow Slip-er.