Verdad Snowboards FW16/17 Preview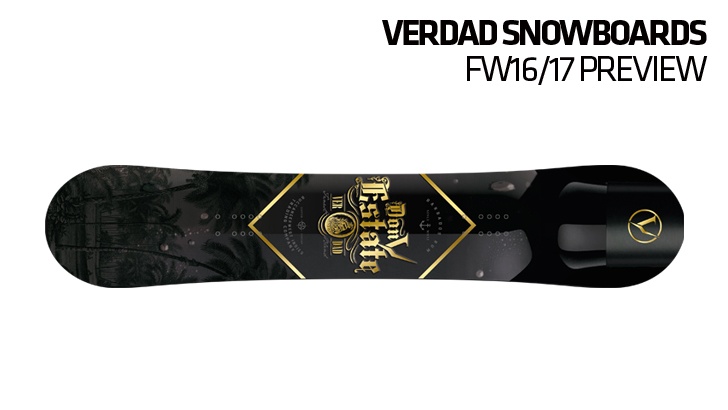 Don V Estate
---
---
---
CATEGORY: SNOWBOARDS
BRAND: VERDAD
INTERVIEWEE: YVES COONEN (CO-BRAND CREATOR WITH DEMIR JULIA)
---
KEY PRODUCT FOCUS: What are the two most important boards in your 16/17 line? Why? Tell us about them.
The most important board of next season will be the DJXIII, since it's the return (after 5 years) of Demir's best selling pro model in his previous life. It will be the highest – end model in the range.
There will be 2 other pro-models of which we don't give away the names. We can tell you one thing and that's that we'll have a brand new rider coming up with his signature model!
Are you using any new inserts / edge tech / cores / sidewalls / glue / wood types / metals / other materials? Or are you using this stuff in any new ways?
We're keeping the focus on what we know and what we think that works. That means our well know twin tip shape will come back on all the models of next year. We won't change too much about the inside receipt of our boards since we won several awards with them and we all think they ride perfect & super light. What we do try is to step up our price/quality game. That means even the low end boards will be better equipped for the same price, and all boards will go through a general update of quality control & finishing touch. We're trying to work with more natural and solid materials such as bamboo/ For the bases we will be using a way better quality wax.
Where is the pricepoint with the biggest demand for you? Right at the top, at the bottom, or somewhere inbetween?
Depends from season to season but in general it's 40% low prices, 30% mid prices & 30% high prices.
Where are you building your boards, any changes from last year? What makes this production the best solution for your brand?
Still at Meditech in Tunisia. No changes from last year since we are happy to work with them.We have a good connection with this factory & the people who work there. A lot of our clients work with other brands that are made over there so that helps a lot since they are well known with the boards and quality this factory can deliver.
What's new in rocker? Any different bends than last year? Where's the demand at on this?
From day one we use only one type of rocker shape; The Camrock.
Camber between the bindings for control and pop and slightly rocker at the nose & tail for a powerful powder experience and more playful park sessions. Our demand between Camber Classic & Camrock is about 50 – 50.

DJVIII TOP

Tropical Storm
What inspired your topsheet & base aesthetics? Where are trends going – muted or flashy? Any cool collabs/limited editions?
We don't know where trends are going and we don't give a … about that.
Next year we will bring out some pro models, so of course the design have to correspond with the riders.
Therefore we let them choose the design or style and we'll go with that. For the other boards we used some old inspiration of things we long talked about putting on a board. Working with different independent artists as always.
Jeroen Peter
Florian Ferny
Lana Nas
Jeremy Worst
John Poppleton
David Bloyet
Mathieu Bosmans
Are you doing splitboards? Is this market increasing, decreasing or staying the same for you?
No, We'd like to experiment with that but the difficult market doesn't allow us on this moment.