Lobster Snowboards FW16/17 Preview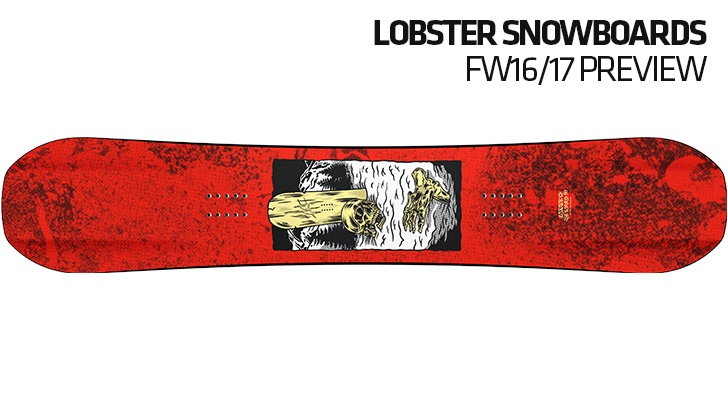 Jib Board
---
---
CATEGORY: SNOWBOARDS
BRAND: LOBSTER
INTERVIEWEE: HALLDOR AND EIKI HELGASON
---
KEY PRODUCT FOCUS: What are the two most important boards in your 16/17 line? Why? Tell us about them.
We have a new board this year called the Sender that is for bigger dudes who want to send it and a sick collaboration with Deathlabel Snowboards.

Death Label
Are you using any new inserts / edge tech / cores / sidewalls / glue / wood types / metals / other materials? Or are you using this stuff in any new ways?
New cores, new bases, new sidewalls and some really sick new graphics!
Where is the pricepoint with the biggest demand for you? Right at the top, at the bottom, or somewhere inbetween?
We make boards between €399 and €499, so somewhere there.
Where are you building your boards, any changes from last year? What makes this production the best solution for your brand?
Everything is now made in the MOTHERSHIP so it's sick and everything is better.
What's new in rocker? Any different bends than last year? Where's the demand at on this?
Nothing is new in Rocker, rocker feels kinda dead…. We build a new board named SENDER and it has a nice bunch of camber to support heavy landings and control when sending it.
What inspired your topsheet & base aesthetics? Where are trends going – muted or flashy? Any cool collabs/limited editions? Please provide details of artists & subjects.
All our art is done by Michiel Walrave since the beginning and he can translate our idea's into the sickest graphics. We are so pumped that each year he makes things look the way they look. The Jurassic Party is sick and both our pro-models came out really good and match perfect with our SWBK bindings. We did mellow out the super nasty stuff a bit and keep that for the special and random additions.
We did a really sick collaboration with Deathlabel snowboards. Not sure if anybody ever did a collab with another snowboard company, but we are really pumped on Deathlabel boards and their graphics and thought it be sick to work together with them.

Sender