Reef Men's Surf Apparel FW16/17 Preview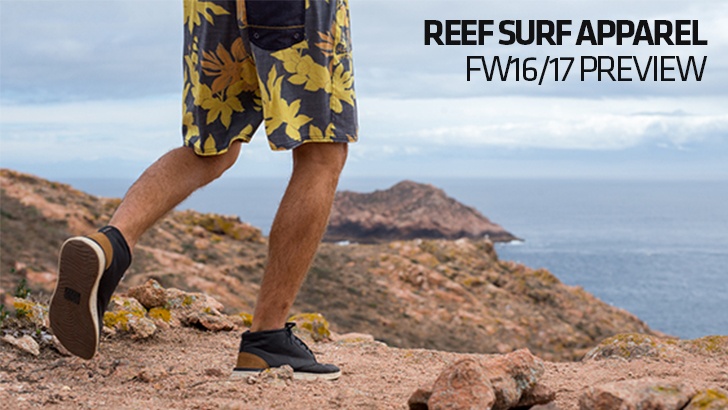 ---
CATEGORY: MEN'S SURF APPAREL
BRAND: REEF
---
How has the winter Surf Apparel segment evolved since last winter season in terms of products, categories and SKUs?
Since the last Fall range, we have focused on key categories—like woven, narrowed some categories and we have also shrank the SKU count. As an example, for jackets, we combined the functionality of quilted/filled style with the aesthetic of a lifestyle piece. This combination of functionality and lifestyle created a more versatile piece. We have continued to focus on the needs of the traveling surfer and action sports consumer. This is evident in the versatile colouring of our range as well as in the travel minded ADVENTURE pant , ALLIANCE jacket and of course our SURFARiS board shorts. This mentality is supported in our brand marketing message of JUST PASSING THROUGH…
What are the main trends you see popping in your Fall Winter 2017 Surf Apparel line?For REEF, print and colour continue to be points of difference and we see these in both our wovens and board short collections. Fall has a wide diversity in product type due to the warmer summer delivery window(board shorts and short sleeves) as well as the cooler, more typical Fall items like flannels and jackets. We have continued to look for each piece to have a "reason for being" and this helps validate how our consumer uses it as well as can speak to its versatility.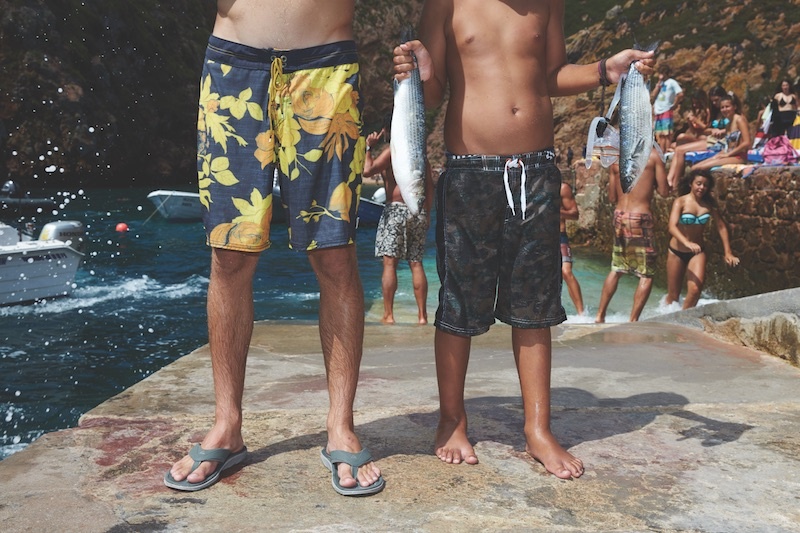 What are the key inspirations behind your collection this year?
We looked to Coastal Europe for our seasonal inspiration and focused our catalog shoot in Lisbon and the surrounding coast. As mentioned above, print and colour always serve as an inspiration for our range and many styles pivot off the SURFARIS board shorts prints and woven prints.
Please detail a few typical MALES silhouettes?
For woven tops, our VIEW style offers a unique vintage colour plaid, a peached hand feel and warm brown buttons. It is meant to fit a tee underneath, but looks equally strong without one.
The next exciting piece would be the ALLIANCE jacket. It offers all of the warmth you expect from a quilted, Primaloft filled piece with the additional benefit of versatile styling. It pulled style details from vintage military as well as classic 60/40 pieces. The last piece I will highlight is our ADVENTURE pant. Perfectly suited for our traveling ambassadors as well the weekend warriors, the stretch rip stop provides comfort and wearability with a bevy of pockets to secure valuables. We added a super soft, jersey lined waistband and a drawcord front which helps to speed you through the airport security line due to no need for belt. Overall, we look for each piece to have a story of why it exists in the range as well how we see out consumer using it. All of this flows through our brand messaging of JUST PASSING THROUGH and that spirit of travel and adventure.
In terms of fabrics and materials, what are you working on for Fall/Winter 15/16?Stretch is still important in bottoms and the majority of our bottoms have some component of elastane. Travelling with bottoms that stretch is a key factor in the comfort equation. For wovens, brushed or peached cotton again speaks to comfort and looks so good in the patterns and colours for the season. We make sure to give a wash to many of our products for both look and feel. We see most of the synthetics in our SURFARIS board shorts and the functional ALLIANCE jacket.
What are your colour palettes for men's FW17 season?
Colour is critical to our range. SURFARIS board shorts drive the more vibrant palette and personality of the range while wovens, tees, hats and support that initial vibe. Outside of SURFARIS, we have made a focus on wearable and versatile colour selections, but still through a true REEF lens. Washed out brights accompany heathered flannels and add life to easy to wear bottom selections.
Our warm palette includes mustard, brown and maroon while our cool palette centres around blues from indigo to a grey light blue.
Anything else you'd like to say about the surfwear market in general and especially for men?
REEF is in a good position in that we have a unique point of difference through print and colour in our range. We are not over distributed, have a strong message of JUST PASSING THROUGH and address our consumers needs of versatile product that allows them to express themselves as well as their functional needs when traveling and seeking adventure. Even in these tough times for the action sports market, we see opportunity and are excited to see where we can grow.