Yes Snowboards FW16/17 Preview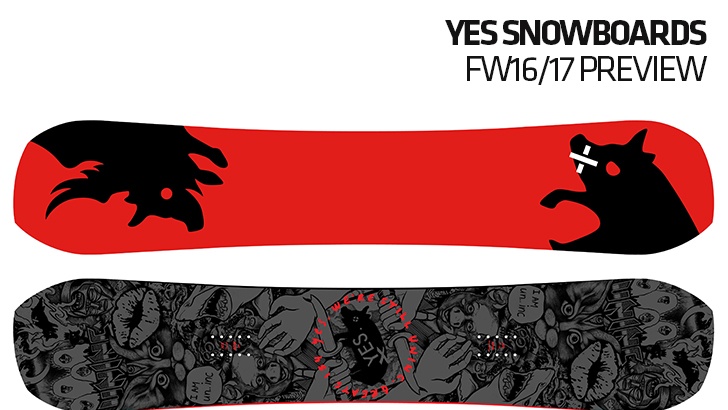 ---
CATEGORY: SNOWBOARDS
BRAND: YES
---
KEY PRODUCT FOCUS: What are the two most important boards in your 16/17 line? Why? Tell us about them.
Optimistic.
The Optimistic comes back this year with a ground-up redesign using some of our most proven and refined design theories. This board combines the fun, easy nature of the 420 with the carving prowess of the PYL and the explosive horsepower of our PowerDrive core. It's wide. And wide is good. This allows you to ride the board up to 6cm shorter, giving you more manoeuvrability in the trees and easier spins in the air. Width also creates stability at speed and floatation in the deep that we used to associate with length. It also begs to be leaned-over as far as you dare on the groomers, which is fun as hell! Add in the now legendary Underbite and you have a board that will carve troughs into hard pack and float better than anything this side of a 420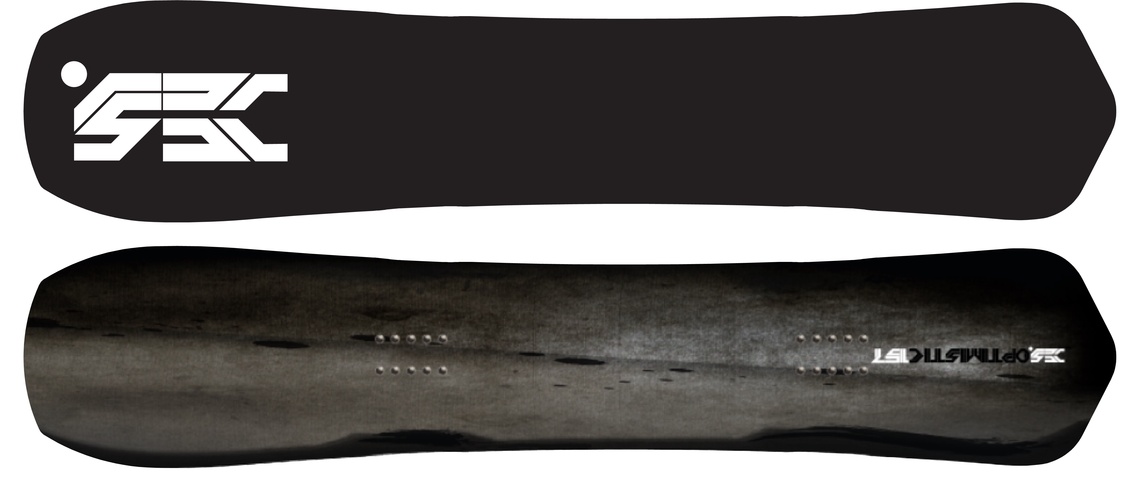 OPTIMISTIC
420 PowderHull.
Last year we caused a paradigm shift with the 20/20 Powderhull. A complex bottom contour that quite literally made a true twin outline float as well as a directional board does in powder. This opened up a world of possibility in powder to freestyle riders not wanting to leave the symmetrical balance of their twins. By applying PowderHull to a narrower, slightly longer version of the 420, we've created a board that is more reactive, livelier and more floaty than you ever thought possible.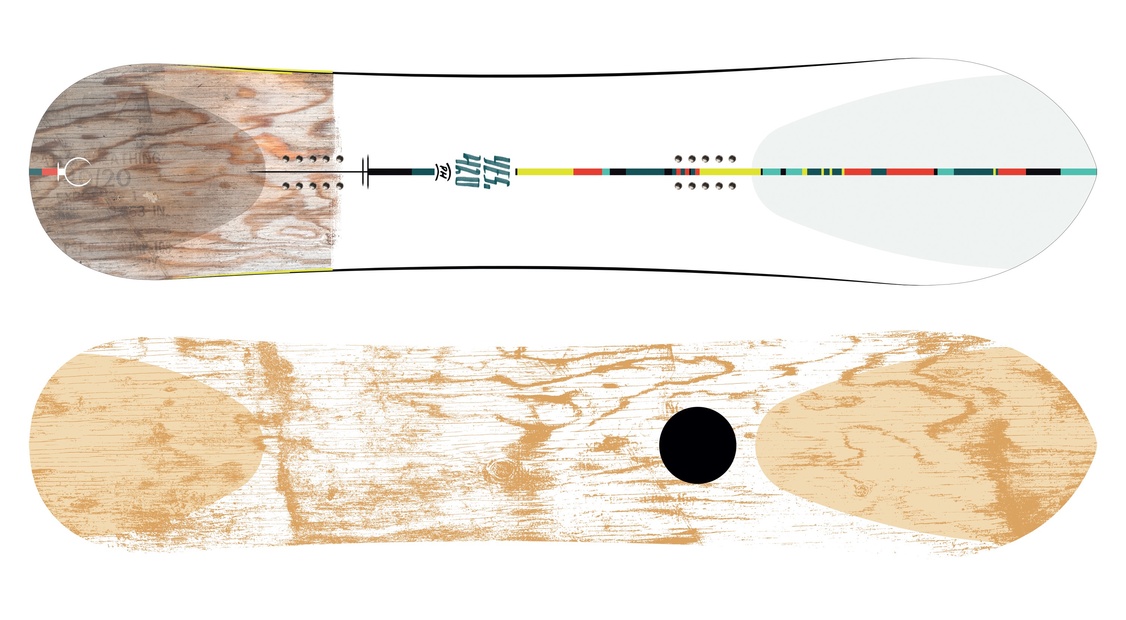 Powder Hull
Where is the price point with the biggest demand for you? Right at the top, at the bottom, or somewhere in between?
The Basic is of course our biggest seller – which is by no means the cheapest board on the market at 400 euros. But the mid-range Jackpot (480euros) up to the Greats (540 euros) is also a sizeable chunk of business.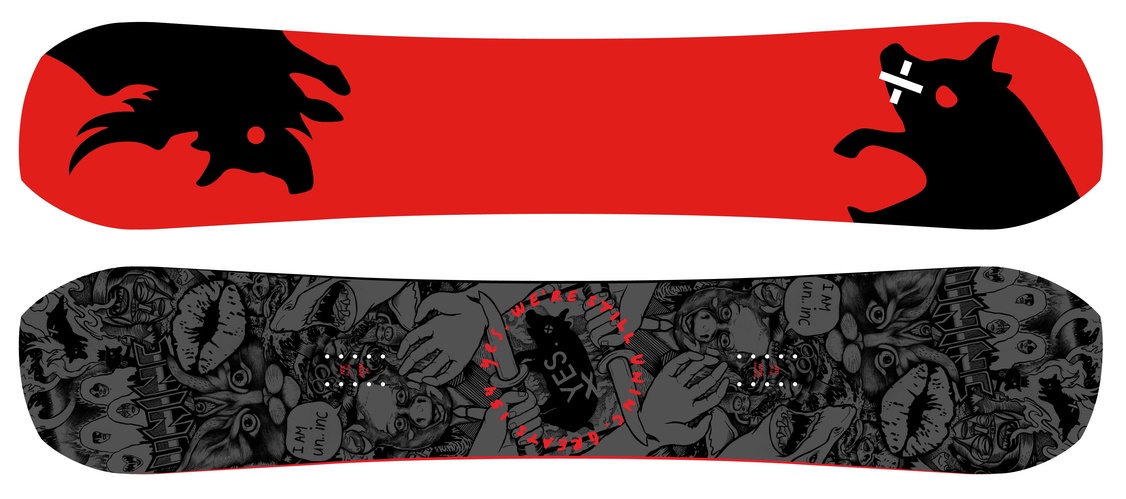 GREATS
Where are you building your boards, any changes from last year? What makes this production the best solution for your brand?
We make our boards at SWS in Dubai. No change from last year.
What's new in rocker? Any different bends than last year? Where's the demand at on this?
Every board is a bit different but most of our boards still come with a hybrid of rocker and camber (CamRock). We don't apply much camber to our powder-specific models like the 420 and Clark. And then there's the Powderhulls – 20/20 and the new 420 PH, as they are very specific configurations that don't really fall into a standard category. The TDF is what we call "modern camber
What inspired your topsheet & base aesthetics? Where are trends going – muted or flashy? Any cool collaborations or limited editions?
Every year model is different, really. So we don't necessarily try to adhere to a particular look or feel. This year we again worked with a few outside artists we've worked with before that just get the brand, are easy to work with and have vast reservoir of talent in order to execute. Dustin Ortiz (dustinortiz.com) will always do the 420 for us – it's kind of his pro-model to me. He also did the 420 PH, Jackpot and Public. Bryan Ray (studiobryanray.com) has done the Hel YES. since it's inception but his personal art has shifted lately in such a way that really suited the Emoticon – so that one is his. Mark Kowalchuk (http://markkowalchuk.com) has been doing work with YES. from pretty much day one and is our favorite go-to guy for the PYL. This year he did that one and the TDF, which we're super, hyped on.
And then of course we were very fortunate to have Peter-John de Villiers (shallowtree.com) put together the Greats UnInc. We seem to lay the heavy ones on him and he always comes through.
Are you doing splitboards? Is this market increasing, decreasing or staying the same for you?
No Splitboards – we're more of a cat, sled and heli kind of company…