West Snowboards FW16/17 Preview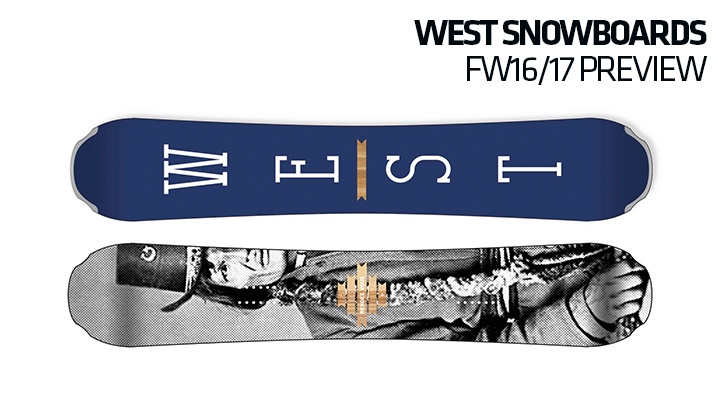 RDC
---
---
CATEGORY: SNOWBOARDS
BRAND: WEST
---
KEY PRODUCT FOCUS: What are the two most important boards in your 16/17 line? Why? Tell us about them.
We have two new models to extend our offer:
First we have our brand new model called "Cpt. Achab" which has an innovative shape, fairly wide and with long tip and tail it is focused on maximising the floating on powder. We can describe this quiver as the ultimate Twintip backcountry freestyle board . It's based on a free ride board but built in a twintip shape. This board will be the perfection for all the Proper freestylers whom are never going in a Park but spending all their time in Backcountry. No matter if you ride most of your time in switch stand
For this season we are also coming up with a new Model called "la Suprême". It will be extremely limited – 10pieces only. Why? Because this board will be 100% Swiss Made! Handcrafted by us and the Shaper Reto Nieger from Zen Factory. It will be a high class and supreme quality snowboard with the most attention and care to details. Each board will be built one by one with serial numbers. This board will definitely be outstanding by its finish and character. We want to offer to the most exigent clients something unique, never done before and which will never be done again in the same style.
Are you using any new inserts / edge tech / cores / sidewalls / glue / wood types / metals / other materials? Or are you using this stuff in any new ways?
For construction, we focus on high quality material. Stable, durable and which have already proven that they are higher quality. As a small company, we don't yet have the possibility to create our own technology but we focus on using the best on the market and keep looking for the new developments and technology on the market. Our goal is and will always be to offer performance and high quality snowboards. We work, for example, with ABS sidewall in Bamboo and top sheets in finest wood on some of our boards.
Where is the price point with the biggest demand for you? Right at the top, at the bottom, or somewhere inbetween?
Our best sellers are being sold for 589€ as we believe that our type of customers are not looking for cheap boards.
Where are you building your boards, any changes from last year? What makes this production the best solution for your brand?
We didn't change from last year and are still producing in Meditec. Meditec was the factory which have believed in our products since day one and they are helping us to grow slowly. As a swiss company, we will also make a swiss made snowboard but this one will be really limited and the price will way higher.
What's new in rocker? Any different bends than last year? Where's the demand at on this?
We keep believing in the traditional camber. For sure, we also have rocker on the nose & tail but these rockers are going to be a little bit smaller this year due to reinforcement on the traditional camber. The demand on the camber is definitely growing again and we are glad to be part of the brand which are doing it.
What inspired your top sheet & base aesthetics? Where are trends going – muted or flashy? Any cool collaborations/limited editions?
As with the first two seasons, we keep working with several artists and collaborations. Our graphic guideline stays sober and clean. For this seasons we are doing a collaboration on our 6carro board with the brand Hä?-wear, design has been performed by the artist-rider: Aemkä. The second collaboration happens on our best Seller board called LaHache and this one has been designed by Aaron Schwarz for a collaboration with the swiss snowboard magazine Whiteout.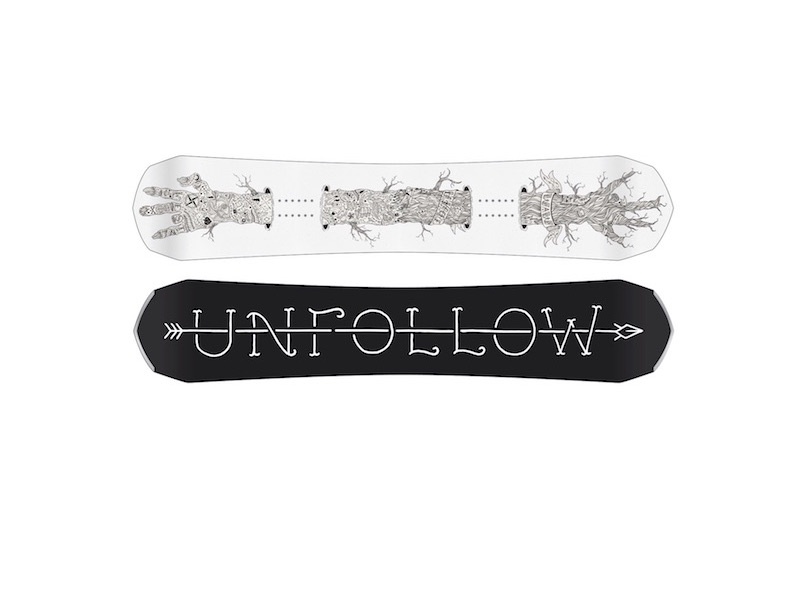 La Hache
Are you doing splitboards? Is this market increasing, decreasing or staying the same for you?
We are still doing it but there is not much increase for us, it's mostly for the shop staff and the riders.