Shred Goggles FW16/17 Preview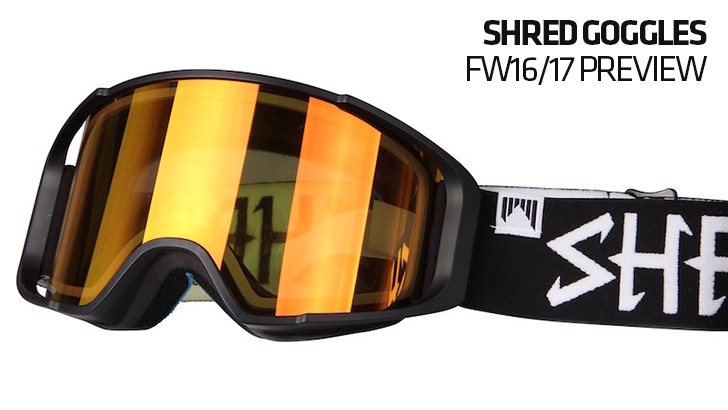 ---
CATEGORY: GOGGLES
BRAND: SHRED
INTERVIEWEES: FEDERICO MERLE (CMO SHRED OPTICS) AND AJ AVRIN (BRAND MANAGER SHRED OPTICS)
---
What is THE hot new trend in your goggle line for 2016/17?
First and foremost, we believe that consumers want the perfect combination of style and performance, and that is exactly what SHRED is. Our goggles are stacked with technology, but drip with style. Our line features a lot of neutral colours, with options for everyone's particular taste in colour and face size. Our new goggle, the SIMPLIFY, is a medium to large fit cylindrical goggle featuring SHREDWIDE technology for unparalleled field of view, SIMPLY SIMPLIFIED easy-change system, CARVED CYLINDRICAL lenses, and NODISTORTION™ lens technology for ultimate vision clarity at any altitude. The SIMPLIFY is the perfect embodiment of SHRED, it meets at the intersection of style and performance.
Field of view remains the most important characteristic consumers seek in goggle technology. Our SHREDWIDE technology is aimed at providing skiers and snowboarders with the most unobstructed field of view possible without sacrificing performance. What we see a lot in the market are big outer lenses that appear to have huge fields of view, but because of the design and engineering, frame material actually inhibits peripheral vision. SHREDWIDE technology allows us to maximize field of view by engineering our frames through efficient use of material and design to have the largest possible angle from the eye to the edges of the frame.

Additionally, quick-change lens systems have created the opportunity for consumers to simply change lenses for any and all conditions; however, these systems tend to impact the overall performance of the goggle because they can be unreliable, cumbersome, and bulky. We believe that all technology in a goggle needs to improve the aggregate product and augment performance, not limit the most basic feature; field of view and clarity of vision. This is why we have created SIMPLY SIMPLIFIED, which is our patented technology that allows for a very quick lens replacement without the unreliable or bulky systems that will limit performance.
Lenses: What are your most popular tints? Are there any technical innovations to talk about for next season? Are you doing spherical or cylindrical or both versions? CONTRAST BOOSTING LENS
By working with a colour spectrum selective light filter, we created a lens that mimics the behaviour of noise canceling headphones on the plane, to eliminate colour noise while riding. The CONTRAST BOOSTING LENSE also boosts contrast, which enhances image definition to be able to see more details on the snow.
NODISTORTION™ patented technology equalizes the pressure between the double lens chamber and atmospheric pressure to eliminate possible warping of the inner lens, which creates vision distortion. Our PORON™ filter allows air to pass while keeping moisture and snow out.
These technologies are available in both cylindrical and spherical lens options.
Frames: What system(s) are you working with? Any innovations / new features here? SIMPLY SIMPLIFIED is our patented technology that works in our new frame, the SIMPLIFY, that allows for a very quick lens replacement without the unreliable or bulky systems that will limit performance.
What about colours and patterns – what are the highlights in your 2016/17 collections? Are they tied to other parts of your range / product offerings?
We are working with a lot of neutral colour ways, but the line has so much breadth it has an option for everyone. We did some throwback vintage style designs as well, so if you want to add a touch of the old school we got you.
We have a few models that mimic the designs of our sunglasses that offer natural wood temples. The straps on a few different goggles within different lines are styled to look like the wood in the sunnies, and the frames have the same colour way designs, as well. Of course, all of our goggles are shaped and modeled to perfectly integrate with our SHRED helmets, and work very well with all other major helmet brands, as well.