Quiksilver and Roxy Wetsuits FW16/17 Preview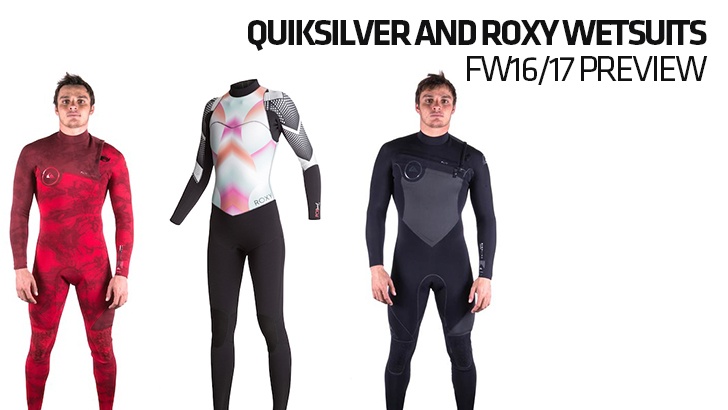 ---
CATEGORY: WETSUITS
BRAND: QUIKSILVER AND ROXY
INTERVIEWEE: XAVIER FAUCHE (EMEA PRODUCT MANAGER)
---
How has the wetsuits market evolved since last winter in terms of products, categories and SKU?
For Quiksilver we can clearly identify two different directions: Warmth, so you can surf longer and Performance, extremely flexible and lightweight.
For Roxy, on top of warmth and performance, we can add the fashion side! Built with top technology for real athletes to surf in, our POP Surf collection mixes daring cuts, wilder prints, and an irreverent take on style that is sure to turn heads.
We have a suit for a variety of conditions and different fit, alongside silhouette preferences for being loud or low key.
Quiksilver and Roxy offer high end technologies:
lightweight and flexible neoprene & jerseys
revolutionary thermal linings with far-infrared technology
new ultralight seam sealant and ultrastretch taping
specific features to eliminate cold water leaks such as fused edges & Flush Lock 2.0 seal
Zipperless design eliminates the weight and bulk of a sewn in zip closure.
Is the demand for frigid waters' wetsuits still growing?
Yes, cold water surfing has never been so accessible and we can see more and more people surfing in frigid waters. We have our new Warmflight fabric with far infrared technology. This fabric conducts heat into the thermal lining and retains body heat over a longer period of time. It's wicking properties expel water from the jersey making this the warmest, lightest, quickest drying neoprene ever. We have had it independently tested against our competition and Warmflight came out the hottest!!
Which new trends do you see on the 2016 wetsuits market?
QUIKSILVER: We have 3 main segments to the Men's wetsuit line at Quiksilver. The first are our high performance suits: Highline, Syncro Plus and Syncro. These have very technical features, shaper colour blocking and design lines. To compliment the technical suits we also have 2 more fashion capsules: Highline Zipperless Tie-Dye colorways and High Dye collection. Those 2 capsules use Quiksilver's exclusive colour treatment which gives an original and unique look to the suit.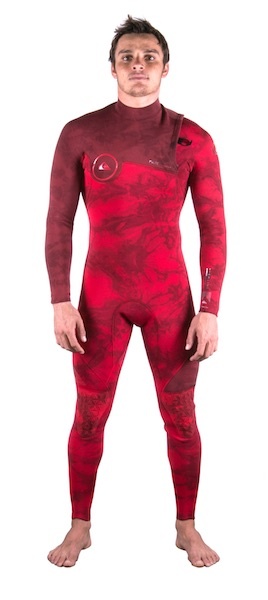 Highline Zipperless Tie Dye Capsule
Roxy: We have 4 segments to the women's wetsuit line at Roxy. The first are our high performance suits: Performance, Syncro Plus and Syncro. These have very technical features and sportier colour blocking and design lines. We love pattern and colour. It is one of the things that makes Roxy stand out. This year we continue with fade print into our Syncro suits and it looks amazing!!
To compliment the technical suits we also have a fashion collection. Pop Surf capsule is designed to disrupt through print, colour and the best in fashion and performance.
Roxy wetsuit cover a wide range of surfing activities and general water sports for no matter what level you are at.
How have price points evolved and what are the main price hot spots?
We have had increases due to new technologies, treatments etc, but I believe we have features that perform better, giving added value and performance. Anyway, wetsuits remain really affordable when you know the technology involved and how the product is manufactured!
With regard the neoprene rubber, any major improvements?
Core foam remains similar to the previous season, which is made from Limestone, but we can see improvements on jersey and linings: hydrophobic properties, quick drying, more comfortable and warmer!
Tell us a bit more about the linings' benefits of your wetsuits?
Our thermal lining uses a Far Infrared Heat Technology which is made of mineral-enriched fibers to insulate and retain body heat longer than ever before. Our warmest and fastest drying lining to date!
How does it work? Far-Infrared technology transforms body heat into infrared energy, generating warmth so you can surf longer.
Benefits
– Increases body heat so you can surf longer
– Improves blood flow & tissue oxygen supply for better performance
– Exceptionally water-repellent for lightweight comfort
What's new in terms of fit and panel construction?
The first thing that the customer will feel before warmth, durability and the technical features of the product is comfort, particularly when trying it on.
Faced with the perseverance of front zips, there is a strong trend towards zipperless models, just impressive ergonomics and ease of use.
Fit only comes with continues testing at the of end of the day; Not many brands have patterns made for each size and leave it up to their factories. We are glad to have in our development team 2 specialized and experienced pattern makers! The best wetsuit is the one you don't need to think about and just surf!
Please list some of the best selling arguments for a wetsuit?
Fitting and comfort, quality, warmth and performance.
Please take us through three key products that retailers should put on their order sheets.
QUIKSILVER
Highline 2X bonded: Highline 2X Bonded is all about ultimate warmth. Utilising clever Plio-Tech Air Chambers trap air to create an extra protective layer of insulation. Coupled to our Warmflight Far Infrared Heat thermal lining the Highline 2X Bonded conducts and retains body warmth like no other wetsuit. This lining also retains less water for our lightest and fastest drying thermal lining to date. The inner Red Seal seam treatment combined with a Hydrolock exterior form a watertight seam seal against cold water leaks.
Highline Zipperless Washed effect: Zipperless is built using our F'N Lite High performance neoprene made from limestone derivatives. The benchmark when it comes to lightweight flexibility. The inner Red Seal seam treatment is also strategically placed throughout the suit to provide the lightest seam sealing technoloy possible. Zipperless design eliminates the weight and bulk of a sewn in zip closure. AG47 Zipperless is hands down our lightest, most flexible, performance driven wetsuit available. Using an exculsive process, Quiksilver drops 3 "Tie-Dye" colorways which gives a unique look to each product as those wetsuits are dyed one by one!
Highline Performance: Highline Performance merges ultimate warmth and performance technical features. Warmlight Far Infrared Heat thermal lining is strategically placed to retain body heat where it's needed most. Add this to our F'N lite neoprene and you get the best combination of flexibility and warmth. AG47 Performance is simply the warmest, most flexible wetsuit.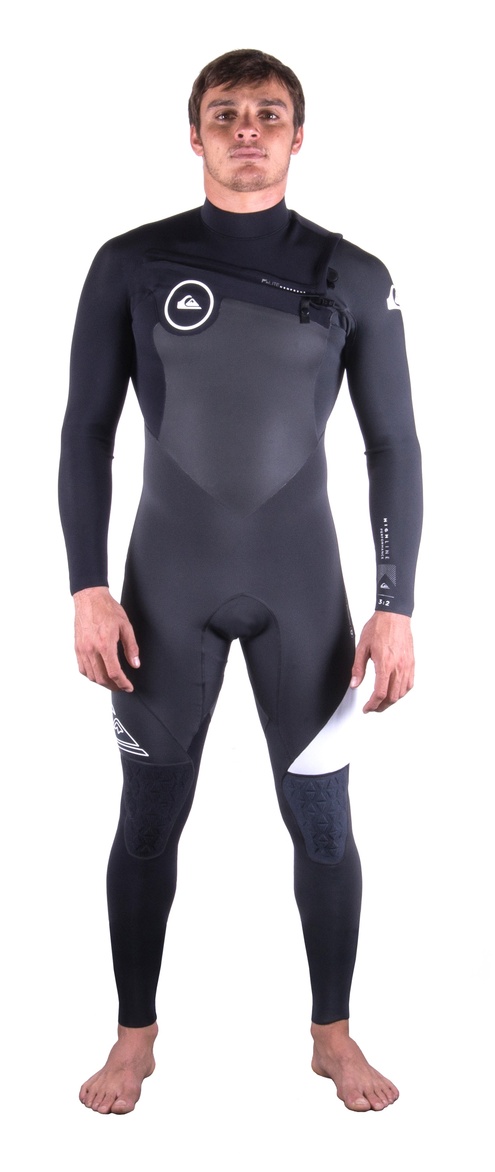 Highline Performance
ROXY
Performance: Warm, Dry, Light and ready to hit the surf, The Roxy Performance Wetsuit combines all that you need to stay out there longer and perform at your best. Featuring: FN Lite Neoprene, Far-infrared heat technology thermal lining on 80% of the body, Red Seal Seam taping & Hydrolock seam sealing
Pop Surf Capsule: Make waves, Turn heads. From the parking lot to the lineup. High Tech meet high fashion with the Pop Surf Wetsuit collection. Designed to disrupt through print, colour and the best in fashion and performance. Keeping it light, Pop Surf features FN Lite Neoprene made with more air cells, providing all the warmth and none of the weight.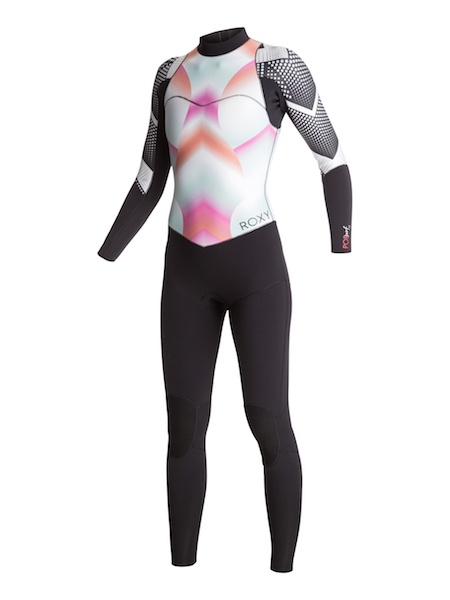 Pop Surf
Syncro+: this segment combines high end features of cold water suit at the best possible value: FN Lite Neoprene, Far-infrared heat technology thermal lining strategically placed , Glued & blind stitched seams are reinforced with LFS (Liquid Seam Seal) to reduce any cold water leaks.
Is eco-friendliness an issue for you and how do you approach it?
Yes it is ! But we are already using neoprene made from Limestone on all of our wetsuits. What contributes to limestone neoprene being more 'green' depends on its use of more sustainable and less toxic resources during production. Also, the use of sustainable production techniques and components in the manufacturing of wetsuits is another way to lessen its impact on the environment. We always look at new manufacturing techniques, challenge suppliers to develop different and innovative components (non toxic glue, water based prints, recycled jerseys, etc). We're having very promising projects that may be workable very very soon!