Electric Sunglasses FW16/17 Preview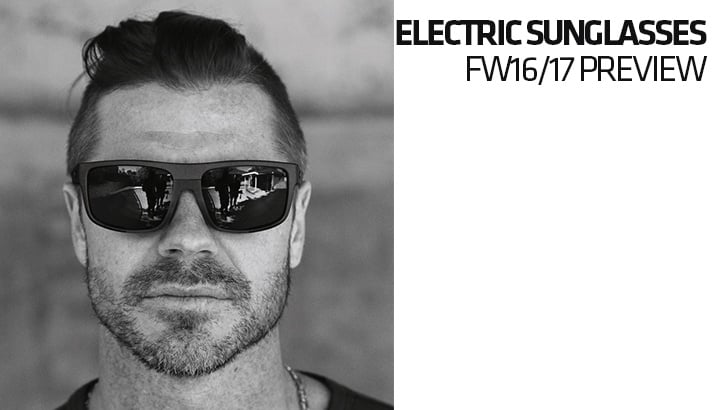 ---
CATEGORY: SUNGLASSES
BRAND: ELECTRIC
INTERVIEWEE: MAITE DUPORT (TRADE AND RETAIL MARKETING EMEA)
---
Do you work with a pre-order system or do you sell from stock? Or maybe both?
We use a pre-order system.
What are the key trends in you sunglass collection for Fall/Winter 2016/17?
'Style that performs!'
The key trend for Electric FW16/17 sunglasses collection is the outdoor segmenet. We live at the intersection of style and performance. Electric's S-Line products are a mash-up of our most popular styles with performance enhancing features. We've done this in response to the lack of good-looking performance products out there. We want to keep you looking good doing what you love.
Can we expect any new shapes? Which shapes / forms are your best sellers / favourites?
The most popular styles, Knoxville-S, Swingarm-S and Backbone-S, have been turned into a performance product with the S-Line, adding some grip pads, a stronger, thinker and lighter frame and a dedicated performance lens coating. We are very happy to be proposing three new frames built in order to perform better, push the limits and break barriers.

KNOXVILLE-S MATTE TORTOISE-MELANIN BRONZE POLAR
The Fade, the Stacker and the Divide provide special features like lens interchangeability with a hidden frame locking system or direct flow hidden lens ventilation system, or again some removable eye mask for reduced wind and element exposure.
What about lens tints and technologies, anything new to expect here? What is your main focus?
Lens Tints: for its 2016/17 sunglasses collection, Electric has developed several new lens tint such as Amber, Rose, Green, Natural. These tints will complete the existing offer of Grey, Bronze and Alpine lens.
The idea is to enhance the performance of our sunglasses in every situation. Get outside, hit the road, get on the mountain or explore a local trail, enjoy a beach-time or go golfing; Electric enables you to do more of what you love.
Are there any new materials you're working with?
OHM : Optical Health through Melanin: Electric's Melanin infused lenses block harmful UV & HEV blue light, relaxing your eyes and providing vivid, crisp, clear, haze free vision;
– Improved protection for both eyes + skin
– Increased clarity
– Soothing comfortable feeling
– Standard in all Electric sunglasses
What colour pallets and patterns are you using for your frames?
In the outdoor segment the colour pallets are quite traditional, using gloss black, matte black, tortoise matte or gloss; but 2 colourways are outstanding : Matte white with grey grips and Melanin Orange lenses & a Matte black frame withe lime grip pads with Melanin Green Chromed lenses.
On the lifestyle collection will have a great evolution of black : the Dark Chrome colourway which is a matte black frame with Melanin dark chromed lenses.
We have also worked on new tortoise tint and new chrome finishes for lenses. The new Nude tortoise frame with a Melanin Rose Sky Blue Chrome and a Midnight Tortoise frame with Melanin Black Gradient lenses.
Can you tell us about 3 of your key products, including names & features:
• FADE
– Optimal coverage, minimum weight
– Rubber grip nose bridge area
– ships with custom silicone leash
– 8 based OHM lens in 6 based frame

FADE_MATTE WHITE-MELANIN ORANGE
• STACKER
– Hidden lens ventilation, stealth technology
– Removable eye shield
– Designed for the cyclist or alpinist
– 6 based OHM lens and 6 base frame
• DIVIDE
– Split frame technology with rubber base
– Interchangeable lens system
– Spare OHM rose lens included
– 6 baseOHM lens and frame

DIVIDE_MATTE TORTOISE-MELANIN BRONZE