Jucker Hawaii Longboards FW16/17 Preview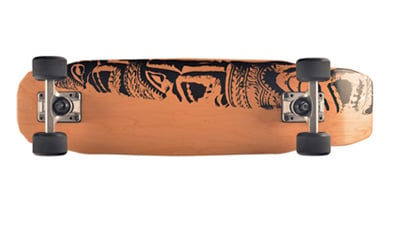 ---
CATEGORY: LONGBOARDS
BRAND: JUCKER HAWAII
INTERVIEWEE: MIKE JUCKER (CO-FOUNDER/RIDER/BRAND MANAGER)
---
Statistics: These are just guesstimates, but: How has your longboard business developed in the past 6 months (rise,drop in %)?
We were able to maintain at the same pace over the last 6 months but the growth rate from 2014 to 2015 is not there anymore.
Estimate the number of longboards sold in Europe/Germany/UK/France.
That is difficult to say, but I would think something north of 200K, most of them in Germany.
How has the rate of longboard market growth in Europe developed between 2014 and 2015 (% change +/-)?
I don't have numbers in % but I would said the demand from 2014 to 2015 grew by 150% for our business. Everybody wanted a longboard.
How many retailers sell longboards in Europe?
Hard one but I would say thousands.
Technologies and board constructions are important topics in longboarding. What are your main stories for next season?
We believe in the cross over from Skateboarding to Longboarding and vice versa. Also Mini-Cruisers are a hot item right now, our Woody-Boards gain strong traction! People like small cruisers made from wood.

Woody makaha
How do you help retailers communicate these developments to customers?
We have a good helpline for our retailer and we send out newsletters.
Drop-through boards were all the rage in 2015. Does the hype continue? Or what is the new trending construction?
I think the Drop-through (DT) rage might live on for a bit longer. After all I think for free riding, drop-through boards are the best. I love riding DT boards.
Our "HOKU" boards are best sellers but we will also see further diversification. Now the kids that started with an entry level board like to go to downhill races and dancing is another segment to pay attention to.
What are the pricing 'sweet spots' for completes, decks, trucks, wheels?
Depending on the quality you get and what region we are taking about, but generally I say somewhere in the €150 – 250 for a complete board.
What is the must-have longboard trend retailers need to watch this coming season?
Cross over shapes in mini cruisers and longboards that sustain good causes.
Please tell us about your two main products for the season?
We have a skateboard in the pipeline in conjunction with skate-aid. So watch out skateboards, JUCKER HAWAII will also be seen in skateparks.
In our mini-cruiser line, "Woody-Boards" we have two different shapes in three different graphics. One of them is straight from my neighbourhood showcasing Honolua Bay by Eric Abel. We raise money with this board for the "Save Honolua Coalition" here on Maui. We are also developing a longboard truck and can't wait to release it to market pretty soon.