Flying Wheels Longboards FW16/17 Preview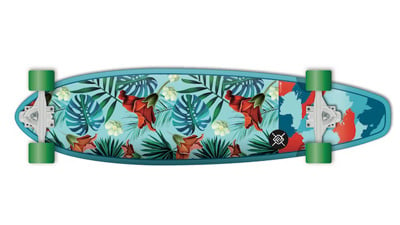 ---
CATEGORY: LONGBOARDS
BRAND: FLYING WHEELS
INTERVIEWEE: BENOIT BRECQ
---
Companies in the US are reporting that the US market has slowed. How is the situation on the longboard market in Europe?
In France and Spain the market has slowed to, just like in the USA.
Statistics: These are just guesstimates, but:
How has your longboard business developed in the past 6 months (rise,drop in %)?
In France it has developed about 50% this year whilst in Spain it has developed by about 20% in 2015 after 30% in 2014.
Estimate number of longboards sold in Europe/Germany/UK/France?
Approximately 35,000.
How has the rate of longboard market growth in Europe developed between 2014 and 2015 (% change +/-)?
It has developed by around +30%
How many retailers sell longboards in Europe?
When looking at the overall market, including first price longboards with a minimum of four longboards in shop then we have the following figures:
France: Around 1,200 shops
Spain: Around 500 shops
Portugal: Around 100 shops
When looking at longboards at over 150 euros and more than six boards already in stock then we have the following:
France: Around 250 shops
Spain: Around 100 shops
Portugal: Around 10 shops
Technologies and board constructions are important topics in longboarding.
What are your main stories for next season?
Cruisers, Retro Boards (surfing style), Artist collaboration and High performance
How do you help retailers communicate these developments to customers?
We help retailers with dedicated POP & test boards. We also come to inform them about our boards & technology to give them all the tools to inform their clients
Drop-through boards were all the rage in 2015. Does the hype continue? Or what is the new trending construction?
Cruisers

FLOWAR BLUE
What are the pricing 'sweet spots' for completes, decks, trucks, wheels?
Complete: 185 euros
Decks: 80 euros
Trucks: 39 euros
Wheels: 39 euros
What is the must-have longboard trend retailers need to watch this coming season?
Cruisers, Fresh and Artist Collaborations will all be ones to watch.

BRICKMAN BLUE
Please tell us about your two main products for the season?
We just launched a new range of trucks – DOZER trucks with different technologies and angles
We also launched a new range of wheels – FAST FORWARD wheels with a lot of size and shapes and the best urethane formula.