Ongosa: Mountain Guide & Instructor Aggregator

Ongosa: Mountain Guide & Instructor Aggregator

---
Ongosa is an application that matches holidaymakers looking for next level mountain sport guiding or coaching with some of Europe's finest mountain guides and snowsport instructors.
The app has a database comprised of over 1000 instructors/guides specialising in mountaineering, heli-guiding, trekking, backcountry and climbing. Ongosa will determine the ability and preferences of the consumer and then act as an aggregator to match them with the right professional for their needs.
---
Press Release: ONGOSA.COM ADVENTURE SPORTS START UP PROVIDES PAN-EUROPEAN PERSONAL MATCH SERVICE FOR SKI AND SNOWBOARD ENTHUSIASTS WITH SPECIALIST INSTRUCTORS
Ongosa translates from Swahili, meaning 'to guide and to lead'.
"Learning or improving your skiing, snowboarding or climbing shouldn't be intimidating. It should be exciting and most of all, completely accessible".
Ongosa f ind and book qualified, highly recommended mountain guides and snowsport instructors to enhance the skills of the modern mountain enthusiast at all levels.
The snowsports tech start up launched winter 2015/16 with 100% success rate in improving the quality of their customers mountain trip. Ongosa has access to over 1000 instructors across Europe with a network of 150 boutique schools and guiding agencies.
"We cannot recommend Denis highly enough. He's a great skier and a fantastic teacher who genuinely finds passion helping others and improving their technique. It's rare to find someone at that level with the patience and ability to work with beginners. I found Ongosa simple, intuitive, responsive and would recommend to anyone." 
Ongosa Client, Ben Fenby, January 2016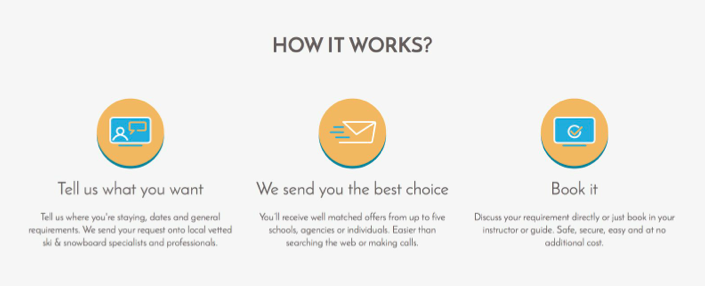 ABOUT
Developed by Richard Smith in 2014, O ngosa was born from his love of the mountains and his desire to enhance the mountain sport experience for everyone, creating a facility to make snow sports more accessible for all.
Richard says " We believe the right local & technical knowledge enhances the adventure sports experience. Ongosa is dedicated to cultivating a community of professionals and enthusiasts to provide a unique service available to all. We aim to provide a straightforward facility to find and book the right instructor with ease."
Ongosa have built a community of mountain sport professionals with expert knowledge, experience and skill in order to directly improve the experience of snow sport addicts looking into their next adventure.
"I was looking for a ski-touring guide in the French Alps during the Easter week and was told by ESF and 2 other ski schools that I was 'too late' and no one was available. The team at Ongosa worked hard to find me an independent guide and hooked me up with M arco – who proved to be excellent.
Ongosa Client, Bill Sneed, April 2016
Ongosa's community includes instructors of all levels in ski and snowboard, as well as specialist professionals in mountaineering, heli-guiding, trekking, backcountry and climbing across Europe. All instructors on Ongosa have been carefully selected for their experience, qualifications and love of the mountains.
"We think everyone should have the opportunity to meet these elite specialists, especially as many of them make a living out of guiding or teaching, but survive on reputation and word-of-mouth. Ongosa has set out on a mission to make adventure sports more accessible, by connecting people who have shared interests in learning and teaching, guiding and exploring." Richard Smith, Ongosa Founder (pictured below)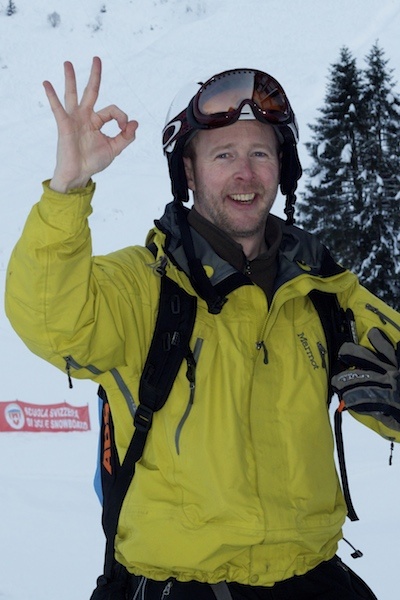 In addition, Ongosa provide rich and relevant articles, advice and discussions on all things in the mountains, curated directly from their pool of resident experts. Following a highly successful first winter, Ongosa's team continue to grow their alpine community across Europe and beyond, dedicated to delivering a first class service to next season's skiers and snowboarders.