Globe Men's Streetwear SS17 Preview
Retail Buyers Guide: Men's Streetwear SS17 Trend Report
CATEGORY: MEN'S STREETWEAR
BRAND: GLOBE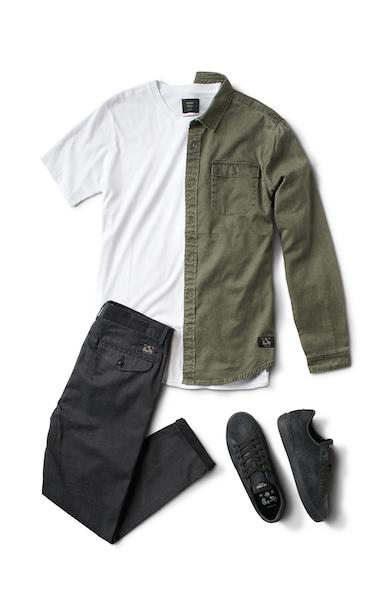 Where do you see the streetwear market in boardsports right now? What are the challenges and opportunities?
The opportunity right now is to deliver a clear message and stay true to your roots. Look to refine the offering and push for brand integrity, rather than trying to be all things to all customers at a price point. On our travels we are seeing more integration of vintage skate into fashion brands, store fits outs and collections, which is great for Globe as our skate roots run 30 years deep.
Tech/performance is back in with function and form coming together. People are also seeking out eco/upcycled fabrications. The challenge is to find viable options and build them into your range whilst designing cohesive collections that are wearable and modern.
It seems that styles and fashions are all over the map right now: 90s baggy pants, high-fashion designer looks, workwear etc. How can retailers make the right choices on what to sell?
If I were a buyer I'd look to brands that deliver inspiring, consistent, quality collections with clear and concise themes with marketing to back it all up. Plus good customer service, high order fulfillment, and on time deliveries are basics that all suppliers should be doing to support the retailer.
The message should be clear – the product embracing change and evolving without wavering to fleeting trends. Basically on-point premium product, with strong brand personality at an affordable price.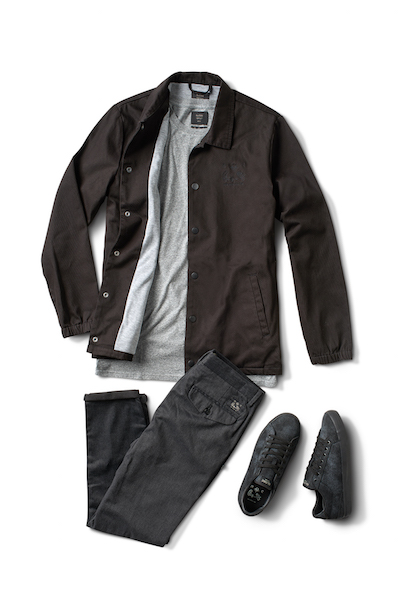 What is THE trending jacket for SS17?
A close race between modernized 90's vibe flyweight anorak shell jackets and bombers.
How are pant fits and shorts evolving?
The rolled up look is by now one of the most popular styles for fashion-conscious men, across all fits. The latest look being the pleated pant with wider shorter legs – military meets workwear styling.
Are big logos making a comeback? What are the trends in prints and patterns?
I would have to say they are, loud and proud, including lower front body placements echoing the classic big brands of the 90s. In general people seem to be buying back into brands as a reaction to the overflow of vertical product on offer.
There is a resurgence in bold yardage prints, from floral to Geo, all shapes and sizes.
Hand painted minimalist dashes and microdots feature within a number of brands, offering a non statement-making wearable print.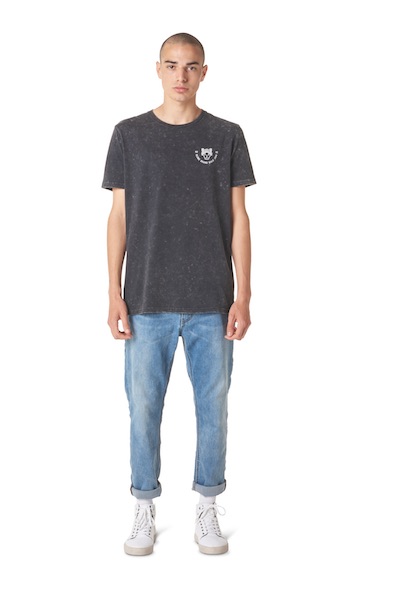 Overall, where do you see men's boardsport streetwear in terms of colours, outfit combos, and silhouettes?
If I was to sum up a directional look:
Upper body: Streetwear trends in general come and go in cycles and for now it's the 90s, so drop shoulder, boxy anti fit, with wider rib seems to be the key at the pointy end of tops…completed with a beaten up curved brim baseball cap (dad hat).
Bottoms: Anything relaxed and shorter.
Colour: Dirty and dusty versions of fashion pastels paired back with Black and earth to give them some grit.
What are your three main products and stories for SS17?
For SS17, we have a few highlight stories, which were fun to work on as they included some different creative minds. We've done a capsule collection with Monster Children, Evil Paradise, and of course Dion Agius' "plus plus" collection. On top of that we are still celebrating our 30-year anniversary with our "Unemployable" collection.