SUPERbrand Boardshorts SS17 Preview
Retail Buyers Guide: Boardshorts SS17 Trend Report
CATEGORY: BOARDSHORT
BRAND: SUPERBRAND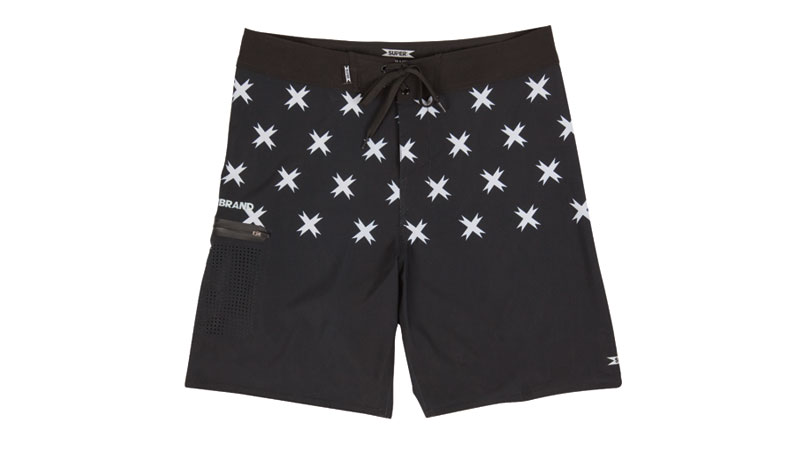 How is your boardshorts' product category evolving when looking back on previous seasons?
We're adding a more technical and performance driven boardshort along with new trims and details for the entire line.
What's the main focus for summer 2017?
We're embracing our California roots and going for a subtle Western vibe that highlights our oceanic roots with a touch of south of the border influence. All the while we want to keep the look clean and simple.
Which colours/patterns have made it into your SS17 pallets?
The SS17 boardshort line is inspired by desert and earth tones with modern shades of brown and green. To add contrast and pop, we'll include muted red and turquoise hues as well.
Any new fabric features and technical innovations?
We'll be introducing a hybrid short that functions both in and out of the water and features a quick drying mix of cotton, nylon, and spandex. The shorts will have the texture and look of a regular walk short just with more versatility.
Please detail your unique features.
Several of our boardshorts share the same patterns as our award winning surfboard graphics, a laser cut pocket that allows for drainage, taped seams, and silicone nubs on the drawstring for grip and detail.
Which client demographic are you targeting with your SS17 boardshort collection?
Surfers of all ages, casual beachgoers, and water enthusiasts of all demographics, we truly feel there's something for everyone in our SS17 boardshort line.
Price points: what are your main categories and what is the upper limit in this product category right now?
Our main categories in SS17 will be boardshorts, tees, and hats. Our boardshorts will be competitively priced; the 2-way stretch pieces being our price point items and the more technical, 4-way stretch pieces priced on the higher end of the spectrum.
How much of your line is eco-friendly and how?
While it's not a focus for us, we closely monitor our manufacturing partners to ensure they follow guidelines and best practices. As well, we only work with manufacturers who adhere to and abide by child labor and forced labor laws.
Anything special you want to add about this market?
Being a boardshort designer for seven years, it's interesting to see how trends come and go, but ultimately, surfers are always going to look for comfort, quality, and style.
What are your key product pieces for SS17?
Toy Boardshorts
Peyote Story – Shorts/ Woven / Tee