Vans Boardshorts SS17 Preview
Retail Buyers Guide: Boardshorts SS17 Trend Report
CATEGORY: BOARDSHORTS
BRAND: VANS
INTERVIEWEE: ROLAND SLAVIK, MERCHANDISING APP/ACC, VANS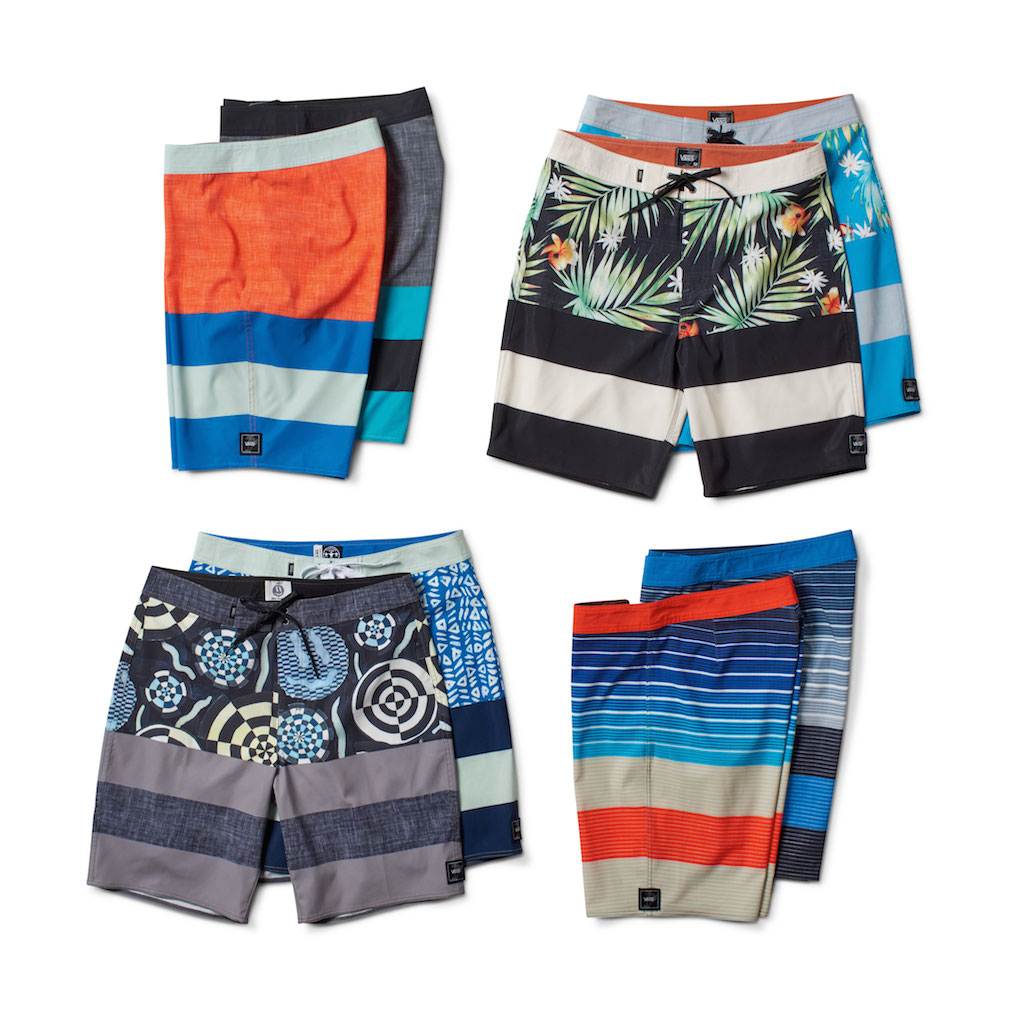 How is your boardshorts' product category evolving when looking back on previous seasons?
SS17 marks an immense evolution for our boardshort line as we have fine tuned everything at both the macro (overall line architecture, key price price points, and establishing/marketing new franchises) and micro level (fit, fabric, trim and label package). Additionally, we've consulted with some of our top wholesalers to ensure that the changes we are making will resonate with consumers and drive sales in their doors. Lastly, we've worked closely with our athletes, to ensure that the boardshorts fit and function properly.
What's the main focus for summer 2017?
Our main focus for SS17 will be the debut of the ERA Boardshort as it marks the next generation of boardshorts from Vans. The ERA boardshort is the amalgamation of fit, fabric, function, and aesthetic of a truly Vans boardshort. We have exciting prints, stripes and impactful signature athlete and collaborative styles. We designed this short to be incredibly versatile and unmistakably Vans.
Which colours / patterns have made it into your SS17 pallets?
We've made a concerted effort to infuse the entire boardshort line with a range of solids, stripes and prints that can seamlessly merchandise with each other, as a category, or integrated along with the rest of the line. Our hero print for the season is the Decay Palm, which is a dark spin on a classic Hawaiian floral print, that will be seen on boardshorts, apparel, and Classics footwear. Stripes continue to drive commercial volume, and hero impact colors for the season are Baltic (a variation of teal) and Cherry Tomato (a bright red/orange).
Any new fabric features and technical innovations?
Our SS17 boardshort range will continue to heavily feature our signature 4way Sturdy Stretch fabrication. We engineered this fabric to perform in the water, and keep its shape when worn out of the water. Compared to flimsier stretch fabrications, Sturdy Stretch is longer lasting, more wearable, and still moves with you when it counts. 
Please detail your unique features.
Our Sturdy Stretch fabric is our most unique feature. It's been team tested and proven to work in everything from critical, heavy water surf, to everyday hanging out at the pool. I recently had a phone call with Dane Gudauskas where he told me that he hasn't had rash from our boardshorts in years…that means a lot from a guy who spends a great deal of time in boardshorts, putting in marathon sessions all over the world. 
Which client demographic are you targeting with your SS17 boardshort collection?
At the heart of it, we want our boardshorts to resonate and perform for core surfers. If the product can meet the needs of the core consumer and our athletes, then it will most definitely function a lifestyle consumer hanging out at the pool. At a broader level, one of the most unique things about Vans is that our brand appeals to an incredibly broad swath of consumers. With that said, we seek to target anyone who uses our products to express themselves creatively and that encapsulates action sports, art, music, and fashion. Whether surfing or not, we want consumers to connect and resonate with the brand.
Price points: what are your main categories and what is the upper limit in this product category right now?
The sweet spot for 4way stretch boardshorts in EMEA 60.00 EUR, so we made sure that all of the ERA boardshorts hit that mark. Right now, we haven't begun to explore the upper price limits within the ERA boardshort as we are focused upon providing a solid foundation to eventually explore possible innovations to this franchise. 
How much of your line is eco-friendly and how?
We currently offer a 100% recycled polysuede on a handful of SKUs. It is a long term goal to utilize recycled content in all of our boardshort fabrications. 
Any thing special you want to add about this market?
The boardshort market is very unique, as it is the original apparel item that helped spawn the action sports industry. Furthermore it's the equipment that enables our consumers and athletes to express themselves creatively in and out of the water.
What are your 3 key product pieces for SS17?
Our 3 key product pieces for our SS17 boardshort range are all variations of the ERA boardshort. First will be our hero ERA Boardshort featuring the Decay Palm print that will be integral to our toe to head approach in apparel footwear.  Secondly, we have a range of commercial solids and stripes available in the ERA Boardshort, to help establish a strong/saleable base for the collection. Lastly, we've collaborated with the Gudauskas brothers and their Positive Vibe Warrior foundation. This will be integral to driving energy in the Core Channel through our athletes. The Gboys are an integral part of the Vans family and we are stoked to support their philanthropic endeavors.  All variations of the ERA Boardshort will help to set a strong foundation for this franchise as we move through 2017.