Vans Womens Streetwear SS17 Preview
Retail Buyers Guide: Women's Streetwear SS17 Trend Report
CATEGORY: WOMEN'S STREETWEAR
BRAND: VANS
INTERVIEWEE: AMELIE ROBERT (MERCHANDISING MANAGER FOR WOMEN'S APPAREL AND ACCESSORIES)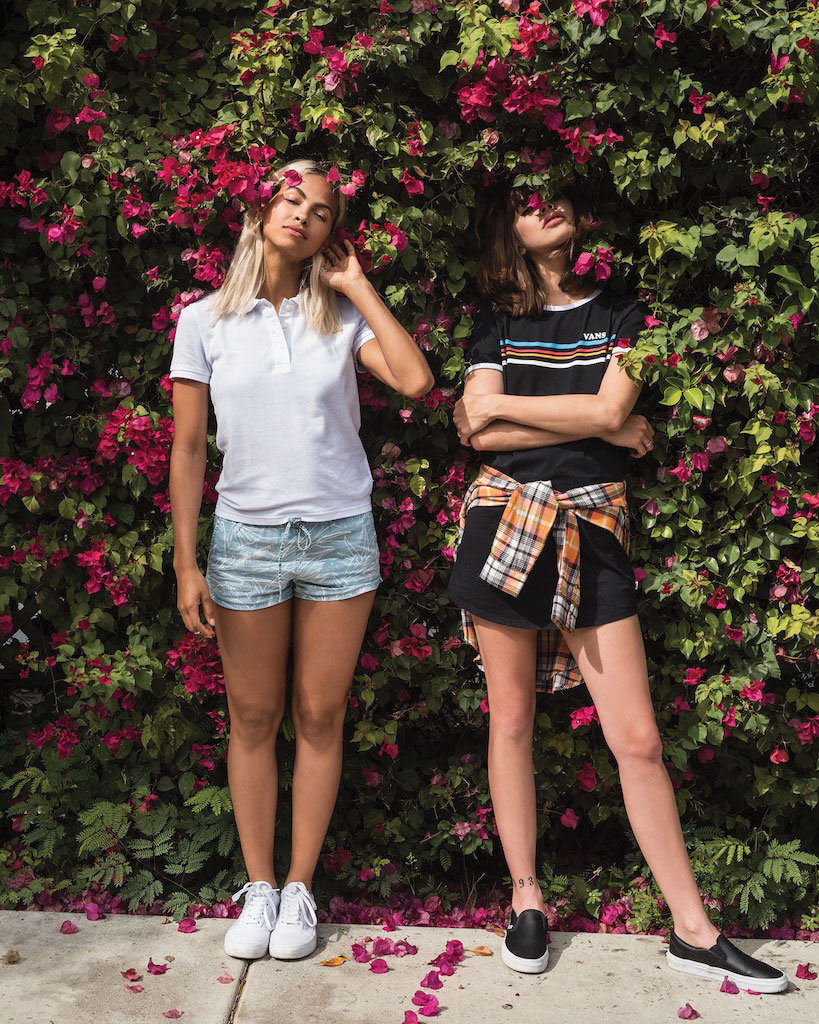 How is the women's streetwear market for you? Which markets are performing better than others?
The streetwear market is a growing market that is for certain. It is linked with two major trends. On one hand, each and every woman is wearing sneakers, this is part of their daily uniform as they are now familiar with the brands. They also seek to understand how to wear sneakers and how to style them. That is a great opportunity for brands like us to show up head-to-toe and to deliver credible outfits.
On the other hand, nobody can avoid the huge influence Vêtements and Demna Gvasalia, Gosha Rubchinskiy & Hood by Air have on bringing fashion appeal to streetwear.
Both of those trends, combined with the strong streetwear heritage of Vans, are a great opportunity for our Apparel & Accessories categories.
In terms of markets e-commerce in general are big performers for us.
What are the major trends in your women's streetwear line for the next Spring/Summer season? 
We are still seeing a lot of logos, preferably on a large scale with a minimal execution. That is where we can see the big impact of streetwear fashion into our collections, especially the 90's and athletic revival which is a theme throughout. In addition to those logos, verbiage is still here, addressing to a younger consumer as a big hit or a small monogram.
When it goes to a more sophisticated consumer, this season is influenced by our Californian roots. Taking the best of our DNA in prints and patterns and pairing it with the good combinations of staple tees and elevated wovens. We were thinking of that consumer curating her suitcase before heading to festivals and vacay times!
In terms of colours, what are the main stories?
We feel that pastel is still really strong, combined with minimal black and white all applied on feminine patterns. I am thinking specifically light pinks, mint greens and light purple.
The collection is also showing washed colours directly inspired by the 70's. Faded orange, yellow and blue are bringing a unique vintage vibe to exotic florals and flocked logos.
Finally, as a hi-five to the Vans DNA, we see pops of red throughout the collection.
What about patterns? Any crossovers from other lines or collaborations?
At Vans women, we are perfecting a head to toe approach and most of our seasonal stories for Apparel & Accessories have crossovers in footwear. 
In terms of patterns we are still going deep into tropical florals, directly inspired from iconic Californian patterns. This season we are re-interpreting a Hawaiian print, and also playing a lot with the Cuban vibe that is currently trending.
The range is also displays hand-drawn inspired patterns, to provide a creative and unique feel.
What materials are you working with for Spring/Summer 2017? Anything new?
Spring is all about lightweight and easy-to-live materials. Basics are elevated with slub jerseys and vintage washes that have timeworn charm and will only get better with age. To add a sophisticated angle, we are introducing interesting denim fabrications, linking our heritage feel to the 90's trend.
Can you talks us through some of your key silhouettes?
The look of our Vans consumer is definitively tomboy, providing the right balance between unisex-inspired items and feminine details.
Tees and shirts are reinvented in long-lengths versions, and those staples of streetwear become dresses. Paired with athletic crew socks and a pair of SK8-hi's, this creates the perfect outfit.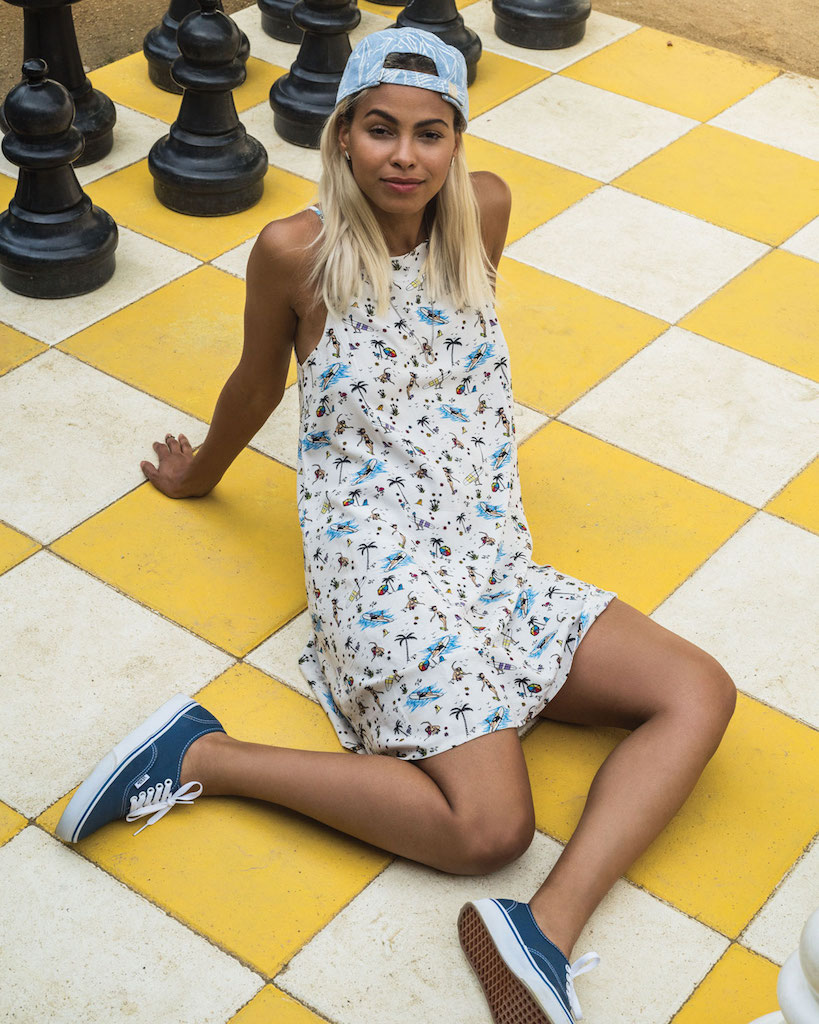 For early spring, we made sure the consumer could layer her favourite flannels and fleeces with fashion tops and logo tees.
When the weather becomes warmer, we are switching it up to printed sets, offering the perfect match between a feminine shirt and a super cute short.
To complete the look, backpack silhouettes are still on point and we see a big come back on curved brims like a fathers cap.
What are your most important styles/models? Please talk us through 2-3 of your key products.
The first product that cannot be missed is the Raglan tee shirt. Varsity-inspired and iconic from streetwear, it is the perfect support for our logos, directional prints and seasonal patterns. When the original version shows ¾ sleeves, the spring interpretation shows a muscle silhouette and plays with black, white and pastels.
The second item is the Coach jacket, another great tie back to the 90's athletic trend. Worn on the US football fields, then popularized by skate culture, we stole it from our men's collection and made it shorter and tighter. It is now a great piece, perfect in bringing a street edge to our tomboy look. This season, we are offering a mega fresh white version, and an elevated all-weather execution, lightly padded and water-repellent.