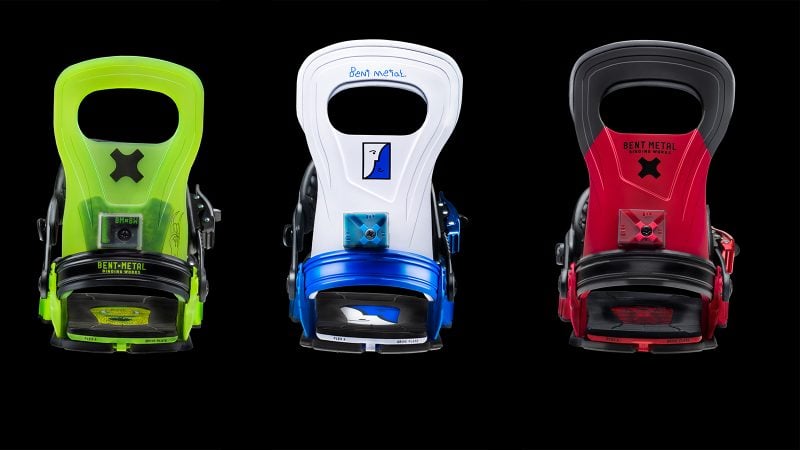 Bent Metal Binding Works FW17/18 Preview
Retail Buyers Guide: Bindings FW17/18
CATEGORY: SNOWBOARD BINDINGS
BRAND: BENT METAL BINDING WORKS
INTERVIEWEE: Paul Ferrel – Binding Category Manager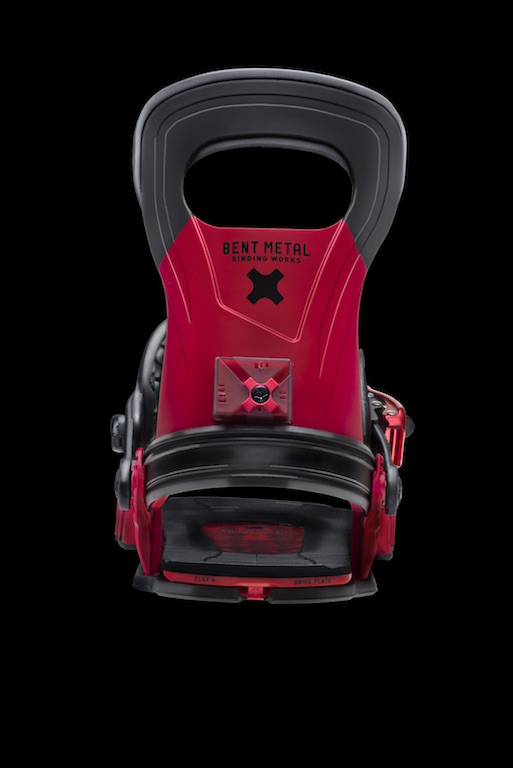 What are the most important products of your 17/18 line, and why? Please tell us about them, and what makes them the highlights.
After our successful first year introducing the ground breaking Flex Control Drive Plate technology, we are returning for our second year with some exciting additions.
Our Drive Plates feature high-resolution eco-sublimation graphics fused into the top-sheets at the Mervin Mfg. factory and are a perfect canvas for great graphics.  To take advantage of this we are collaborating with artistically talented snowboarders to create special colorways in the line, featuring their distinct art and styles.
The first collaboration is on the acid green The Logic colorway.  It features artwork by Sean Genovese of Dinosaurs Will Die snowboards.
Legendary Lib Technologies rider Jamie Lynn is returning for a second year to apply his artwork on the Transfer black colorway. Flat black, all black with classic graphics is Jamie's iconic style.
The Transfer also features a White colorway with Gnu's Forest Bailey's fresh artwork. His bold art is featured with a full bleed application on the highback in addition to the Drive Plate.
To top things off we have a new Women's Upshot model featuring a beautiful transparent and fluid urethane highback paired with a Bi-Axial Drive Plate. The combination creates a medium soft flex and all mountain performance that the ladies will love.
The market is asking for more board feel at the same time as effective cushioning. How are you hitting the sweet spot?
Our baseplates utilize a small pivot disk that not only increases the true flex zone on the board it also allows our patent pending Flex Control Drive Plates to apply more power and influence to the binding flex.
Which new materials are you using in your bindings?
Our biggest differentiator is that instead of just changing the percentage of chopped fibre glass in our baseplate injections to alter flex, we use ground breaking woven composites.  The application of woven textiles to fine tune flex leaves our options wide open as we go beyond conventional binding flex technology and into materials used to fine tune flex in high end snowboards.
Please tell us about the dominant colour themes for next year's bindings?
We continue to offer a spectrum of colours from black to brights for broad customer preferences.
Prices/margin: Where is your brand going? Higher? Lower?
We are not raising prices.  BMBW offers an incredible value when you consider the technology and performance at each price point.  The Solution model with its Spread Tow Carbon Fibre stands out as an especially strong value when compared with other Carbon Fibre models.
Any new ideas in buckles, straps, highbacks, bases (or baseless)?
The IMEVA foam pads on our Lite-Form ankle straps is the same type of foam used in the mid-soles of highend athletic shoes for maximum comfort and resilience. The use of composite textiles with interchange able Drive Plates for different flex characteristics is a new way of thinking when it comes to fine tuning the flex of a baseplate and enhancing a bindings response.
It's important the binding fits the snowboard boot correctly. What do you do to make sure the fit is OK?Boots come in a wide variety of shapes and bindings are expected to fit a relatively wide range of sizes. Our straps feature a wide range of tool-less adjustability and the bonus of an adjustable aluminum heelcup to centre your boot over your board.
Which factory do you use for production? Any factors other than cost that led this decision?
The heart of our patent pending technology comes from the composite panels made at Mervin Mfg. in the U.S.A..  Mervin is a leader for cutting edge composite technologies in snowboards, skateboards and surfboard design and construction. The experience and knowledge of Mervin's staff and craftsmen gives us a significant advantage to apply the latest know-how.
Doing a splitboard-specific binding next year?
No. We recommend Karakoram Splitboard bindings.
Finally, why should shops & consumers buy your bindings over the competitors'?
Bent Metal Binding Works is a consortium of engineers, designers and life long snowboarders who are dedicated to bringing to life the worlds best bindings.  This collaboration has created exciting advancements in binding flex technology, providing a familiar traditional binding experience with a leap in performance.
In addition to the Drive Plates all the thoughtful small details add up to a create a satisfying experience when you ride.