Halldor Helgason's atrip Brand Profile
atrip is Icelandic pro snowboarder Halldor Helgason's new outerwear brand being made in collaboration with Stigma Distribution. Similarly to each of Halldor's other business ventures (Lobster Snowboards, Switchback Bindings, 7/9/13 belts and more), the brand is all about having fun and doing things in a legit way, that's true to snowboarding and its origins. Halldor and atrip's Marketing Manager, Tomáš Koudela have explained all behind the brand for SOURCE.
Please explain the atrip brand name and thinking behind it.
Halldor: At the beginning, there were a bunch of names we thought about. It's not that easy to find a good name, but we knew we wanted something that started with an "A". There's nothing too deep behind it. We like the way it looks and sounds.
The main story behind the brand is our Special Interest Club. Different special interests, random hobbies; it can be whatever you're into. Our Special Interest Club members are Colin Wilson, Teddy Koo, and Frank Bourgeois on the snowboard side plus some rad people like Tyler Nixon (porn star), DJ BBQ (chef), Stanley Leveille (comedian), Java Fernandes (photographer), Johannes Brenning (Dart King) and Gisli Pálmi (rapper). We are really happy with the SIC crew.
Who is on the management team, and what are their backgrounds?
Tomáš: The day-to-day management is handled by Stigma Distribution. We're a talented team with years of experience. Pepe Setele is in charge of production, making Halldor's ideas a reality. Hanus Salz is the head of sales. His team takes care of our retailers. And I, with help from Diggles, Halldor and Kristoffer, am taking care of the marketing.
What is the company ethos?
Tomáš: Stigma distribution, like atrip, is a rider-driven company, with a strong focus on customer service. There isn't much else to say. We try to keep it real and take care of our customers and retailers who support atrip.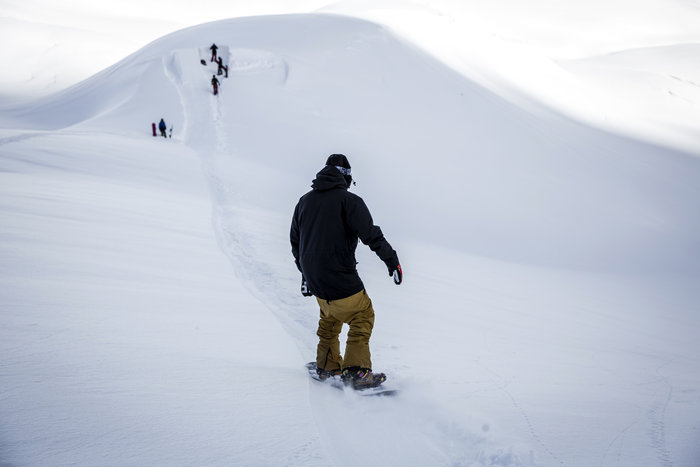 How have sales been since the launch of the brand?
Tomáš: It's been a very strong launch. We are almost entirely sold out in Japan and we are selling through our own stock very fast. The top selling items are the Laki jacket and the Súlur sweatshirt. We hope our retailers who carried atrip in the first season will sell through quickly, and get excited about the new FW17/18 line.
Why should retailers sell your brand?
Tomáš: We foster strong relationships with our retail partners and there is a lot of demand for a brand like atrip. We are targeting a new segment of the market. We don't produce super expensive and ultra tech products. Rather, we focus on functional and rideable garments you can wear in the city and not look like an outdoor freak. Most people aren't going on expensive Alaska trips, so they don't need a 20K waterproof jacket that costs a fortune. Our jackets provide all the support you need and leave your customers with budget to put towards their interests.
What do you see for the future of your company?
Halldor: We don't think too far in the future. We want to make cool stuff that our supporters will like. We're not some big corporation. As long as we stay out of the red, produce sick stuff and have fun, I think we're going to be happy.
What do you see for the future of the industry?
Tomáš: The last few years were hard across the industry. The weather in Europe hasn't helped, and you can feel the stress in the industry about the future. Consumers are changing, so companies need to learn and evolve with them. There are two types of brands; the ones driven by bottom line and the ones driven by passion. We are definitely passion driven. We do it because we love it. This is a big advantage for companies like Stigma Distribution. Even when times are hard, we know why we do it, and our fans know this, the core fans, and we see it in their support. So let's all hope for better winters and then we can all breathe easier.
Wishing a good season to everyone. Keep it real!