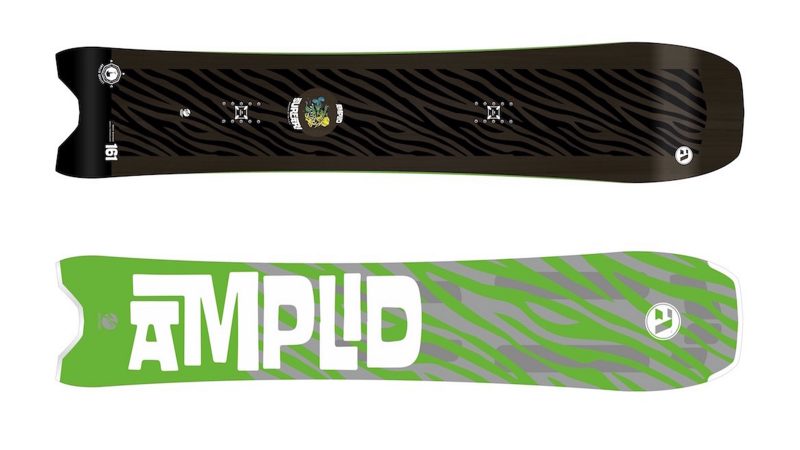 Amplid Snowboards FW17/18 Preview
Retail Buyers Guide: Staff Sales Handbook: Snowboards 17/18
BRAND: AMPLID
CATEGORY: SNOWBOARDS
INTERVIEWEE: Rich Ewbank – Marketing
KEY PRODUCT FOCUS: Please pick the three most exciting boards from your new 17/18 line and tell us about them.
We're very proud to announce the Centrifugal Collection, a three-board-quiver with a difference, for the 17/18 season. Each board in the collection is designed to maximise the enjoyment a rider gets from toying with the centrifugal forces generated during turning. The Pentaquark is the trench-carving, piste-destroyer which flies down a Banked Slalom course too. The Surfari is a tapered powder weapon with a mini-swallow-tail which is no slouch on the corduroy. The UNW8 is the ultimate all-mountain snowboard for advanced and expert riders. All boards feature powerful cambers, Amplid's ultralight HEXO2 honeycomb construction and AntiphaseTM, a revolutionary dampening material for ironing-out the bumps. The Centrifugal Collection is aimed at expert riders looking for something demanding and rewarding to ride… you've got to be good to get the most out of these boards!
Construction. Are you using any new inserts / edge tech / cores / sidewalls / glue / wood types / metals / bases / other materials? Or are you using this stuff in any new ways?
Antiphase™ is a brand-new technology, developed in-house, which reduces vibrations improving board stability. Unlike conventional dampening, which relies on rubber elastomers to reduce vibrations, Antiphase™ is a multidirectional composite layer bonded to a non-Newtonian material, which is placed between the board's tip and front foot binding. Antiphase™ disrupts the natural frequency of the snowboard, stopping vibrations which otherwise amplify and end-up as tip chatter from propagating through the board. It's an incredibly effective way of dampening without compromising our boards' legendary pop and "wired" riding feel. For the 17/18 winter Antiphase™ will feature in Amplid's Centrifugal Collection only.
Where will you build your boards, any changes? What makes this production facility the best solution for you?
We're building at the Mothership in Austria. Unfortunately, this year's production has been plagued with unforeseen delays and setbacks, it's been a stressful time but the effort the whole team at the Mothership has gone to to get our gear made is commendable. We believe that these settling-in pains are worth the benefits of manufacturing at the most advanced and sustainable snowboard factory on the planet. Manufacturing with a partner that shares a similar vision of the future and values is extremely important.
Where is the pricepoint that's working the best right now? Right at the top, at the bottom, or somewhere inbetween?Amplid's customer wants premium materials, design and manufacturing and is prepared to pay for it. Boards priced between reasonable and extortionately expensive are working best for Amplid. Regardless of the price tag we focus on delivering a great value product packed full of uniqueness.
How long is your warranty, anything new here?
We recently extended to a two-year warranty period to align with other brands on the market.
We're seeing a lot of small, grassroots snowboard brands getting traction again. How does this affect your brand, marketing & positioning?
We believe that retailers are looking for brands with limited availability and a clear brand proposition. The only way to avoid "showrooming" is to ensure that stocked products aren't available from every discount warehouse on the internet, Ebay and Amazon at heavily discounted prices. The retailers' that search for something different and for more limited collections which can help to make their shops unique are helping small brands like Amplid to get their foot in the door. We try to work with retailers that understand our brand vision and see the benefit of consistent and stable pricing.
What inspired your topsheet & base aesthetics? Where is the trend here – muted, flashy, photos, what? Any cool collabs/limited editions?
Amplid has its own aesthetic. Under Peter's direction the brand has always trodden its own path. Amplid designs have a certain degree of simplicity; real depth, achieved through transparencies and multi-layer printing; visible technologies; and are aimed at customers with sophisticated taste.
Shops are asking for a two-year product life cycle to help sell boards on price longer. Any thoughts on this, or featuring any carryover boards in the line?
Without letting the cat of the bag, it's something that we're looking at sincerely for future seasons, but we always have to consider that by its nature a two-year cycle is counterproductive to Amplid's fast innovation cycle.
Are you doing splitboards? What are you doing to push this segment forward?
Splitboarding is huge for Amplid right now! Our flagship splitboard, the Milligram, has been a sensation this season and we're constantly finding innovative ways to improve it: from a special edge tune which reduces topsheet chipping to "Powder Pontoon", a narrow carbon band which runs from tip to tail on each board half and reduces the risk of failure when accidentally spanning a hidden snow hole. Our constant drive to make the Milligram the lightest and most durable product on the market is pushing product development in the sector forward. And we're hyped to introduce the Millisurf for next winter which blends the Milligram's flagship construction with the shape of our new powder surfer, the Surfari.