The LIVINGROOM Banked Slalom Race Is Back In 2017
The Banked Slalom race with Peter Radacher and the LIVINGROOM is more than just a killer race at Austria's Hochkeil resort. There will also be free demos, evening entertainment, film showings and a general good time for snow lovers everywhere.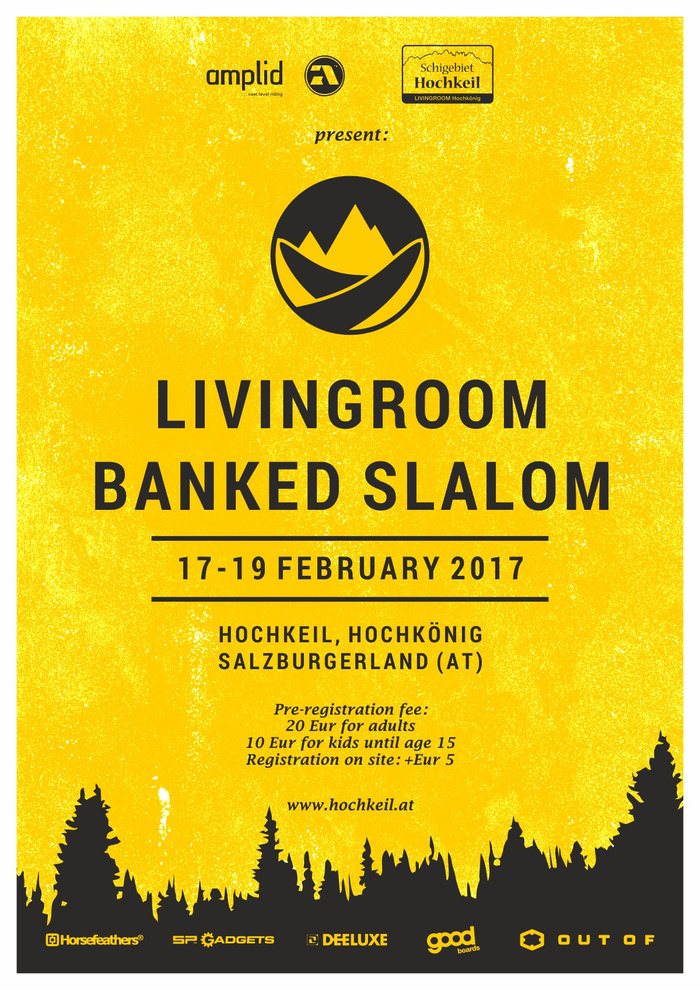 Press Release: Peter Radacher and the LIVINGROOM Crew are excited to announce the 3rd edition of the LIVINGROOM Banked Slalom in partnership with Amplid::: Next Level Riding and Hochkeil resort. Postponed from an earlier date in January due to unseasonably dry weather, the event will now take place from Friday the 17th until Sunday the 19th of February at the Hochkeil, a small resort which sits below the magnificent Hochkönig in Salzburgerland, Austria.
Yearly Peter and his keen team of shapers create a fun course from natural snow with crazy flow, which snakes its way around the Hochkeil's varied terrain. With the event moving to February and after experiencing big snowfalls throughout January, the course is set to be the best to date.
This grassroots event has attracted its fair share of snowboarding royalty over the years, including Olympic gold medallist Nicola Thost and Austrian back-to-back Air & Style winner, Stefan Gimpl. Last year Jeff Brushie flew in from Stateside to join the event and this year 90ies hard-booting heartthrob Peter Bauer will be the guest of honour and of course contending for a spot on the winners' podium. Hansjörg Unterrainer and Mario Fuchs, both Olympic boardercross athletes, will also be taking a lap of the WSF Banked Slalom Tour sanctioned course, hoping to add points to their tour tally. And there's an enormous prize purse for the winners, with products from Deeluxe Boots, SP Gadgets, Horsefeathers, Out Of Goggles, Amplid::: Next Level Riding and Good Boards.
The weekend isn't just about racing. Amplid will be at the event, providing test boards free of charge on Saturday and Sunday. Evening entertainment is a chilled affair, a great opportunity to catch-up with old friends and make new ones. On Saturday, retro snowboard movie Pachamama, featuring Jean Nerva and Amplid's Peter Bauer, will be shown on the big screen and on Sunday collectors of shred antiques will come together after riding to show-off their vintage boards and perhaps even make a trade or two.
Registration in advance costs 20Eur for adults and 10Eur for children under 15yrs, the lift pass is extra. Registration on the day costs an additional 5Eur and is subject to space. Two day packages including half-board accommodation, a two-day lift pass and registration for the event are available from 169Eur for adults and less for children and youths. Racing starts at 11am on Saturday, but riders must be registered by 10am. More information can be found on the event Facebook page or alternatively at www.livingroom-hochkoenig.at.