Madness Wetsuits FW17/18 Preview
Retail Buyers Guide: Wetsuits FW17/18
Category: Wetsuits
Brand: Madness
Interviewee: BENOIT BRECQ, Marketing Manager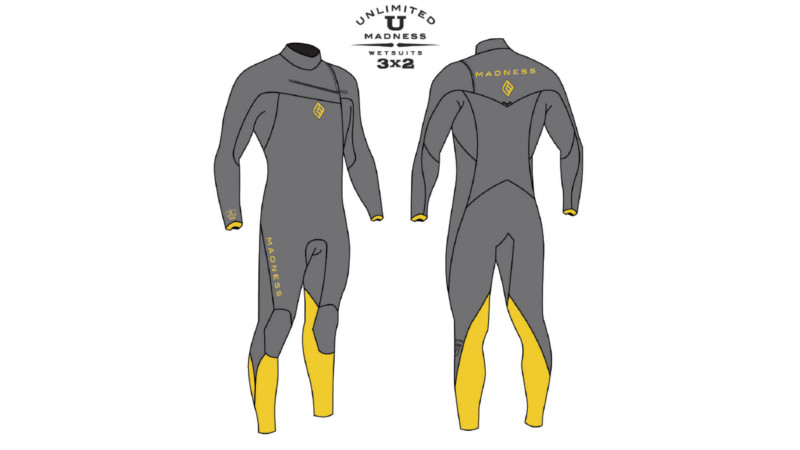 How has your winter wetsuits segment evolved since last winter and what are major changes in terms of products, categories and SKU ?
We've seen improvements in the women segment: a larger range with delicate trendy colours (4/3, 3/2 & shorty 2/2 booty cut)
The big changes are in colours for Kids & our high end range (unlimited)
The Evolution series (traditional back zip) is available in Black or Blue
Is the demand for frigid waters' wetsuits still growing?
For sure, people are surfing all the year round (in winter conditions) & they need Frigid water wetsuit.
We improved our Frigid wetsuit range with the new 5/4/3 mm POLAR PLUSH Unlimited & a new 5/4/3 POLAR PLUS EVOLUTION (back zip) model
We also improved our range of accessories with a DRY SKIN 5MM polar Boots & 3MM gloves & the new Full HODD 3MM for windy & freezing conditions!
Which new trends do you see on the 2017/18 wetsuits market ?
The Girl's range improves as more girls are loving to surf all year & the wetsuit needs to be on trend. Girls like fashion & wetsuits needs to be fashionable too.
How have price points evolved and what are the main price hot spots?
For MADNESS the price is always a key point in our development process. We always try to find the main price hot spots. For full option super stretch, chest zips, we try to be around 220€.
Regarding the rubber specifically (neoprene or not) any major improvements ?
The super stretch is still the standard in the surfing industry, & people need flexibility in surfing.
Tell us a bit more about the linings' benefits of your wetsuits ?
Our high range of wetsuit (Unlimited) are all glued and stitched for maximum seam stretch & hard-wearing quality with zero water penetration. In our 4/3 & 5/4/3 we add an inside water proof tape, a flexible and strong adhesive product water resistant, flexible & strong.
What's new in terms of fit and panel construction ?
The evolution range (back zip entry range) is developed with our engineers to be really strong, we developed a special panel construction to reduce the force on the stitches. This wetsuits are especially developed for schools & rentals.
Please take us through three key products that retailers should put on their order sheets.
UNLIMITED 4/3 : best sales for men, if they need just one wetsuit
Women CREW 3/2 : the stylish wetsuit for girls
EVOLUTIOn KID 4/3 : the coloured, stylish easy to put wetsuit for kids.