Register Online For The Montafon Banked Slalom Presented By DEELUXE
2017 marks the seventh annual edition of the Montafon Banked Slalom race presented by DEELUXE. The event consists of a number of races throughout the day followed by an evening of entertainment and live music. 
Press Release: We are pleased to announce the 7th edition of the up-and-coming Montafon Banked Slalom on Saturday, March 25th, 2017.
Brothers and sisters, let's get banked!
Banked Town—a.k.a. Gargellen—will be home to an insane race, which will be open to 160 hungry riders.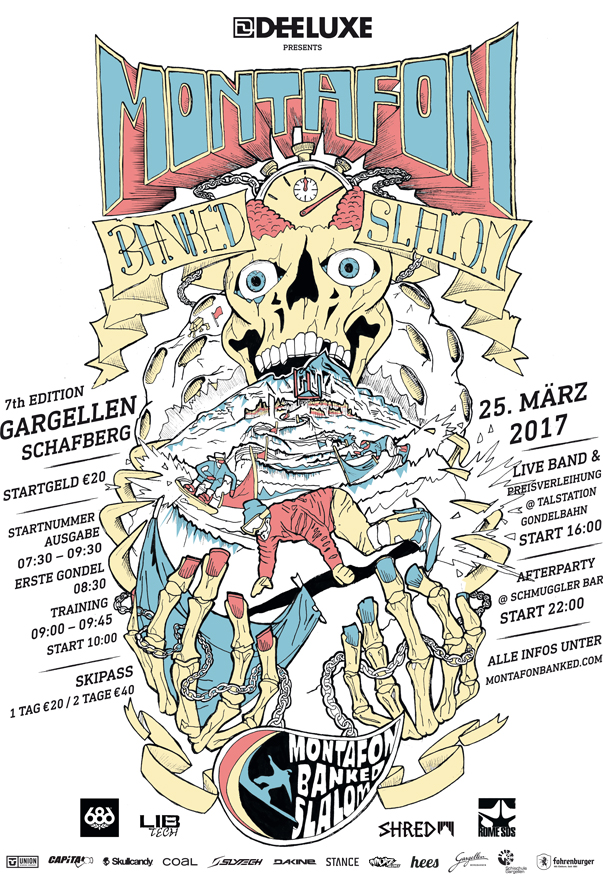 This year, two spots to grab for the Legendary Mt. Baker Banked Slalom in 2018!!!
As usual, after a day of racing and burning legs, we will gather at the base of the resort for an awards ceremony honouring the fastest racers and to celebrate with a live band, The Black Shoes.
Please note that online registration will start Saturday, March 11th—first come, first served!
For more information, follow us on Instagram, Facebook and Montafonbanked.com.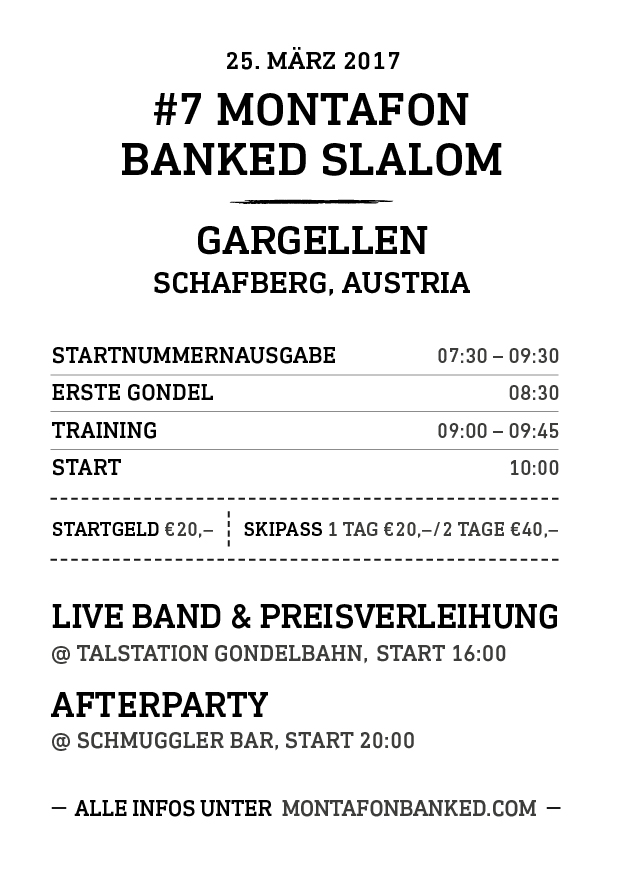 Program:
Friday, March 24th:
–       Welcome gathering for riders and race office @ Schmuggler Bar 19:00 – 23:00
Saturday, March 25th:
–       Race office @ bottom station 07:30 – 09:30
–       First gondola 08:30
–       Training 09:00 – 09:45
–       Start 10:00
–       Live band and awards ceremony at bottom station 16:00
–       Afterparty @ Schmuggler Bar 22:00
Categories:
–       Pro men
–       Open men
–       Master (40+)
–       Pro women
–       Open women
–       Master women (40+)
–       Young guns (<15)
Start fee 20€ / Skipass 1 day 20€ or 2 days 40€