Kickstarter Campaign Aims To Broadcast Live Footage Of UK Pro Surf Tour Events
Stream Freedom Limited are hoping to raise £5,000 to be able to broadcast HD live video feeds of all the UK Pro Surf Association events on the 2017 tour. 
Press Release:  Stream Freedom Limited is a Live Events Media company specialising in Live-Video, social media broadcasts & live updates. The company, based in Newquay, has been collaborating with the UK Pro Surf Tour since 2015 to bring information on the events to the public including live score updates, post heat interviews as well as creating marketing propaganda such as press releases and posters.
Founder, Tyler Worth, began working with the UKPSA whilst studying for a Foundation Degree in Surf Science & Technology at Plymouth University. It was due to a module in Events Production that the paths crossed between Tyler and UKPSA's Tour Director, Dave Reed, in which they worked as joint Project Manager's in the production of the English Surfing Federation Nationals 2015. Since then, Worth has continued to work with the UKSPA, and also the British Longboard Union Tour in 2015, delivering their social media updates and live scores across a number of high-profile competitions around the UK.
Dave Reed explains how working with Stream Freedom will enhance the UK Pro Surf Tour for both spectators and athletes:  "Introducing live footage of our professional surf tour really is the next phase in strengthening the UK Pro Surf Association and supporting our upcoming, professional athletes. These surf events are not only an elite training circuit for our Nation's surfers but, for many, it is also their career, showcasing their talents over live-video is an important link for their supporters and sponsors."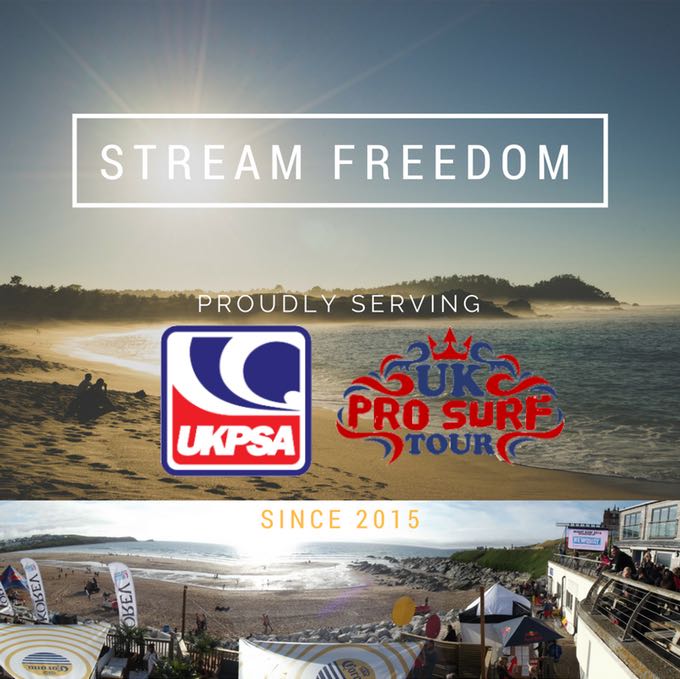 The live service from Stream Freedom will use platforms such as Youtube and Facebook Live using innovative mobile-network bonding technology, which combines several 3g/4g mobile networks and/or any available Wi-Fi networks on site to produce a strong live-stream connection. Using a HD DSLR camera they will be able to produce high-quality 1080p or 720p captured video feeds, leading to more social media interaction with the audience.
The live streams will also be beneficial for any sponsors of the events with the ability to add advertisement reels, logos and banners amongst the live footage to maximise exposure for those supporting the events.
Find Stream Freedom's Kickstarter campaign here.