Adidas Skateboarding Announces 2017 Global Skate Copa Court Tour
Adidas Skateboarding will be launching their 2017 Global Skate Copa Court Tour starting in Brooklyn, New York and will continue to Asia, Europe and South America throughout the year. 2017 will be the third instalment of the Skate Copa Court series which has proven to be popular having gone global in only its second year. European stops are London June 24, Paris July 1 & Berlin July 4.

Press Release: The Skate Copa Court series will kick off on April 15 in the Brooklyn neighbourhood of New York City, traveling to Mexico, London, Los Angeles, and Europe eventually making stops in Buenos Aires and Tokyo.
Dates and cities are as follows:
April 15 – Brooklyn – New York City
May 18 – Mexico City, Mexico
May 20 – Shanghai, China
June 24 – London, United Kingdom
July 1 – Paris, France
July 4 – Berlin, Germany
August 31 – Los Angeles, California
September 18 – Seoul, South Korea
September 21 – São Paulo, Brazil
October 16 – Santiago, Chile
October 19 – Buenos Aires, Argentina
November 1 – Tokyo, Japan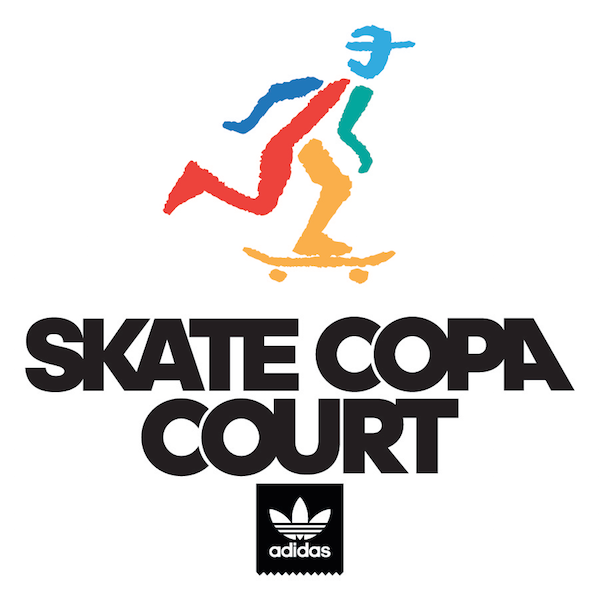 The premiere events will feature team demos from the brand's roster of skateboarders; an open skate shop jam that invites participating local skate shops skating together for cash prizes; an "adidas Blackbird Best Trick Contest", which offers additional cash prizes for the participating skate shops; and an open skate jam for pro riders, skate shop teams, and the local community to skate the unique obstacles. The obstacles will feature custom artwork from hand-selected local artists of each market and will be donated to the community for locals to enjoy after the events.
Encouraging innovation and originality for the next generation of skaters, the "adidas Blackbird Best Trick Contest" features a unique 'Blackbird' obstacle that is designed under the creative direction of select adidas team riders for different cities where the series is being held.
The Skate Copa Court series will be the third instalment of adidas Skateboarding's annual Skate Copa skate shop competition. The event series went global in just its second year after a successful inaugural run, proving that the appetite for originality, creativity and innovation within skate is strong and thriving.
#SkateCopa
For More on adidas Skateboarding