Riksgränsen Banked Slalom, May 11-14, 2017
The Riksgränsen Banked Slalom has been part of a movement that celebrates the emergence of 'carve tricks' and snowboards that love to turn with its race course of 22 banked curves. The main focus of the Riksgränsen Banked Slalom is to celebrate the true spirit of stoke on the mountain, transcending generations, and growing each year.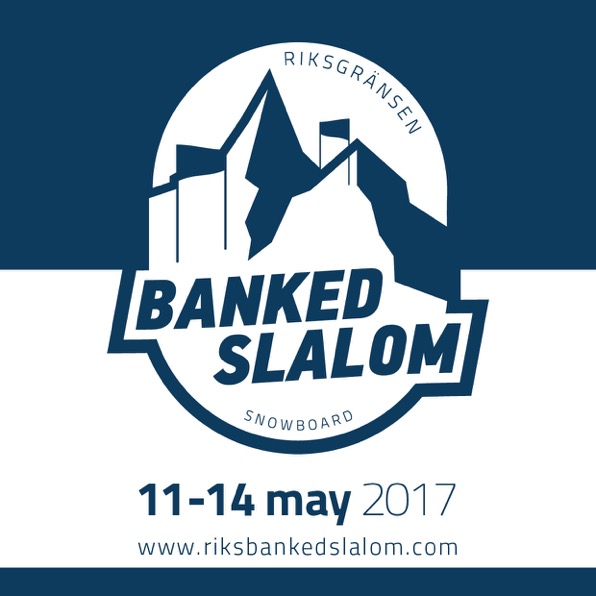 Press Release: Riksgränsen Banked Slalom became an instant classic already after the first year. In 2013, we had 60 dedicated snowboarders competing in what some would define as "the art of turning". No jumps, no spins, no rails, just you, your board and your ability to carve and keep the speed through a course with 22 banked curves. Year two, 2014, we had 151 people competing from 7 different nations with the age spanning from 9-57. Year three it was 220 riders. Year four it was 250 riders! Over the last few years, we've seen an evolution of new boards dedicated to turning and more clips of "carve tricks" emerge in the social media feeds. Riksgränsen Banked Slalom is a part of that movement.
Our ambition with the Riksgränsen Banked Slalom is to celebrate and enjoy snowboarding in it's purest form. We're part of a time of when several chapters of snowboarding's most prominent history are being written. Even though everyone competes against each other the scream's of stoke and warm smiles fill the air around the competition. There's no sour faces or bad mouthing, just a collective high that fuels the event. The course is located under the main chair lift which gives you a great view over all the turns. In addition to the competition, we present a retrospective photo exhibition about Riksgränsen and its snowboarding history. We bring generations of snowboarders together in a unique way.
For some it's their first time back since they were kids in the 90's, others bring their kids to experience the light and the atmosphere with them, but most of us see this as something that speaks to their soul as snowboarders. The Riksgränsen Banked Slalom is a melting pot for Scandinavian snowboarding where we create new visions and resurrect old legends.
We move forward to our fifth year with a goal to make our guest's trips better, grow the event with care and make sure that the stoke-o-meter for snowboarding is o the top.
Partners for 2017 are:
Adidas Snowboarding
Sweet Protection
Hotel Riksgränsen
RISK Kids
"Riks Banked Slalom for me is the perfect event to end the snowboard season: located in the far north of Sweden, Transition and their crew have created one of the most fun events in snowboarding. It's not only a really demanding race that runs smoothly through the resort, but the whole thing feels like a big family gathering. Get up there and chuck some turns!
Markus Fischer – GoPro (DE)
"Riks Banked Slalom is the best snowboarding event in northern Europe. Period.
If you a ride a snowboard you owe yourself a trip to the Riks Banked Slalom in May!"
Pierre Wikberg – Filmmaker magician (SWE)