JP Australia SUP 2017 Preview
Retail Buyers Guide: Stand Up Paddle 2017
CATEGORY: SUP
BRAND: JP AUSTRALIA
INTERVIEWEE: LARS ERMISCH (BRAND MANAGER, EUROPE)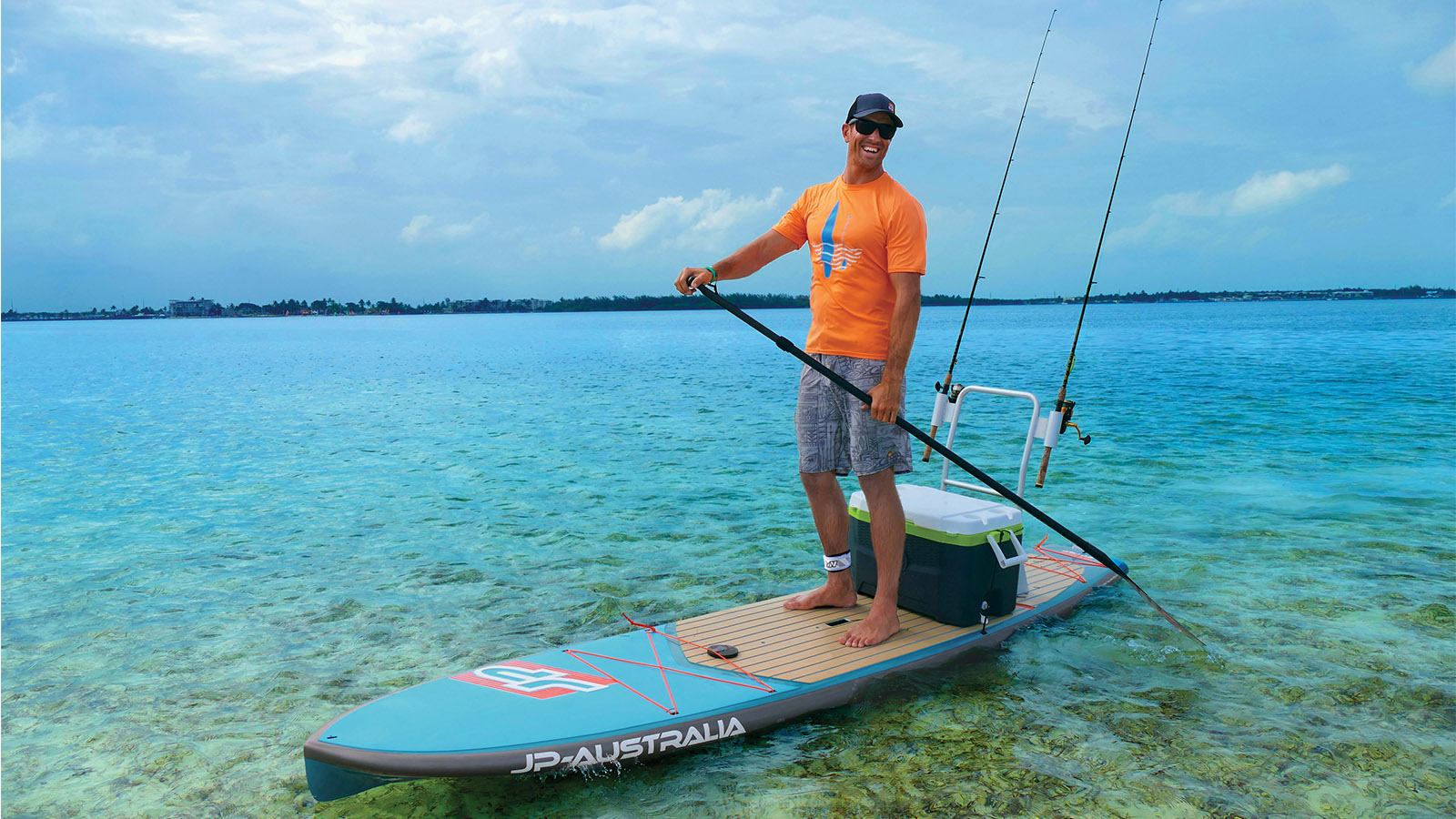 What are your top 4 European markets and why and what is your estimate of the overall 2017 sell in each of those 4 markets?
Our top market by far is Germany, followed by France, UK and Austria.
Particularly Germany is a market with a constant growth in the last 2-3 years.
You cannot go to any of the lakes in summer, without seeing heaps of SUPs on the water. The south is stronger so far, but I am convinced that SUP will get bigger in the North, especially in the coastal regions and cities.
So far, SUP is still mainly inflatable. The industry should try to push sporty paddling on hardboards more as well. In most regions of the world, SUP is at least 50% Downwind, Touring and Surf.
The markets like France and UK, with more coastline, sell more Epoxy Surf SUPs than Central European countries like Germany, Austria or Switzerland, where we mainly still sell inflatables.
But the sales for hardboards will rise a bit, as more of the 2nd time buyers will go for a performance orientated hardboard. Also the professional, competitive side of the Sport is growing, with more competitions on national and European level, eg EURO Tour.
What are the hot trends for inflatables for Spring & Summer 2017?
JP-Australia has an all-new inflatable range for 2017!
We have new construction technology for our Inflatable Boards, which allows us to have some of the stiffest and especially lightest boards on the market.
Our Superior Edition (SE) and Superior Stringer Edition (SSE) feature a pre-laminated triple layer composite construction while the Light Edition (LE and LEC) feature a pre-laminated double layer construction.
We also changed the shape of our Allround boards, as we think the round nose, rounded tail shape is outdated. Most people buying an Allround board, will use it a lot on flat water as well. We gave our AllroundAir a pointy nose and a square tail, giving it a more parallel outline. That makes the board cut through the water easier and adding more directional stability.
Our best seller of the last year, the CruisAir, was slightly stretched to 11'6 and 12'6 and comes in both sizes in LE and SE, what gives you a super light option on the best touring board on the market.
As a budget option, we introduced our AllroundAir LEC 10'6x32x5. It's basically identical to our popular AlloundAir LE. We just kept it a bit less fancy in the design and it comes in 5 instead of 6 inch. Important is, the bag and pump are the same as with the AllroundAir LE.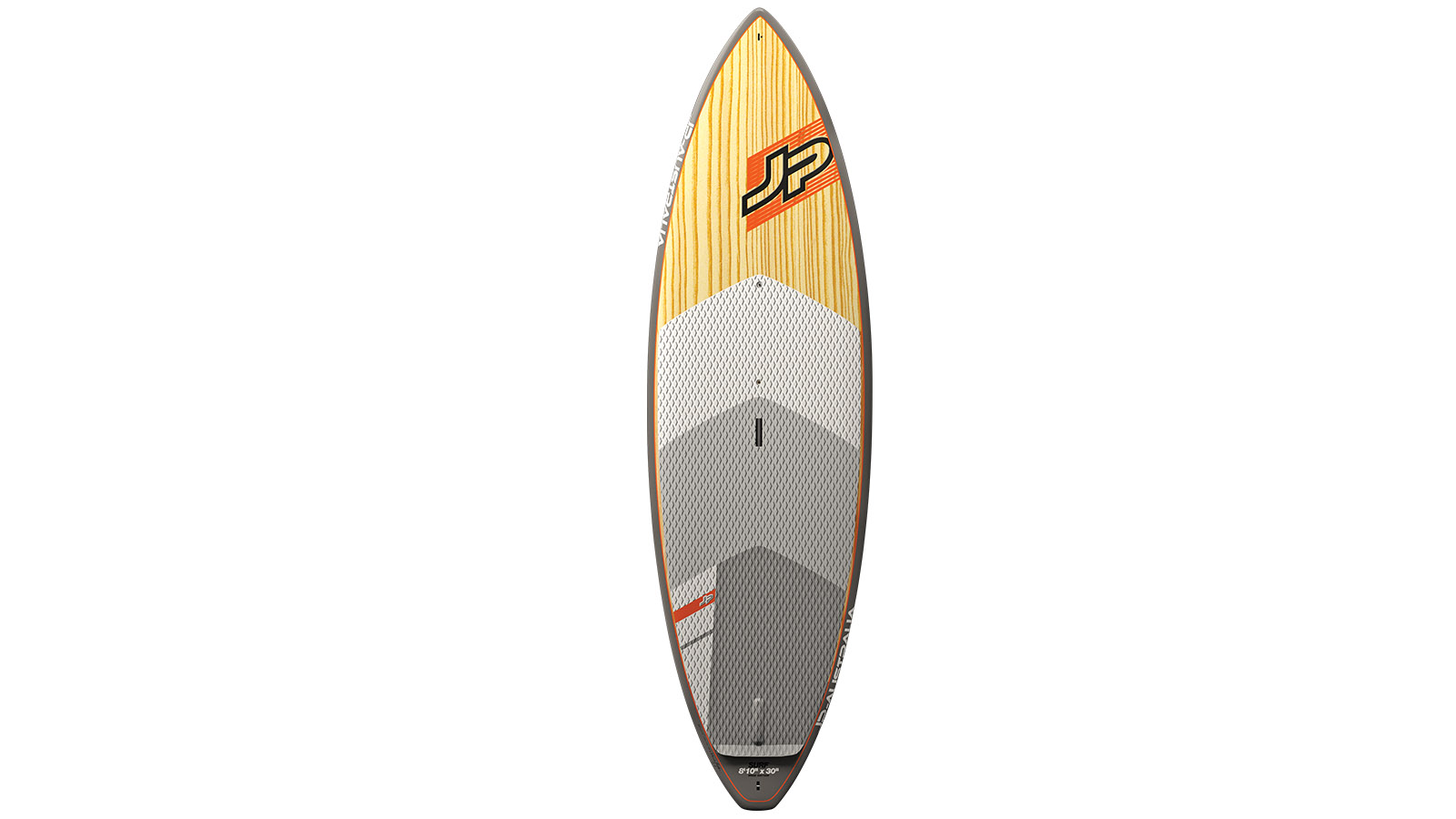 What are the hot trends for hardboards for Spring & Summer 2017?
A good selling shape for us is the Hybrid. It combines the advantages of a touring board with and a Surf SUP. It has a small displacement hull, what makes it great for flatwater paddling, but when you step back on the pin tail, you can actually move it in a wave. And it definitely fits in your garage or van.
An interesting addition to our hardboard range are the BIAX construction race boards. This construction features the same CNC shape technology as the Carbon version with a more economical construction. These BIAX boards are still much lighter than some of the competition "full" Carbon boards.
Another novelty is our Outback SUP. It's a multi-purpose touring SUP, that can be used for family fun, the big tour or the occasional fishing trip. It features the exclusive "Light-capsule" storage with a transparent bottom where you can put a flashlight and enjoy a night paddling session with illuminated water under your board. 
In our surf range we added an 8'1 to the JP Surf range and a 9'2 to our all-time popular Fusion range. Both sizes sold pretty well since introduction.
What do you see as the biggest opportunities and biggest threats to the European SUP business for 2017?
The biggest opportunities for the industry is, to grow SUP to an established sport. The interest of the ICF and ISA in SUP will help to grow SUP and has to be supported by the brands. This will help to make sure that SUP is not just a trend.
The biggest threat for SUP is the price dumping and all the brands trying to push into the market. Especially small brands, selling directly to customers, make it tough for retailers and the big brands.
There has to be a product for every budget, but customers have to be educated about the advantages of a proper sales advice, customer service and a quality product.
It is not always just about the price.
How are you helping your retailer network to sell your product?
The sales people in the retail shop work on the front line of the sales chain. We try to make it as easy as possible for them to sell JP products, by adding features like wheels and silent salesmen to our bags.
We put a lot of effort in our development, as we think the weight is a huge selling factor when it comes to inflatable SUP customers.
Women make nearly half of our customers, and they appreciate a lighter board.
It makes a difference to customers if they carry 13kg to the water or 7.5kg.
We also have printed boxes now, so the storage of Sups as a display on the shop floor is possible.
Selling arguments like weight, stiffness and price of our products will help the shop staff to be confident in selling our boards.
With improving our marketing and working with some of the strongest team riders in Europe, we should gain the demand for our products as well.
What new technology are you pushing for this season?
As mentioned before, our biggest invention for the 2017 season is our new inflatable technology.
Our main goal for the new range was to improve the weight stiffness ratio, plus durability, even further than we did already in the last years.
The pre lamination technology we use now, gave us the opportunity to have some of the lightest boards on the market.
As said on the homepage:
'This high tech process consists of machine-lamination of the multiple layers into a shell that has accurate thickness as well as superior abrasion and stretch properties. Compared to normal double layer boards  we have been able to remove the manual glue application from the process and with it the room for error, the excess weight of the glue and the additional health hazards for our workers.
The fiber reinforced layers create super strong and durable boards with a minimal amount of stretch.'
Take us in detail through your two key products for spring/summer 2017
As said before, the all new AllroundAir, with its stretched shape, is definitely a key product in our range.
It is a proper Allround board, with way more touring character than any of the round Alllround shapes on the market.
We also reduced the number of fins to one 9 inch center fin, to reduce the drag of fins in the water. This will also help you to have an easy paddle experience as a beginner or advanced paddler.
We offer this model in 10'6 and 11', to have a board for any skill level and rider weight, plus in 2 constructions, LE and SE.
The budget LEC version, gives the retailer a chance to have the right answer for all the cheap brands pushing onto the market.
We introduced a new paddle blade for 2017 as well.
It is a V concave-shaped blade, which comes with all our Carbon Pro, Carbon and Venus paddles in the sizes 83 and 90 inch.
All team riders, national and international, are loving the new paddles and we are convinced to have one of the best paddles out there.
My personal favorite paddle in the range is the Carbon 83, as it is a great paddle with a 60% Carbon shaft and 100% blade, which gives it a great mix of flex and weight for reasonable price.
From the homepage:
'The parallel outline in combination with the deep V concave provides a super stable and powerful catch. Even with a smaller size blade you can maximize the efficiency of your stroke with a minimal shoulder stress. The release is smooth for an easy transition towards the next stroke. The new shapes are great for both racing and surfing.'