TorFlex Allows Manufacturers To Measure The Flex Of Any Surfboard
The guys at the Basque Country Surf Company and Omega Composites have developed a new technology called "TorFlex" that can accurately bend, twist and vibrate any surfboard across its two axis giving shapers the capacity to measure and analyse a board's flex profile. 
Press Release: Announcing TorFlex Technology: giving modern shapers the tools they need to perfect the science of surfboard flex.
"The flex of a surfboard is vital to its performance, but we have always had to rely on trial and error. For shapers like ourselves, TorFlex is a game changer."
Johnny Cabianca and Mikel Agote, shapers and co-creators of TorFlex
Every good surfer or shaper understands the subtle, yet vital role of flex in a performance surfboard. Working closely together with a boards shape, dimensions and volume, a finely tuned flex profile is vital for maintaining flow and speed and maximising projection through turns. But until now, shapers have lacked a fundamental system for measuring and analysing a boards flex profile. Traditionally, shapers have always used their experience and knowledge of materials to create a board's flex pattern, but recent advances in materials and construction have made it increasingly difficult to create specific flex patterns by trial and error alone.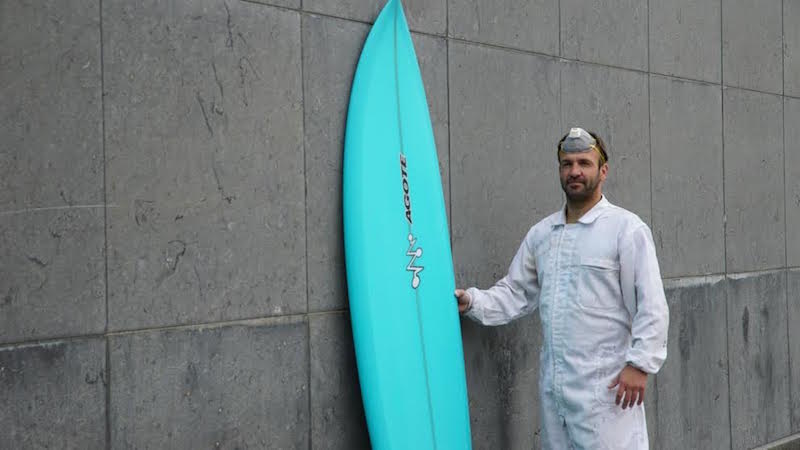 And this is where TorFlex comes in. A new machine and proprietary software system that can accurately bend, twist and vibrate any surfboard across its two axis to generate a full profile based on lateral flex, torsional flex and overall dampness/vibration.
Using TorFlex technology, shapers can now:
–       Compare identical boards made with differing materials to create an accurate & detailed flex profile for each type of construction.
–       Analyse new materials (carbon, foam, fibre, resins)
–       Analyse a surfer's 'magic' boards to create a personalised flex profile tailored to the individuals needs
–       Fine tune a surfboard's performance according to specific waves, conditions and surfing styles
Simply put: for shapers of the modern high-performance surfboard, flex design is the new frontier. You only have to see the explosion of carbon-enhanced rails and stringers to see that. We are in an exciting new era where shapers are experimenting with a wide range of new materials and construction, and with TorFlex technology, they now have the vital tool to turn the mystery of flex into the science of flex.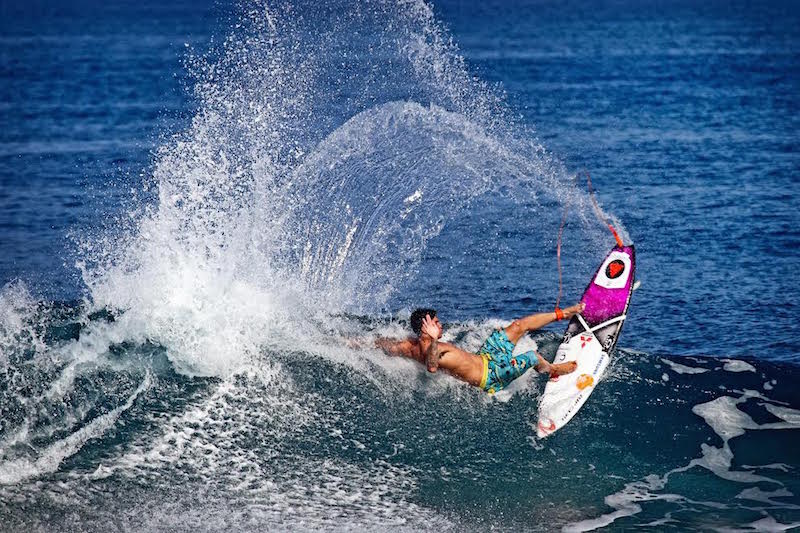 Coming Soon from TorFlex
The TorFlex prototype system is already completed, fully functional and currently being used to test Cabianca Surfboards and Agote Surfboards at their factory (Basque Country Surf Company). In the coming weeks we will be releasing test results based on our ongoing research: using the TorFlex machine and real-world surfing, we will test a series of boards using a range of materials and construction methods (identical shape/dimensions) to create the industry's first comparison study of flex, torsion and vibration in surfboard manufacture.
The TorFlex system is a joint venture between the Basque Country Surf Company www.basquecountrysurf.com and Omega Composites http://omega-composites.es
More on http://www.surftorflex.com
Here what some people claim on their websites about flex..
LOST
CARBON WRAP™ Is a patented surfboard technology, structurally engineered for optimum flex and performance. Originally created by Gold Coast surfboard manufacturer, Dan MacDonald, to be light weight without sacrificing strength and provide #nextlevel performance. Carbon Wrap eliminates the standard wooden stringer, alters traditional flex principles and re-envisions the way a surfboard's flex patterns are created and controlled. Ultra-light, EPS cores are "wrapped" in an exoskeleton of strategically positioned, carbon fiber bands. Aligned together at the nose, they gradually curve outward towards the rails. The curve creates and controls a unique torsional flex that livens up as it nears the tail, just in front of the fins. The carbon then "wraps" from the bottom, around the rails and onto the deck. This unique method creates Carbon Wrap's lively flex that loads and releases…resulting in nextlevel speed and drive. Running along the rails, on the deck, the carbon acts as a rear foot power point, (increasing drive and control) and a patch to minimize pressure denting. Using optically brightened epoxy resin, the boards are encased with a proprietary composite of fiberglass and our exclusive carbon deck inlay, which is strategically positioned to add fast re-flex memory under the surfer's stance and allow subtle, natural deck caving around the arch of the front foot. By tapering the carbon into long, pointed ends, forward and aft, the flex blends out naturally towards the nose and tail.  A full layer of 45degree "X-Glass", encases the deck. The X-Glass's flat, bi-axel weave dramatically adds strength without rigidity, or excess weight and allows the board to maintain flex while alleviating crease points created by standard, 90degree fiberglass. The 45degree weave radiates foot pressure outward, directly connecting the foot to a longer section of the rail, adding greater edge control. CARBON WRAP TECHNOLOGY: Lightweight, without sacrificing strength.  Increases drive and provides and unique and lightning fast re-flex effect,  propelling your surfing into the #nextlevel of performance.
http://carbonwrap.lostsurfboards.net/
PYZEL
Traditional glassing:
Your board is glassed traditionally using polyester or epoxy resin (depending on if it's a PU or EPS blank).
Infusion glassing:
Available for EPS blanks only. This method makes the epoxy run from one point to another through vacuum. The vacuum effect compresses the materials to the blank, impregnating the fiber quickly and uniformly and thereby maximizing the board's resistance without compromising its flexibility. As a result, you will get a board that you can ride for much longer than standard boards without noticing the first signs of use and degradation. Infusion glassing also minimizes resin wastes by directing them to a sealed container, making the whole process cheaper and cleaner while delivering lighter boards.
Vacuum glassing:
The board is compressed inside a nylon bag filled with absorbent materials, and the resin and fiber layers are laminated under the pressure caused by the vacuum. This constant pressure results in extra compact fiber and a lighter board (up to 400 grams lighter).