French Market Intel June/July 2017
On May 7, at just 39 years old, Emmanuel Macron was elected President of the Republic with 66.10% of the votes ahead of Marine Le Pen. The French have chosen after a campaign full of twists and turns. The most striking thing is the speed of his accession to power. Administrative elite, banker, minister, political leader and now head of State, Emmanuel Macron has skipped up the ladder in just 14 years. By Benoit Brecq.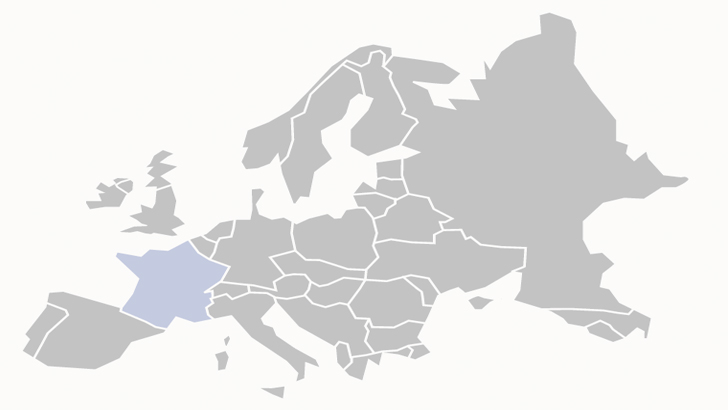 A few weeks after being elected, Emmanuel Macron is pretty well received overall in France with the president's popularity now reaching 62% and that of the Prime Minister, Edouard Philippe touching on 55%. These figures are pretty much the same as in the presidential elections of 2012 and 2007. François Hollande gathered 61% of favour and Nicolas Sarkozy 65%.
The economic situation in France has actually been better than we thought. INSEE has increased the first quarter's growth figures by 0.1 point in their second Gross Domestic Product estimate, which was set at +0.4%.
In the last quarter GDP rose by 0.5% and for the second quarter Banque de France and INSEE again showed growth of 0.5%. These encouraging figures seem to show glimpses of a positive outlook.
With the presidential elections, political developments throughout the months of April and May seem to have had an effect on numbers in French shops. From north to south, everyone agrees that despite the bank holiday weekends in May, which are normally synonymous with affluence and good results, politics seem to have limited their positive effects somewhat this year.
However, the end result is once again quite positive overall, at Nico Beach in Cap Ferret: "Visitations and in-shop sales were rather good at the start of April/end of May." It's the same story a bit further south in Biarritz at Hastea who add: "We had super nice weather in April which brought good sales and people into the shop, but the election did steal people's attention for a few weeks, which slowed things down a bit." In the south east in Six-Fours at Aloha, the same thing happened: "The good weather and long weekends coincided and brought customers through the door and had an impact on sales." In town, whether at Empire in Pau or at Skate n Roll in Besançon, it was a similar story, nice weather in April and once the elections had finished at the start of May, sales went pretty well. Surprise, surprise in the north of France at Opale Ride in Berk Plage: "As a seaside resort, the nice weather in April and May combined with the extended weekends were encouraging factors at the start of the season."
On the coast, despite an abundance of good weather, it seems like the lack of waves had a slight impact on the direction of customer spending. According to Pol Plantec from Hastea: "We had really small waves so our turnover on rentals was slightly down on last year in this period and the same goes for the technical department. Nevertheless the nice weather meant that we could improve on clothing and surf lesson sales." He adds: "We also cater well for females and we sold quite a lot of swimsuits and girls' fashion outfits." For Nico Beach in Cap Ferret: "The good weather directed sales towards boardshorts, flip flops and sunglasses for immediate use on the beach. To that we can also add decent sales of neoprene products, notably 3/2s." At SB3 in Soorts Hossegor, clothing seems to have worked pretty well through the period: "Customers quite often headed to clothing, trainers and fashion accessories, even though during this period the annual Hossegor liquidation sale comprises about 80% of turnover." On the Mediterranean, Pat from Aloha in Six Fours relays that: "The favourable weather and long weekend holidays in May were pretty beneficial to us, especially for the technical section which worked well at the start of this season." He adds: "We had good rates of sale in neoprene, boards and accessories." As for brands, even though the big guns like Rip Curl, Quiksilver and Roxy are often mentioned by retailers as being brands with noteworthy rates of sale in neoprene and clothing, other more core labels like Roark and Thrasher are also sought after in shops. In the technicals, and more specifically boards, the shops are citing Torq and Clayton as movers. At the same time, the lack of waves undoubtedly influenced the slight decline in sales of certain product ranges like performance shortboards for Nico Beach and bodyboards for Hastea.
In street, clothing appears to have worked well in this period, a trend confirmed by Empire in Pau: "Our clothing department has done pretty well at the start of this season," adding that, "generally the core brands are the most sought after like Thrasher; customers are less attracted by the big brands at the moment and so prefer small labels". At SB3 in Soorts Hossegor, it's a bit less black and white: "Clothing made up most of our sales with brands like Nike, Adidas and Volcom. It would appear as though the major surfwear brands have seen a slight decline in this period." One trend that started in recent months seems to have established itself in skateboarding – longboarding is now a high point at Aloha as well as at SB3 even if surf skates seem to be the street trend of this summer.
​When asked about their added value for customers, shops are once again unanimous. While new products and a good range are important for attracting customers and filling them with stoke, people are still coming into shops for advice, especially when it comes to technical products. That's where shops can position themselves as experts and set themselves apart. Even though value for money is at the forefront at the start of this season, customers are open to advice and need to be guided in their choices.
The start of this season was marked by intense political developments in France as well as really nice weather with high temperatures, which were really helpful to shop visitation numbers. A promising omen for the fresh new 2017 season.