Launch Date For Shore Ride Kickstarter Campaign | July 13
The Kickstarter launch date for Andy Mindel's Shore Ride project is July 13 at 2pm BST. The product is a handy device that allows you to easily transport your SUP or kayak without the use of the car.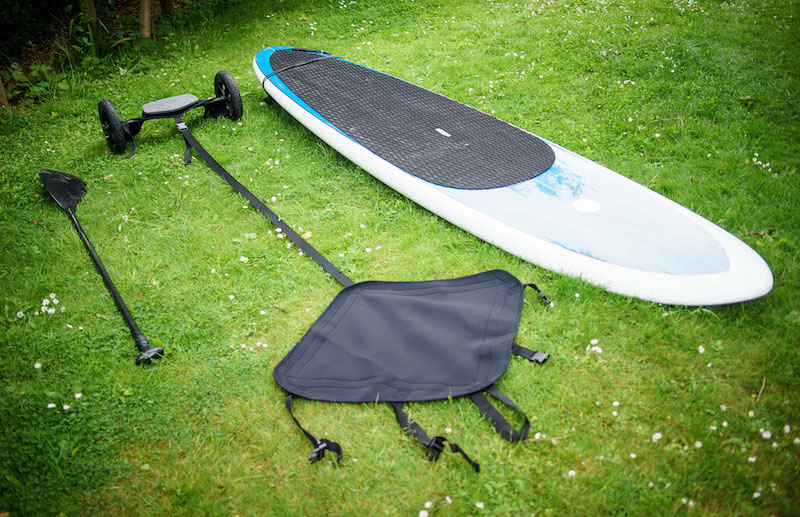 The retail price for Shore Ride will be £119, but there is an introductory offer for the first 50 purchases for just £60 (50% discount).
Press Release: Shore Ride helps you get to the water easily without using a car. After moving to the coast five years ago, Andy Mindel, Shore Ride's founder decided to take up paddleboarding. Andy explains "It's an incredible sport that helps keep me fit and also gives me space when life is getting stressful."
Andy lives 500 metres from the beach, and after struggling to carry his board to the water and also wasting time having to find parking spot each time, he decided to make the first Shore Ride.  "Living so close to the water I needed an easy way of taking my board to the beach without putting my back out," he says.
Initially, he created Shore Ride for himself, but after seeing others struggling with the same issue, he decided to turn it into a product.
Andy designed Shore Ride with help from a product design student from Brunel University. After many iterations, Andy began work building the first 50 prototypes. He made these in his garage with help from his brother-in-law and 6-year-old son. "I loved spending time with my little boy, away from screens, just making something together", he explained. "My little guy spent hours with a rubber mallet helping to build the wheels, no complaining, just me and him making a product together, it was magic."
Andy took Shore Ride to Paddle Round the Pier, a local festival where he received incredible feedback and sold a fair few units. Three weeks after that and with a little help from Amazon he's almost sold out of the initial 50 he made.
Customers have already started to use Shore Ride. Susan Jones uses it at races and competitions: "The wheels were fantastic during the contest! I would have been exhausted carrying the board from the car to the start of the race" explains Susan Jones, prototype user.
Shore Ride has also been designed to work on different craft – "I was able to strap a mast, sail and boom to the board, to get my windsurf down to the beach" explains Robin Doody, prototype user. "I have to tell you I was thrilled to be able to surf so close to home."
Crowdfunding Shore Ride will help to pay for tooling and manufacturing larger quantities. Supporting his campaign will make this product a reality.
Attach Shore Ride to your SUP or Kayak and either walk or cycle to the beach.
Tow different craft without having to purchase additional carriers.
Discover secret spots, further away by attaching Shore Ride to your bike. Alternatively, manually pull your board using the cushioned handle to travel longer distances.
Attach to a cycle or remove in seconds. There are no permanent fixings!
Pneumatic tyres help you to manoeuvre on the toughest terrain. Do you have stones on your beach? No problem.
Protect your board from dings with our neoprene material. We use toughened neoprene which provides the highest strength and protection while carrying your board.
Shore Ride is compact and folds down into a small package. So, you can take with you wherever you go.