Kickstarter Campaign For The Airdog ADII: Hands Free Drone Shooting
Following the successful Kickstarter campaign received for the Airdog 1 camera drone, the guys are back with the Airdog ADII – using innovative technology designed to meet the needs of extreme sports performance.
Press Release : Airdog ADII – What's New
"Set-Your-3D-Line With the ADII, we are introducing our most advanced feature yet, the 3D-Line Mode. Users can now set custom waypoints as well as desired altitude settings, through the AirLeash or Airdog app, providing extreme levels of safety in areas such as single-track trails, race tracks, cable wakeboarding and terrain parks, and anywhere else where you want your ADII to stay away from existing infrastructure, trees, buildings and other obstacles. In this mode, the ADII will fly along a pre-programmed flight path while still following and keeping you perfectly framed in the video shot.
Advanced Video Capture
We've significantly improved video quality by building new 3 axis gimbal and redesigned the vibration dampening mounts so all those shakes and jitters are gone. We've also added magnetic encoders to the gimbal motors, guaranteeing a perfect horizon with every shot. Additionally, the new gimbal adapter charges your GoPro Hero 5 with an auto start/stop record feature engaging during take-off and landing to ensure you don't miss a thing.
Scenic Capture Modes
By watching our customer videos, we've noticed the need to capture not only the action, but the stunning scenic and establishing shots when out filming with the Airdog. We've added a handful of "Scenic Capture Modes" to capture the amazing world around you, hands-free and in perfect frame, every time.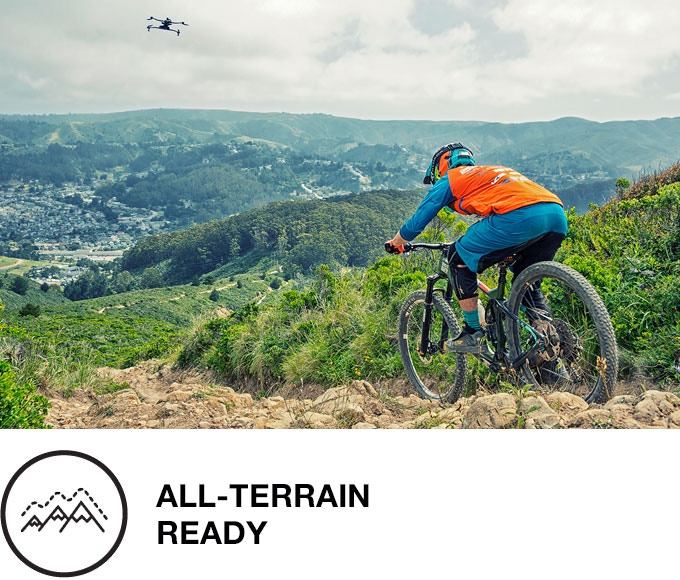 Enhanced User Experience
We've significantly simplified the sensor check and pre-flight setup process on the ADII with getting you airborne in a matter of minutes. The GPS wait-time is significantly reduced thanks to new GPS modules we've implemented, both on the AirLeash and the drone. The user interface has also been completely redesigned with a sun-proof LCD backlit display.
Battery
Major updates have been implemented to the ADII battery software and electronics. We've adjusted the battery life meter to the exterior for easy visibility and redesigned overall insert/release lock for faster swap time."