VISSLA Welcomes Thomas Campbell To Its 'Creators And Innovators' Programme
Artist, photographer and filmmaker, Thomas Campbell, is the newest alumni to join VISSLA's team of 'Creators and Innovators'. Campbell has exhibited his work all over the globe causing great interest with his free-flowing expressionist pieces.
Press Release: We are proud to introduce artist, photographer, filmmaker and influencer, Thomas Campbell, as our newest Creator & Innovator. Thomas Campbell is a self-taught painter, sculpture, photographer, and filmmaker.
He splits his time between his painting/sculpture/stuff making studio in Bonny Doon, California and traversing the globe making films. Campbell's artworks combine scribbles and scriptures, taking slogans and anecdotes from his unique vocabulary and juxtaposing them with a profound look at human nature.
His movement-oriented paintings are as layered with meaning as they are with paint. The works, typically composed of several panels, are free-flowing with wide expressionist swipes of color, bold graphics and intricate renderings of characters and text. His photographs mimic the intensity of the paintings, yet in a more abstract fashion.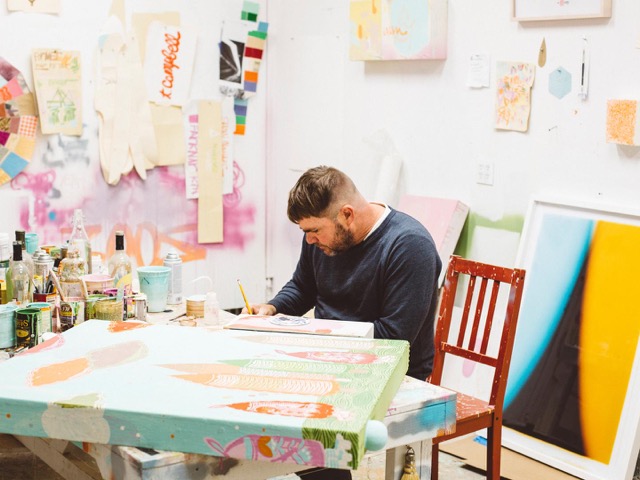 Campbell has mounted solo exhibitions in New York, Paris, Tokyo, Denmark, The Netherlands, San Francisco, Los Angeles, and Morocco.
In 1999, he completed his first feature length surfing film, The Seedling, and in 2004 released his second, Sprout and has just completed his 3rd "The Present" in the spring of 2009. Campbell is also part owner and creative director of a small, independent record label based in Santa Cruz, CA, Galaxia, which has released records by contemporary artists Tommy Guerrero, Bonnie "Prince" Billy, Peggy Honeywell and The Black Heart Procession. Galaxia was established in 1993.
In 2013 Campbell started an new creative platform called UM YEAH ARTS which is a nexus for the making of books and music.
Discover the world of Thomas Campbell and Vissla here:
https://www.vissla.com/blog/creator-innovator-thomas-campbell/
Thomas Campbell joined including Jason Woodside, Jeff McCallum, Jay Nelson, Donald Brink, Dany Hess Travis Reynolds, Hayden Cox … the Creators and Innovators program ( https://www.vissla.com/creators-innovators/ )