Triple 8 Skate Helmets & Protection SS18 Preview
Retail Buyers Guide: Skate Helmets & Protection SS18
CATEGORY: SKATE HELMETS & PROTECTION
BRAND: TRIPLE 8
INTERVIEWEE: YANA FARRALLY-PLOURDE (DIRECTOR OF PRODUCT & MARKETING)
What are the main trends in skate helmets and protection for SS18?
Protecting yourself in skateboarding – wearing a helmet and pads, and not worrying as much about the 'cool-stigma' – is becoming a stronger trend. Mike Vallely definitely made a difference when he decided to wear a helmet a couple of years ago. He continues to be visible and vocal about it with the Get Used To it campaign, and thousands of skaters have joined the conversation – posting their own pictures and stories at getusedtoit.com and on social media. 
We hear from skaters all the time, across generations, who recently decided to wear a helmet – some of them directly because of Mike, but also there seems to be a growing awareness in general.
As people get more aware and educated about helmets, we have more people asking about new technologies like MIPS and interested in dual certified helmets. For style and colour – our classic shapes remain the most popular, but there has definitely been a trend toward bright neon colours, metallic coloUrs, things that will get seen. Speaking of being seen – we have a new stealth reflective helmet: Gotham Darklight. It's dark by day, and lights up at night when headlights hit it. That's been popular with skaters and riders who are out after dusk.
Do you have any new product release planned?
This Spring we released several new colors; Neon Tangerine, Neon Fuchsia, Blue Fade, and Blue Metallic in Sweatsaver and Dual Certified Helmet models. We always have new helmets in development, and you'll see some new stuff from us in 2018 for sure, but we're not quite ready to share it…but check in with us in the Fall. 
We have also been working on a new pro-level kneepad for the past two years, and we plan to launch them for 2018. Only a handful of shops and distributors have seen the prototypes…and we're not ready to reveal all their secrets yet – but they have some unique new features in strap and cap design. Stay tuned, because both the new helmet and kneepad are going to be key new products for us!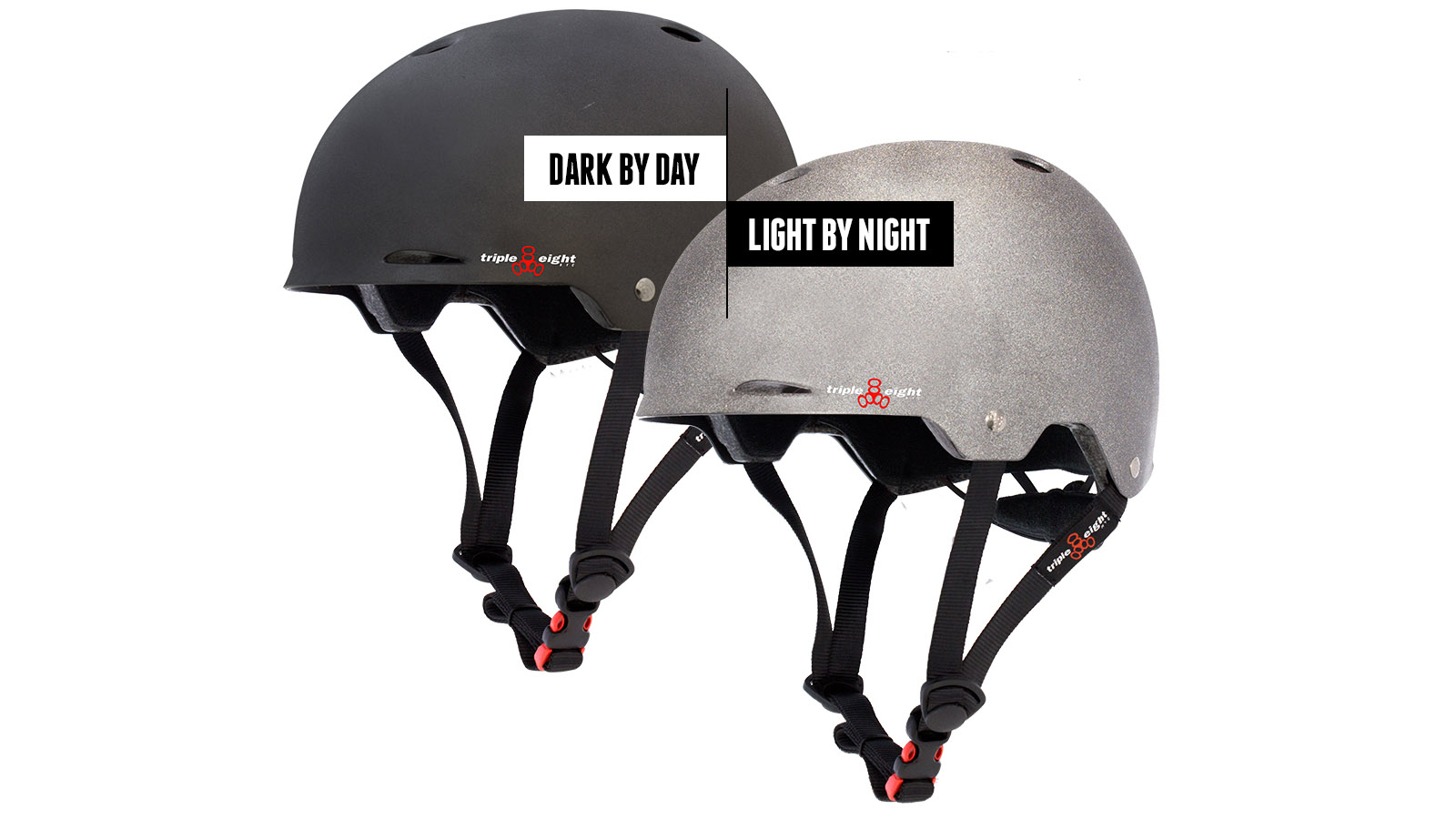 What materials are you working with? Anything new to talk about?
Triple Eight has been using MIPS technology for a few years, and we've recently expanded that technology into our classic shape Dual Certified Helmets. That helmet is proving to be really popular with BMX, Downhill, and now more Vert riders are starting to use them. The MIPS low-friction layer reduces the rotational violence from angled impacts.  Almost every skating/riding fall is going to be on an angle, so adding the  MIPS Brain Protection System makes a lot of sense in all these sports.
Where do you stand on the issue of hard vs. soft materials in your protection?
Our sweatsaver soft-foam helmets are super comfortable, we've made them for over 20 years, and skaters like how they feel – so they will wear a sweatsaver helmet in a sport that still largely rejects helmets.
Skaters will make that choice for themselves. That being said, every new helmet model we have introduced over the past decade has been certified (hard EPS Foam), and more riders are seeking out dual certified helmets. Our current Dual Certified helmets have the classic shape and deep fit that is close to the feel of our sweatsaver soft foam helmets–and we are developing new technology that will make our certified helmets even more comfortable.
When it comes to design, colours & patterns – what are the main trends in your SS18 collection?
Neon, Metallic, and Fade (light blue to dark blue). Of course, we always have a lot of black, grey, and classic colours as well. Those never go out of style.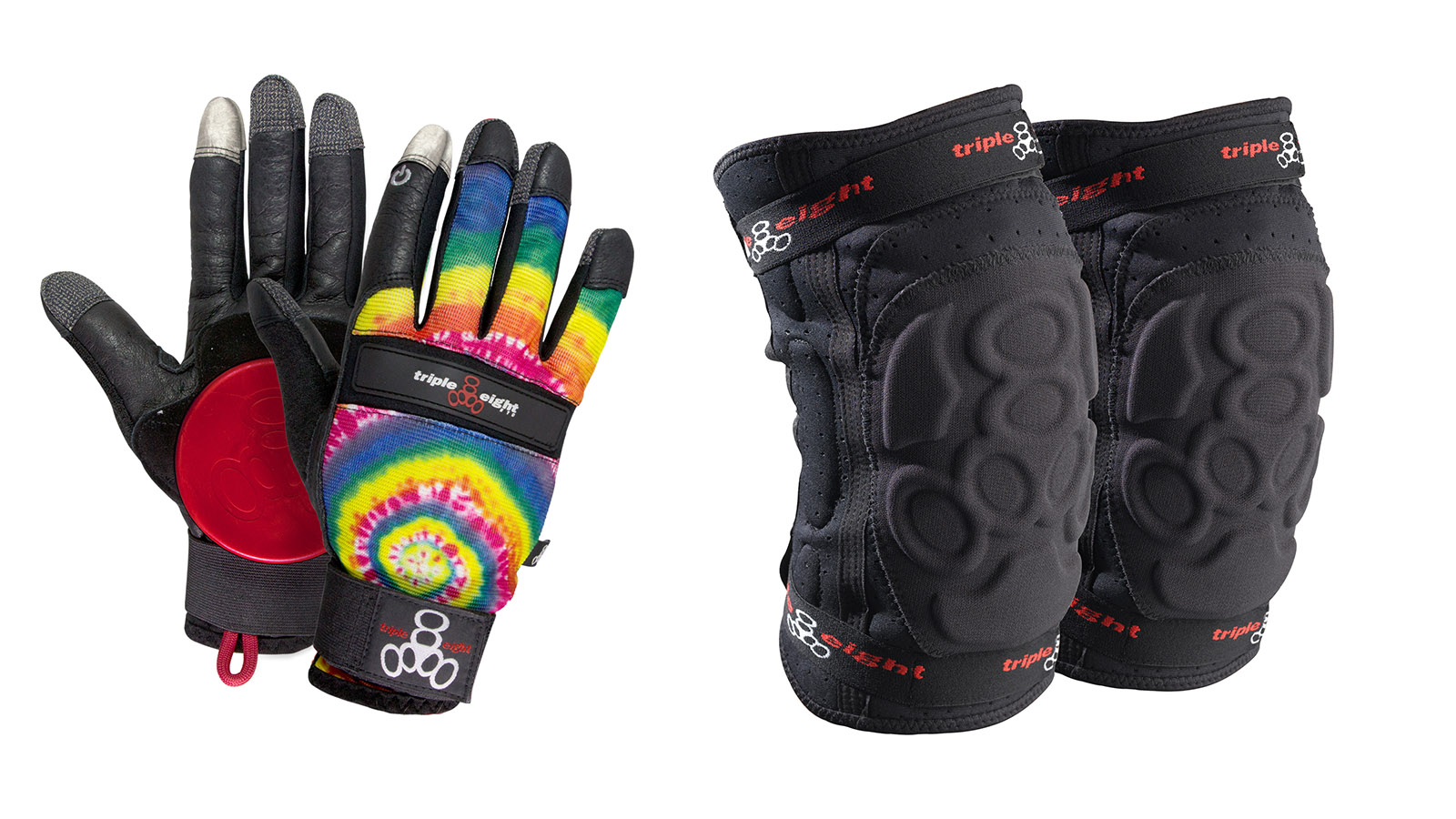 Are your products targeted to specific customers / rider types?
Yes and no. Many of our helmets are Dual Certified for Bike and Skate and are good "multi-sport' options.   Obviously Snow, Water, and Mountain Bike helmets are all very specific to their sport.  We make some pads that tend to work across multiple sports, and others that are very specific for Downhill, BMX or Skateboard.
In which area do you see the biggest growth in the protection market?
We don't see any particularly hot sector providing big growth right now.  Categories that were rapidly expanding in past years have all tended to level off or decline – but there are still good opportunities in each sport .  We're focused on working closely with athletes and shops to fill their niche needs, and constantly improving our line. We're adding new tech to existing models, and looking for better ways to protect people who push hard and fall down a lot.
Please talk us through your 3 keys models for 2018 – if you do both, please send 3 helmet and 3 protection.
HELMETS: DUAL CERTIFIED HELMET WITH MIPS – Classic style. Fully Loaded.  MIPS Technology reduces rotational forces to the brain caused by angled impacts.
GOTHAM DARKLIGHT HELMET – Stealth Reflective Technology.  Dark by Day Light by Night.  Dual Certified with a Conehead EPS Liner and an adjustable fit dial system.
DUAL CERTIFIED MULTISPORT HELMET – Classic Skate/BMX Style.  Check out the new Neon Tangerine, Blue Metallic, and Black Gloss with Zest.
PADS: We make a lot of pads that have been in the line forever, so I'm going to highlight a few that people may not be as familiar with:
BUMSAVERS – Since these are usually hidden under your shorts, Bumsavers don't get a lot of attention – and that's part of the point.  Nobody needs to know you are wearing them!  Great hip, thigh, and backside protection.
TIE DYE DOWNHILL GLOVES – We added a cool print, colored pucks, and touchscreen fingertips to our downhill gloves.
EXOSKIN KNEE AND ELBLOW – These thinner pads with Kevlar exterior can slip under jeans or sweatshirt and provide protection without the bulk.  They were developed for BMX and Mountain Bike, but snowboarders and skaters have adopted them too.