The 2016 Skateistan Annual Report And Action Impact
2016 proved to be a busy year for the folks at Skateistan with record numbers of children becoming involved with the organisation – 50% of those being female students. Skateistan's 2016 Annual Report can be read here for a full overview of the organisation's impressive progress over the course of last year.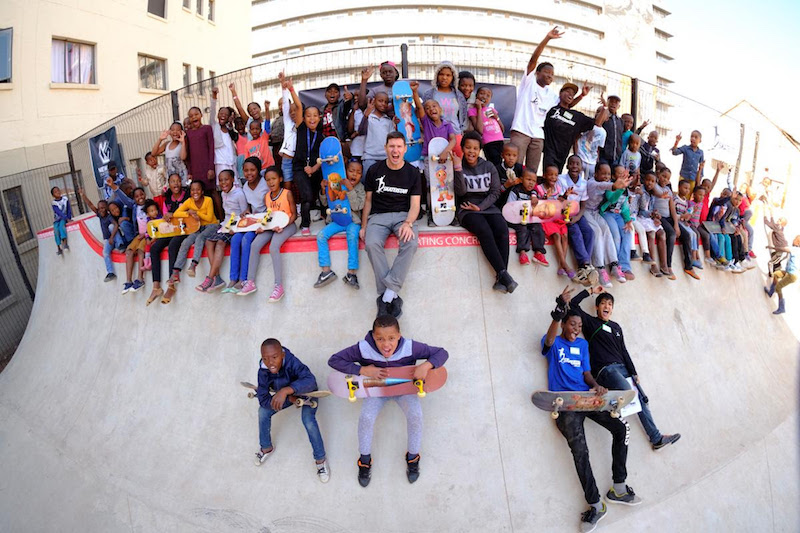 (Taken from the report:) "In 2016, over 1,800 children were actively part of Skateistan's programs worldwide, which is the highest number ever recorded by the organisation. This was largely due to the opening of Skateistan's fourth official Skate School in Johannesburg, South Africa in August. Another major milestone for the year was reaching 50% female students, meeting Skateistan's global gender equality goal for the first time.
As well as skateboarding, Skateistan Skate Schools hosted an array of other sports as part of the Outreach program – from basketball to yoga, football to climbing. Overall, 181 children living with a disability took part in Skateistan programs across all sites in Afghanistan and Cambodia. In Mazar-e-Sharif a partnership with a local deaf and blind school pro- vided the opportunity for students living with a disability to take part in skateboarding and sports, many for the first time. This Skate School hosted weekly cricket sessions for blind students, and football and skateboarding for deaf students. The Skate and Create curriculum for the year was spread across the topics of 'Kindness', 'Healthy Futures', and 'Environment and Gardening' – with a diverse range of creative classes taught. Students explored what it meant to be kind, and what their futures looked like, plus local Educators created gardens at all the Skate Schools worldwide and students began to grow their own food. It was a fruitful year!
In the Back-to-School program 93 students graduated, with five girls in Kabul gaining scholarships to a local private school and 67 students successfully enrolling in public schools. In Johannesburg, the Back-to-School program was launched, offering older youth access to such things as homework help and career advice. Alongside this, 170 Youth Leaders worldwide helped out with programs and mentored other students in the skateparks and class- rooms, whilst building their skills through a series of workshops. The Youth Leadership program showed Skateistan's long-term impact and success in creating role models for the younger generation to look up to in 2016.
Skateistan also went one step further to unite their global community by host- ing the first ever exchange between Skate Schools. Kelly Murray, who is the Programs Officer in Johannesburg, went on a staff exchange to Phnom Penh in January 2016. This was an opportunity for staff to meet for the first time in person and to learn from each other, exchange skills, and skate together. Kel- ly's trip was monumental for Skateistan and female skateboarding worldwide as it brought together two of the best skateboarders from opposite sides of the world. Other highlights for the year included; Women's Day celebrations at every Skateistan Skate School, Youth Leaders in Afghanistan finishing their final video project for an international multimedia exchange with a school in California; a four-day staff and youth leadership professional teacher training workshop in Cambodia; a ten-day Monitoring, Evaluation and Learning (MEL) workshop in South Africa led by academics, and of course, Go Skateboarding Day celebrations."
READ THE FULL REPORT HERE.